A message of thanks from Great British Bake Off winner Dr Rahul Mandal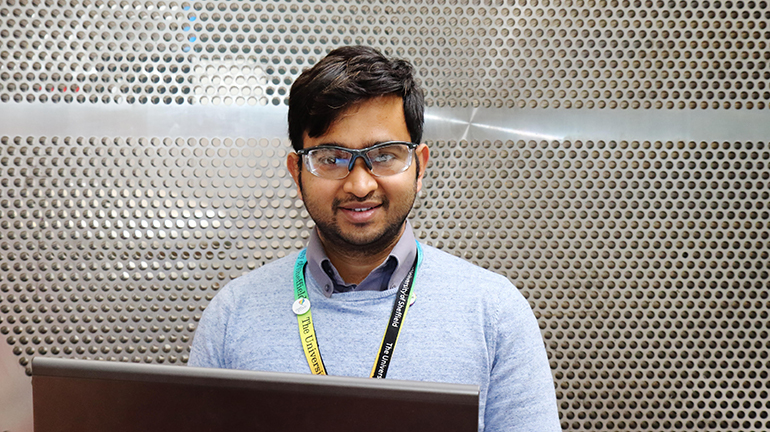 Dr Rahul Mandal, winner of The Great British Bake Off 2018, has offered his thanks to all those who supported him throughout the competition.
Rahul, who works as a Research Associate at our Nuclear Advanced Manufacturing Research Centre (AMRC), said:
"I would like to thank everyone who supported me and has been part of my Bake Off journey. It was a surreal experience."
After coming to the UK from India to study optical metrology, Rahul joined the Nuclear AMRC in 2015 to develop innovative automated techniques for inspecting components for any contamination or flaw.
It was after this that he first started baking: "I baked my first cake in 2016, and brought it into work for my birthday," he recalls.
Physics, chemistry and engineering is what baking is made up of.
"Pretty much all my cakes have been brought into work. I wasn't ever really exposed to English baking before, so feedback from colleagues has been really important. From my first cake two years ago to what I do now has been a very steep learning curve."
Rahul now works with a variety of light-based measurement technologies including confocal microscopy and interferometry for weld inspection, to ensure that components produced at the Nuclear AMRC meet stringent quality requirements.
As an avid volunteer ambassador, Rahul regularly works with young people to encourage them to pursue careers in science, technology, engineering and maths-based (STEM) subjects.
"If you can do baking, you can do science and engineering and if you're doing engineering, then you can bake," he said.
"I always like to talk about chocolate tempering – when you temper chocolate, it's a lot like what you do when you temper stainless steel. The principle is the same, and it has science behind it. Physics, chemistry and engineering is what baking is made up of."
As well as encouraging young people to get involved with STEM subjects, Rahul also wants more people to try their hand at baking, especially men.
"I only started my baking journey a few years ago and if I can be in the tent, so can anyone who loves baking. Remember, the secret ingredient for baking is 'love'.
"If any of you love baking or know somebody who does, please apply."
If you or anyone you know is interested in applying for The Great British Bake Off, you can do so using the following link www.applyforbakeoff.co.uk.
Additional information
The University of Sheffield
With almost 29,000 of the brightest students from over 140 countries, learning alongside over 1,200 of the best academics from across the globe, the University of Sheffield is one of the world's leading universities.
A member of the UK's prestigious Russell Group of leading research-led institutions, Sheffield offers world-class teaching and research excellence across a wide range of disciplines.
Unified by the power of discovery and understanding, staff and students at the university are committed to finding new ways to transform the world we live in.
Sheffield is the only university to feature in The Sunday Times 100 Best Not-For-Profit Organisations to Work For 2018 and for the last eight years has been ranked in the top five UK universities for Student Satisfaction by Times Higher Education.
Sheffield has six Nobel Prize winners among former staff and students and its alumni go on to hold positions of great responsibility and influence all over the world, making significant contributions in their chosen fields.
Global research partners and clients include Boeing, Rolls-Royce, Unilever, AstraZeneca, Glaxo SmithKline, Siemens and Airbus, as well as many UK and overseas government agencies and charitable foundations.
Contact
For further information please contact:
Harry Clulow
Media and PR Officer
University of Sheffield
0114 222 1047
h.clulow@sheffield.ac.uk