Bacteria in drinking water are key to keeping it clean
Bacteria commonly found in drinking water creates conditions which enable other- potentially harmful – bacteria to thrive, says research by engineers from the University of Sheffield.
The research, published in the latest issue of Water Science and Technology: Water Supply, points the way to more sophisticated and targeted methods of ensuring our drinking water remains safe to drink, while still reducing the need for chemical treatments and identifying potential hazards more quickly.
The research team, from the University of Sheffield's Faculty of Engineering, studied four bacteria found in the city's drinking water to see which combinations were more likely to produce a 'biofilm'. Biofilms are layers of bacteria which form on the inner surfaces of water pipes.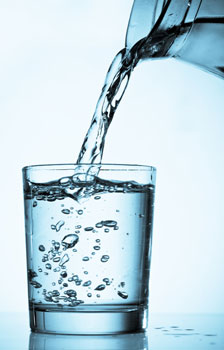 "Biofilms can form on all water pipes and as these are usually non-harmful bacteria, they don't present a problem," explains lead researcher, Professor Catherine Biggs. "However, biofilms can also be a safe place for harmful bacteria such as Escherichia coli or Legionella to hide. If the bacterial growth is too heavy, it can break off into the water flow, which at best can make water discoloured or taste unpleasant and at worst can release more dangerous bacteria. Our research looks at what conditions enable biofilms to grow, so we can find ways to control the bacteria in our water supply more effectively."
Funded by the Engineering and Physical Sciences Research Council, the research isolated four bacteria from water taken from a domestic tap: two were widely found in drinking water everywhere, one was less common and one was unique to Sheffield. The researchers mixed the bacteria in different combinations and found that, in isolation, none of them produced a biofilm. However, when any of the bacteria were combined with one of the common forms, called Methylobacterium, they formed a biofilm within 72 hours.
"Our findings show that this bacterium is acting as a bridge, enabling other bacteria to attach to surfaces and produce a biofilm and it's likely that it's not the only one that plays this role," says Professor Biggs.
"This means it should be possible to control or even prevent the creation of biofilms in the water supply by targeting these particular bacteria, potentially reducing the need for high dosage chemical treatments."
Domestic water supplies in the UK are regularly tested for levels of bacteria and, if these are too high, water is treated with greater concentrations of chlorine or pipe networks are flushed through to clear the problem. However, the standard tests look for indicator organisms rather than the individual types which are present. Testing methods being developed by the Sheffield team – as used in this research – involve DNA analysis to identify the specific types of bacteria present.
"The way we currently maintain clean water supplies is a little like using antibiotics without knowing what infection we're treating," says Professor Biggs. "Although it's effective, it requires extensive use of chemicals or can put water supplies out of use to consumers for a period of time. Current testing methods also take time to produce results, while the bacteria are cultured from the samples taken.
"The DNA testing we're developing will provide a fast and more sophisticated alternative, allowing water companies to fine tune their responses to the exact bacteria they find in the water system."
Additional Information
1. 'Aggregation and biofilm formation of bacteria isolated from domestic drinking water', B. Ramalingam, R. Sekar, J. B. Boxall and C. A. Biggs is published in Water Science & Technology: Water Supply Vol 13 No 4 pp 1016–1023 © IWA Publishing 2013 doi:10.2166/ws.2013.115 www.iwaponline.com/ws/01304/ws013041016.htm
The Faculty of Engineering
The Faculty of Engineering at the University of Sheffield - the 2011 Times Higher Education's University of the Year - is one of the largest in the UK. Its seven departments include over 4,000 students and 900 staff and have research-related income worth more than £50M per annum from government, industry and charity sources. The 2008 Research Assessment Exercise (RAE) confirmed that two thirds of the research carried out was either Internationally Excellent or Internationally Leading.
The Faculty of Engineering has a long tradition of working with industry including RollsRoyce, Network Rail and Siemens. Its industrial successes are exemplified by the awardwinning Advanced Manufacturing Research Centre (AMRC) and the new £25 million Nuclear
Advanced Manufacturing Research Centre (NAMRC)
The Faculty of Engineering is set to ensure students continue to benefit from world-class labs and teaching space through the provision of the University's new Engineering Graduate School. This brand new building, which will become the centre of the faculty´s postgraduate research and postgraduate teaching activities, will be sited on the corner of Broad Lane and Newcastle Street. It will form the first stage in a 15 year plan to improve and extend the existing estate in a bid to provide students with the best possible facilities while improving their student experience.
To find out more about the Faculty of Engineering, visit: http://www.shef.ac.uk/faculty/engineering/
The Engineering and Physical Sciences Research Council (EPSRC)
The EPSRC is the UK's main agency for funding research in engineering and the physical sciences. EPSRC invests around £800 million a year in research and postgraduate training, to help the nation handle the next generation of technological change. The areas covered range from information technology to structural engineering, and mathematics to materials science. This research forms the basis for future economic development in the UK and improvements for everyone's health, lifestyle and culture. EPSRC works alongside other Research Councils with responsibility for other areas of research. The Research Councils work collectively on issues of common concern via Research Councils UK. www.epsrc.ac.uk
The University of Sheffield
With nearly 25,000 of the brightest students from 117 countries coming to learn alongside 1,209 of the world's best academics, it is clear why the University of Sheffield is one of the UK's leading universities. Staff and students at Sheffield are committed to helping discover and understand the causes of things - and propose solutions that have the power to transform the world we live in.

A member of the Russell Group, the University of Sheffield has a reputation for world-class teaching and research excellence across a wide range of disciplines. The University of Sheffield has been named University of the Year in the Times Higher Education Awards 2011 for its exceptional performance in research, teaching, access and business performance. In addition, the University has won four Queen's Anniversary Prizes (1998, 2000, 2002, 2007), recognising the outstanding contribution by universities and colleges to the United Kingdom's intellectual, economic, cultural and social life.

One of the markers of a leading university is the quality of its alumni and Sheffield boasts five Nobel Prize winners among former staff and students. Its alumni have gone on to hold positions of great responsibility and influence all over the world, making significant contributions in their chosen fields.
Research partners and clients include Boeing, Rolls-Royce, Unilever, Boots, AstraZeneca, GSK, Siemens, Yorkshire Water and many more household names, as well as UK and overseas government agencies and charitable foundations.

The University has well-established partnerships with a number of universities and major corporations, both in the UK and abroad. The White Rose University Consortium (White Rose) a strategic partnership between three of the UK's leading research universities of Leeds, Sheffield and York. Since its creation in 1997 White Rose has secured more than £100M into the Universities.
Contact
For further information please contact:
Shemina Davis
Media Relations Manager
University of Sheffield
0114 222 5339
shemina.davis@sheffield.ac.uk