BBC's Today programme broadcast live from University's Advanced Manufacturing Research Centre Training Centre
BBC Radio 4's flagship Today programme was broadcast live from the University of Sheffield's Advanced Manufacturing Research Centre (AMRC) Training Centre on Monday (29 January 2018).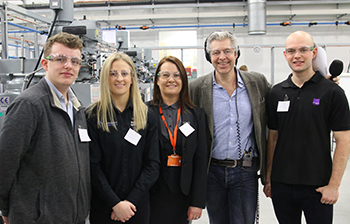 The show, with a live audience of more than 100 University staff, students and Today listeners, focused on the University's pioneering approach to training the next generation of engineers through offering apprenticeships and degree apprenticeships and the role they can play in boosting economic productivity in the UK.
By offering qualifications from the University of Sheffield to undergraduate, masters and PhD level - combined with employment from leading manufacturing companies, including Boeing and McLaren - apprentices are equipped with the skills they need to flourish in the international marketplace.
Professor Wyn Morgan, Vice-President for Education at the University of Sheffield, told Today host Justin Webb: "This place is a real nexus of what the University can provide in terms of its know-how, research and knowledge - working with local and multinational companies - to provide practical solutions and ideas to improve productivity, which is one of the biggest challenges the economy faces.
"We are also developing the workforce we need to work with the new technologies, ideas and processes that this region and the economy needs."
Apprentices at the AMRC Training Centre were interviewed live from the shop floor during the three-hour live programme, which also included interviews with Lord Blunkett, former Education Secretary Justine Greening and new Universities' Minister Sam Gyimah.
At the end of the show, postdoctoral researcher David Randall, from the University's Department of Infection, Immunity and Cardiovascular Disease. showcased a virtual reality colonoscopy developed by researchers at the University, which could help clinicians to detect abnormalities in the digestive system.
David Randall from @ShefUni_IICD is live on @bbcr4today explaining how virtual colonoscopy technology developed in Sheffield could help clinicians to detect abnormalities in the digestive system. #r4today Listen live: https://t.co/mOKxo8lvxv pic.twitter.com/FJBMnIl46Y

— The University of Sheffield (@sheffielduni) January 29, 2018
Listen to the show via BBC iPlayer (UK only)
Find out more about apprenticeships at the AMRC Training Centre
---
BBC Radio 4 Today - Live from the AMRC Training Centre