University urges government to recognise benefits of international students to UK towns and cities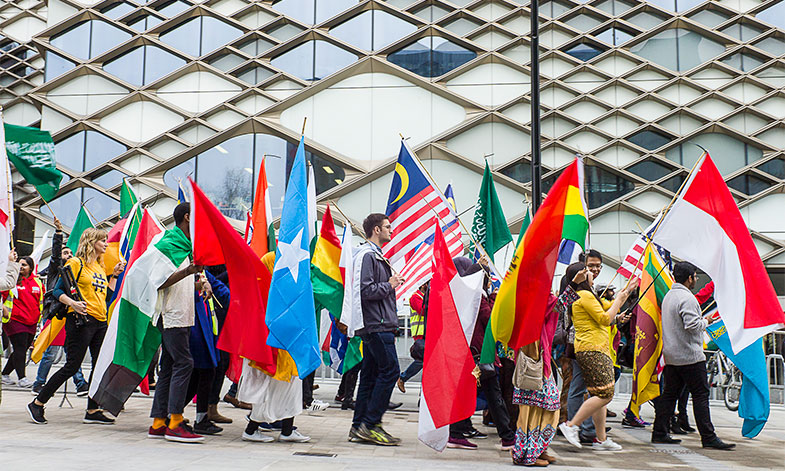 The University of Sheffield is urging the government to recognise the wide-ranging benefits international students bring to UK towns and cities after a new study showed they contribute more than £20 billion a year to the British economy.
A Higher Educational Policy Institute (HEPI) report published today (11 January 2018) shows spending by international students has become a major factor in supporting cities across the country and that the Sheffield Central constituency is the area that benefits most.
The analysis found the 2,456 international students who started their studies in the Sheffield Central constituency in 2015/16 will contribute £226.0 million each year to the economy during their studies - equivalent to £1,961 per constituent per annum in the constituency.
The University of Sheffield and its Students' Union founded the #WeAreInternational campaign, which is supported by hundreds of universities, businesses and organisations globally, to celebrate the rich contribution international students bring to the UK and is urging the government to support them in word and deed.
Professor Sir Keith Burnett, President and Vice-Chancellor of the University of Sheffield and co-founder of #WeAreInternational campaign, said: "This report highlights what our campaign has long-emphasised - that international students support businesses and opportunity across the whole of the UK. We simply cannot afford to lose them and I will do all in my power to speak out for the contribution they make.
"International students are a precious part of our universities and society. They train in our hospitals and give generously to charities in cities across the UK. They are vital to our businesses and economy. They are our students, our colleagues and our friends.
"We must ensure government policy properly reflects this and any targets to reduce numbers of immigrants which include international students should be dropped and post study work visas reintroduced."
The HEPI analysis, carried out by London Economics, calculated the financial contribution of overseas students, such as spending on tuition and living expenses, and balanced that against costs, including the extra pressure on local services and non-repayment of loans.
International students are a precious part of our universities and society. They train in our hospitals and give generously to charities in cities across the UK. They are vital to our businesses and economy. They are our students, our colleagues and our friends.

Professor sir keith burnett

Across Sheffield as a whole there are 3,915 international students who started their studies in 2015/16 and who will contribute £360.4 million during the course of their studies.
The report echoes the findings of 2013 report by Oxford Economics, commissioned by the University of Sheffield, which showed that international students contribute an estimated £120 million to the Sheffield economy each year.
Last year, business leaders in Sheffield backed the #WeAreInternational campaign by sharing, in their own words, how international students have enriched the city's economy and culture and changed lives.
Richard Wright, of Sheffield Chamber of Commerce, had led the voice of local firms in making clear just what international students mean to the city economically. He said: "In terms of attracting inward investment, attracting students and bringing people here to do business – we need international students."
Local businesswoman Sarah Sharp who works at Sheffield's Theatre Delicatessen, spoke for many small businesses when she said:
"International students contribute positively to Sheffield's economy, which is often talked about because they come to restaurants, bars and theatre productions – but more than that, they contribute to Sheffield's culture and the diversity we have here.
"They contribute to what restaurants we have, what bars we have and which shows we put on."
Sheffield Central MP Paul Blomfield, who is co-chair of the All Party Parliamentary Group on International Students, and who has led a Parliamentary campaign for a change in government policy to encourage more international students, said: "Once again the benefits of international students living and studying in Sheffield are clear. Thousands of jobs across the city are created by money spent on tuition fees, as well as shops, restaurants, housing and more.
"International students add to the cultural vitality of our city, benefit local businesses through research, and the friendships they make at university lead to hugely beneficial long-term relationships between the UK and other countries."
He added: "Despite this, government policies since 2010 have led growing numbers of international students to turn away from the UK to our competitors. This threatens to get worse following Brexit. Theresa May has so far refused to listen to the evidence. The government needs to think again, take students out of net migration figures and develop new policies to increase recruitment."
Additional information
The University of Sheffield
With almost 29,000 of the brightest students from over 140 countries, learning alongside over 1,200 of the best academics from across the globe, the University of Sheffield is one of the world's leading universities.
A member of the UK's prestigious Russell Group of leading research-led institutions, Sheffield offers world-class teaching and research excellence across a wide range of disciplines.
Unified by the power of discovery and understanding, staff and students at the university are committed to finding new ways to transform the world we live in.
Sheffield is the only university to feature in The Sunday Times 100 Best Not-For-Profit Organisations to Work For 2017 and was voted number one university in the UK for Student Satisfaction by Times Higher Education in 2014. In the last decade it has won four Queen's Anniversary Prizes in recognition of the outstanding contribution to the United Kingdom's intellectual, economic, cultural and social life.
Sheffield has six Nobel Prize winners among former staff and students and its alumni go on to hold positions of great responsibility and influence all over the world, making significant contributions in their chosen fields.
Global research partners and clients include Boeing, Rolls-Royce, Unilever, AstraZeneca, Glaxo SmithKline, Siemens and Airbus, as well as many UK and overseas government agencies and charitable foundations.
Contact
For further information please contact:
Hannah Postles
Media Relations Officer
University of Sheffield
0114 222 1046
h.postles@sheffield.ac.uk