Number one Students' Union in the UK
Voted best Students' Union three years in a row
Five subjects rated highest nationally
Number one University for student satisfaction in the Yorkshire region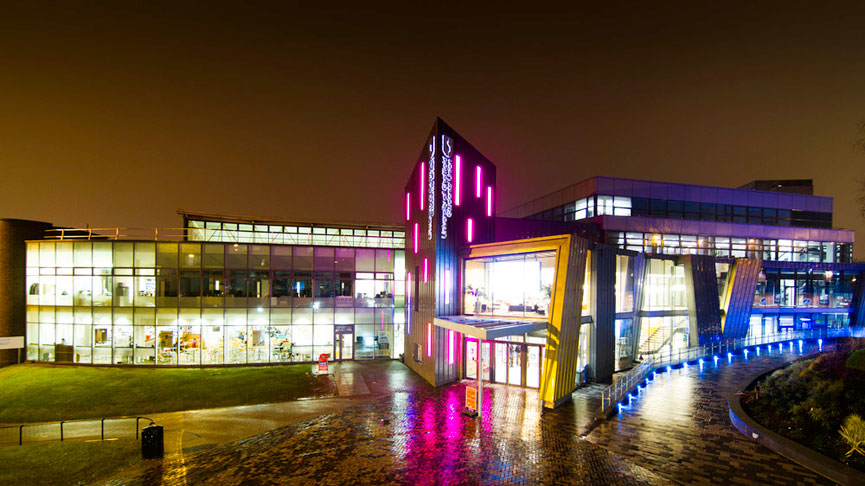 The University of Sheffield's Students' Union has been voted the best in the UK for the third year running in the National Student Survey (NSS) 2014.
The Students' Union, which underwent a £20 million state-of-the-art refurbishment last year, retained the prestigious title after being awarded a 94 per cent overall satisfaction rate – an increase from last year's figure of 93 per cent.
This score once again reaffirms the University's position as number one for student experience after being crowned top in the Times Higher Education Student Experience Survey in May. It endorses Sheffield as a unique place to study that gives students an unrivalled rich experience in a city unlike any other in the UK.
Students' Union President, Yael Shafritz, said: "We're absolutely delighted that the Students' Union is rated number one for the third year in a row.
"As well as great services and facilities we're proud to be a students' union that nurtures student innovation and leadership.
"Our student focus means that whilst we regularly rank number one we're always looking to do more to create a better and more inclusive student community that Sheffield students love to be a part of."
The University of Sheffield was rated highest nationally for five subjects Orthoptics (100 per cent), Landscape Design (93 per cent), Information Services (95 per cent), German and Scandinavian Studies (98 per cent), and Music (100 percent).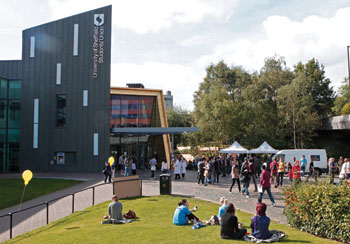 The outstanding library services and IT resources at the University were recognised with a high satisfaction score of 91 per cent and 90 per cent satisfaction rates respectively.
An overall satisfaction rate of 89 per cent, which is above the 86 per cent sector-wide average, puts the University joint first in the Yorkshire region for the second year running ahead of the University of Leeds and University of York.
The University also achieved an overall satisfaction score of 94 per cent for practice placements offered to students during their studies to give them real-life employment experience.
This invaluable opportunity helps students increase their employability skills giving them the best foundations to compete in the graduate jobs market after obtaining their degree from a first-class University.
This year the University's response rate to the NSS increased by three per cent with 72 per cent of eligible students taking the time to share their thoughts about the institute.
Professor Anne Peat, Pro-Vice-Chancellor of Learning and Teaching at the University of Sheffield, said: "The National Student Survey provides valuable information upon which we can enhance the student experience. I am pleased that once again our Student Union has scored so highly. The £20 million refurbishment was clearly an important investment.
"We take every opportunity to find out students' opinions of their course and experience while studying at the University and we were delighted earlier this year to be voted first for student satisfaction in the Times Higher Education Student Experience Survey 2014.
"The work the University puts into providing appropriate practical placements has also been acknowledged by our students and the skills gained are highly significant in today's challenging employment market."
These results come as thousands of A-Level students across the country prepare to receive their life-changing results on Thursday. Students receiving excellent A-Levels are invited to upgrade to the UK's number one university for student experience through the One Better campaign.
Additional information
For more information about clearing and adjustment visit One Better 
NSS
The University took joint top spot in the Yorkshire and Humber region alongside the University of Hull.
The NSS covers nearly all final-year undergraduates studying for higher education qualifications at HEIs (including the independent University of Buckingham) and FECs in England and Wales, HEIs in Northern Ireland and 14 institutions in Scotland. Students on initial teacher training courses funded by the Training and Development Agency for Schools, and students studying NHS-funded subjects are also included. The threshold for publication is that at least 23 students from each course must have responded at each institution, and that these represent at least half the students eligible to participate.
The results of the survey, conducted by Ipsos MORI, provide valuable information for prospective students, and help universities and colleges to further improve the education they provide.
The University of Sheffield
With almost 25,000 of the brightest students from around 120 countries, learning alongside over 1,200 of the best academics from across the globe, the University of Sheffield is one of the world's leading universities.
A member of the UK's prestigious Russell Group of leading research-led institutions, Sheffield offers world-class teaching and research excellence across a wide range of disciplines.
Unified by the power of discovery and understanding, staff and students at the university are committed to finding new ways to transform the world we live in.
In 2014 it was voted number one university in the UK for Student Satisfaction by Times Higher Education and in the last decade has won four Queen's Anniversary Prizes in recognition of the outstanding contribution to the United Kingdom's intellectual, economic, cultural and social life.
Sheffield has five Nobel Prize winners among former staff and students and its alumni go on to hold positions of great responsibility and influence all over the world, making significant contributions in their chosen fields.
Global research partners and clients include Boeing, Rolls-Royce, Unilever, AstraZeneca, Glaxo SmithKline and Siemens, as well as many UK and overseas government agencies and charitable foundations.