University of Sheffield in top 100 for arts and humanities globally
University of Sheffield ranked as one of the best universities in the world for arts and humanities
Sheffield is ranked 67th internationally and 12th in the UK by the Times Higher Education
In the last year, University of Sheffield arts and humanities researchers have uncovered a Viking army camp, developed world's first air-cleansing poem, shaped mental health support, and revealed how music can treat insomnia
World-leading arts and humanities research fed into teaching for students with strong international outlook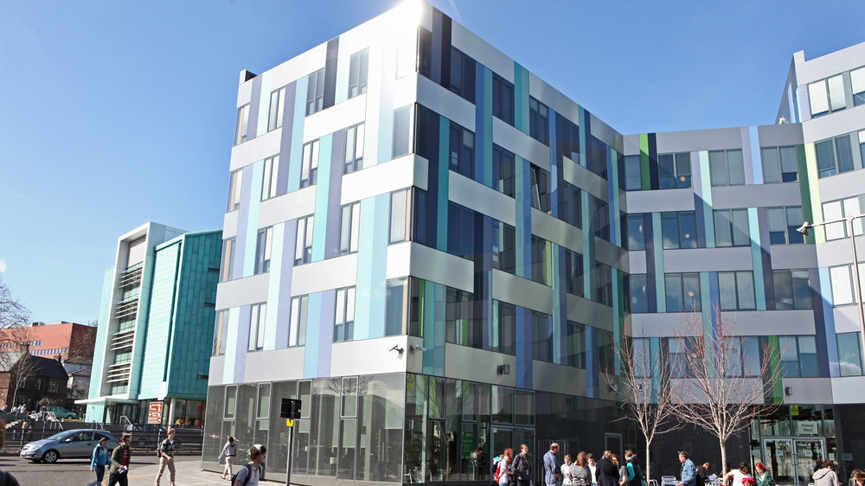 The University of Sheffield has been ranked as one of the best universities in the world for teaching and research in the arts and humanities by the Times Higher Education.
Sheffield has been ranked 67th internationally – and 12th in the UK – in the Times Higher Education World University Rankings 2018 for arts and humanities. The ranking highlights the institutions that are leading across arts, performing arts, languages, history, philosophy, theology, architecture and archaeology subjects.
This year's ranking has expanded to include 400 institutions from across the world with the University of Sheffield being recognised as one of the world's top 100 universities.
Professor Susan Fitzmaurice, Vice-President for Arts and Humanities at the University of Sheffield, said: "We are delighted that the University of Sheffield has been recognised as one of the world's leading centres for the arts and humanities. This international ranking indicates that the University leads pioneering research and innovative teaching with a strong international outlook in arts and humanities subjects.
"Arts and humanities subjects play a crucial role in addressing some of the biggest challenges that face human society and culture in the world today. Our students and researchers contribute distinctive insights and solutions to problems that simply cannot be solved by the STEM subjects alone because they have humans at their very heart."
Sheffield's position in the ranking further cements its international reputation for high quality, innovative learning and teaching, which is delivered by staff who are committed to providing an outstanding student experience with a strong international outlook.
University of Sheffield teaching staff are also at the cutting edge of research across a range of disciplines. Pioneering research led by academics at the University informs the learning experience of students at Sheffield on undergraduate and postgraduate programmes.
Archaeologists at the University of Sheffield have recently uncovered the site of a former Viking army camp, which the Vikings used to plot their invasion of medieval England in the late ninth century. The study, led by Professor Dawn Hadley, was transformed into a virtual reality experience giving users an opportunity to explore what life was like in a Viking army camp.
Historians at the University have revealed new insights into how women have shaped the evolution of modern politics, including a rise of women in politics across Europe following the EU referendum in the UK. They have also worked with the University's digital humanities experts to develop resources enabling people to trace the lives of criminals in Georgian and Victorian England and their influence on modern criminal justice systems.
Researchers from Sheffield's School of English are active in a range of interdisciplinary research centres that collaborate across the humanities, science and technology.
University of Sheffield Professor of Poetry Simon Armitage and colleagues collaborated with scientists to produce the world's first air-cleansing poem, which removed more than two tonnes of pollution from the environment. The project illustrates how public art can be used to fight pollution in some of the world's most polluted cities and urban areas.
Professor Brendan Stone from the University's School of English is helping to lead a transformation in support services for people with mental health issues. The Professor of English spearheads projects in which people with mental health problems have shaped the support services for them and other people with mental health issues.
Sheffield academics Amber Regis and Dave Forrest have conducted pioneering research into some of the most-loved names in literature. Dr Amber Regis' studies into Charlotte Brontë and how her life and work has been adapted since her death is being fed into an undergraduate teaching module for third year Sheffield students. Dr Dave Forrest's research into the film writer and novelist Barry Hines is incorporated into a teaching module on Imagining the North through which students explore the ways that the north of England is constructed by the cultural narratives that have been produced within it.
Linguists at the University of Sheffield have recently launched HumLab – a state-of-the-art research facility allowing students and researchers to discover new insights into how humans learn languages. The facility is a hub for arts and humanities students and researchers to collaborate with scientists to shape the way scientists approach studies into thought, learning and mental organisation.
Researchers from Sheffield's Department of Music are exploring how music impacts on our behaviours, abilities and brain responses. Dr Victoria Williamson has discovered new insights into how music can be used as a therapy for people suffering from insomnia.
Professor Jenny Saul from the University's Department of Philosophy has conducted pioneering research into the philosophy of language, feminism, philosophy of race and philosophy of psychology. She has also conducted research on implicit bias, which has influenced practices and policies worldwide, to reduce the under-representation of women in philosophy.
Sheffield researchers and students from the School of Languages and Cultures are studying language within the context of culture and society. Their studies are developing new insights into migration, culture, communities, gender studies, identity and linguistics.
Students who study arts and humanities subjects at the University of Sheffield have gone on to develop a diverse range of careers. From renowned BBC sports presenter Dan Walker to the bestselling author Lucy Prebble, Sheffield arts and humanities graduates have secured positions at the forefront of their chosen industries.
Professor Sir Keith Burnett, President and Vice-Chancellor of the University of Sheffield, added: "I am delighted that our exceptional academics in the arts and humanities have been recognised in this way as the truly world-leading scholars and teachers they are. I have personally witnessed the way their work is held in the highest esteem by their peers around the world, but I also know that this knowledge is translated into dedicated teaching and a commitment to engage with local communities in the most profound ways.
"It is sometimes assumed that Sheffield, which has a strong tradition of excellence in engineering, medicine and science is exclusively focused on these subjects. This is categorically not the case and I am truly proud that their global reputation and profile is once again confirmed in these rankings."
Studying arts and humanities subjects at the University of Sheffield https://www.sheffield.ac.uk/faculty/arts-and-humanities/index
Arts and humanities research at the University of Sheffield
Additional information
The University of Sheffield
With almost 27,000 of the brightest students from over 140 countries, learning alongside over 1,200 of the best academics from across the globe, the University of Sheffield is one of the world's leading universities.
A member of the UK's prestigious Russell Group of leading research-led institutions, Sheffield offers world-class teaching and research excellence across a wide range of disciplines.
Unified by the power of discovery and understanding, staff and students at the university are committed to finding new ways to transform the world we live in.
Sheffield is the only university to feature in The Sunday Times 100 Best Not-For-Profit Organisations to Work For 2017 and was voted number one university in the UK for Student Satisfaction by Times Higher Education in 2014. In the last decade it has won four Queen's Anniversary Prizes in recognition of the outstanding contribution to the United Kingdom's intellectual, economic, cultural and social life.
Sheffield has six Nobel Prize winners among former staff and students and its alumni go on to hold positions of great responsibility and influence all over the world, making significant contributions in their chosen fields.
Global research partners and clients include Boeing, Rolls-Royce, Unilever, AstraZeneca, Glaxo SmithKline, Siemens and Airbus, as well as many UK and overseas government agencies and charitable foundations.
Contact
For further information please contact:
Sean Barton
Junior Public Relations Officer
University of Sheffield
0114 222 9852
s.barton@sheffield.ac.uk