Blocking a human branched DNA enzyme offers new ways of targeting a crucial enzyme family for cancer therapy
An international team of scientists have discovered how compounds block flap endonuclease 1 (FEN1) - a crucial enzyme class in the DNA damage response and potential target for cancer treatment.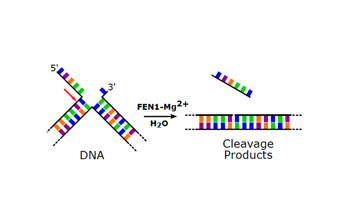 Branched or flapped DNAs with single stranded ends are formed during healthy human DNA replication and DNA repair.
These single-stranded flaps can be removed by enzymes such as flap endonuclease 1 (FEN1) to restore the integrity of the DNA to its double-stranded state.
Higher levels of FEN1 have been seen in cancer cells with clinically worse prognosis3 and these cells are more reliant on this repair enzyme especially in the absence of other supporting DNA damage response proteins.
These latter cells are sensitive to and die when FEN1 is blocked – a term called synthetic lethality. Preventing the action of enzymes like FEN1 maybe a way of selectively killing such cancer cells.
The collaborative, interdisciplinary team of scientists from the University of Sheffield, Pelago Bioscience and AstraZeneca took detailed images of the way previously confirmed inhibitors4 bind and block FEN1 to provide clues as to how the functionality of the protein is prevented.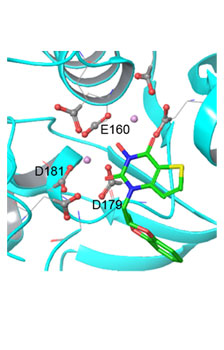 This was complemented by detailed studies of the effects of inhibition of FEN1 on cell function within the DNA damage response.
Professor Jane Grasby from the University of Sheffield's Department of Chemistry led the research team whose findings are published today (Monday 15 August 2016) in Nature Chemical Biology.
"We have worked on understanding the secrets of FEN1's role in human DNA replication and repair for many years," said Professor Grasby.
"It's been an exciting privilege for us to work with AstraZeneca and apply this knowledge to potentially intervene in a serious human disease."
At AstraZeneca, the collaboration was led by Dr Steve Durant, Dr Cliff Jones and Dr Willem Nissink from AstraZeneca's Innovative Medicine & Early Development Biotech Unit.
Dr Durant said: "This has been a fantastic collaboration between us, the University of Sheffield and the Biotech company Pelago.
"It has really boosted our understanding of how a specific set of compounds we previously confirmed as FEN1 inhibitors work. This insight helps us develop ways of blocking nucleases, a crucial family of enzymes in the cellular DNA Damage Response and one of AstraZeneca's key strategic areas of focus in Oncology drug development".
Additional information
AstraZeneca
AstraZeneca is a global, science-led biopharmaceutical company that focuses on the discovery, development and commercialisation of prescription medicines, primarily for the treatment of diseases in three therapy areas – Respiratory and Autoimmunity, Cardiovascular and Metabolic Diseases, and Oncology. The company is also active in inflammation, infection and neuroscience through numerous collaborations. AstraZeneca operates in over 100 countries and its innovative medicines are used by millions of patients worldwide. For more information please visit: www.astrazeneca.com.
The University of Sheffield
With almost 27,000 of the brightest students from over 140 countries, learning alongside over 1,200 of the best academics from across the globe, the University of Sheffield is one of the world's leading universities.
A member of the UK's prestigious Russell Group of leading research-led institutions, Sheffield offers world-class teaching and research excellence across a wide range of disciplines.
Unified by the power of discovery and understanding, staff and students at the university are committed to finding new ways to transform the world we live in.
Sheffield is the only university to feature in The Sunday Times 100 Best Not-For-Profit Organisations to Work For 2016 and was voted number one university in the UK for Student Satisfaction by Times Higher Education in 2014. In the last decade it has won four Queen's Anniversary Prizes in recognition of the outstanding contribution to the United Kingdom's intellectual, economic, cultural and social life.
Sheffield has five Nobel Prize winners among former staff and students and its alumni go on to hold positions of great responsibility and influence all over the world, making significant contributions in their chosen fields.
Global research partners and clients include Boeing, Rolls-Royce, Unilever, AstraZeneca, Glaxo SmithKline, Siemens and Airbus, as well as many UK and overseas government agencies and charitable foundations.
Figure 1 The reaction of flapped DNA mediated by flap endonuclease-1 (FEN1) that removes single-stranded DNA ends to restore double-stranded DNA during base excision repair.
Figure 2 A small molecule potential drug bound to the active site of FEN1. The active site is the place where it cuts flapped DNA.
References
Cellular Active N-Hydroxyurea FEN1 Inhibitors Block Substrate Entry to the Active Site. Jack C. Exell,1,6 Mark J. Thompson,1 L. David Finger,1 Steven J. Shaw,1 Judit Debreczeni,2 Thomas A. Ward,4 Claire McWhirter,2 Catrine B. L. Siöberg,5 Daniel Martinez Molina,5 W. Mark Abbott,2 Clifford D. Jones,3 J. Willem M. Nissink,3,* Stephen T. Durant4,* and Jane A. Grasby.1,*
1Centre for Chemical Biology, Department of Chemistry, Krebs Institute, University of Sheffield, Sheffield, S3 7HF, UK
2Discovery Sciences, Innovative Medicines and Early Development Biotech Unit, AstraZeneca, Unit 310 (Darwin Building), Cambridge Science Park, Milton Road, Cambridge, CB4 0WG, UK.
3Chemistry, Oncology, Innovative Medicines and Early Development Biotech Unit, AstraZeneca, Unit 310 (Darwin Building), Cambridge Science Park, Milton Road, Cambridge, CB4 0WG, UK and Alderley Park, Cheshire, SK10 4TG, UK.
4Bioscience, Oncology, Innovative Medicines and Early Development Biotech Unit, CRUK Cambridge Institute, Robinson Way, Cambridge, CB2 0RE, UK; Alderley Park, Cheshire, SK10 4TG, UK and AstraZeneca, Unit 310
Darwin Building), Cambridge Science Park, Milton Road, Cambridge, CB4 0WG, UK.
5Pelago Bioscience AB, Nobels Väg 3, 17165, Sweden
6Current address: Department of Microbiology and Molecular Genetics, University of California, Davis, Briggs Hall, One Shields Ave, Davis, CA 95616-8665, US
DNA and Protein Requirements for Substrate Conformational Changes Necessary for Human Flap Endonuclease-1-catalyzed Reaction.
Algasaier SI, Exell JC, Bennet IA, Thompson MJ, Gotham VJ, Shaw SJ, Craggs TD, Finger LD, Grasby JA.
J Biol Chem. 2016 Apr 8;291(15):8258-68
1. Genomic and protein expression analysis reveals flap endonuclease 1 (FEN1) as a key biomarker in breast and ovarian cancer.
Abdel-Fatah TM, Russell R, Albarakati N, Maloney DJ, Dorjsuren D, Rueda OM, Moseley P, Mohan V, Sun H, Abbotts R, Mukherjee A, Agarwal D, Illuzzi JL, Jadhav A, Simeonov A, Ball G, Chan S, Caldas C, Ellis IO, Wilson DM 3rd, Madhusudan S.
Mol Oncol. 2014 Oct;8(7):1326-38
2. Development of a high-throughput fluorescence polarization DNA cleavage assay for the identification of FEN1 inhibitors. McWhirter C, Tonge M, Plant H, Hardern I, Nissink W, Durant ST.
J Biomol Screen. 2013 Jun;18(5):567-75. doi: 10.1177/1087057113476551
Contact
For further information please contact:
Amy Pullan
Media Relations Officer
University of Sheffield
0114 222 9859
a.l.pullan@sheffield.ac.uk
Save
Save
Save
Save
Save
Save
Save
Save
Save
Save