Boeing to open new manufacturing facility in Sheffield City Region, alongside the Advanced Manufacturing Research Centre
Boeing Sheffield will be first Boeing manufacturing facility in Europe
New multimillion-pound production facility will be built alongside the University of Sheffield's Advanced Manufacturing Research Centre with Boeing (AMRC)
Boeing to initiate a major research and development programme with the AMRC to develop new manufacturing techniques that can be applied in the Boeing Sheffield facility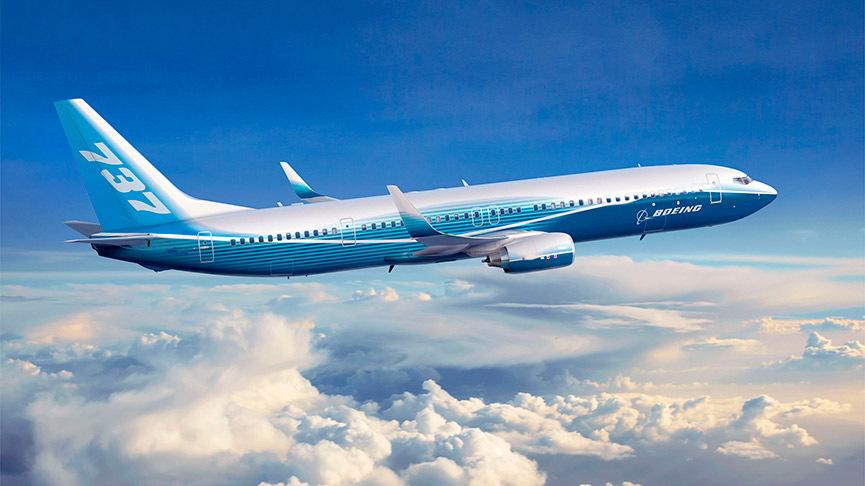 The University of Sheffield's Advanced Manufacturing Research Centre's (AMRC) co-founder Boeing is to open a brand new manufacturing facility alongside the AMRC in Sheffield.
The facility, to be named Boeing Sheffield, will enable Boeing to bring the manufacture of key high-tech actuation components and systems used in Boeing's Next-Generation 737, 737 MAX and 777 aircraft in-house, enhancing production efficiency and reducing costs.
Professor Keith Ridgway, Executive Dean of the AMRC said: "It has always been our ambition that one day Boeing would open a manufacturing facility in Sheffield. This announcement is the culmination of a successful relationship that has developed since the AMRC with Boeing was founded 16 years ago."
Areas such as Sheffield can play a crucial role in a new Industrial Revolution for the UK - one centred on science and innovation, but working hand in hand with industry.

Professor Sir Keith Burnett, President and Vice-Chancellor of the University of Sheffield
At the turn of the century, Professor Ridgway and local businessman Adrian Allen began to work with the aerospace giant to apply Sheffield's traditional expertise to new materials, focusing on machining research. The result was the establishment of the AMRC as a centre for collaborative research.
Adrian Allen, Executive Director of the AMRC, said: "Keith and I set out to create a radical, unique collaborative research environment; one that would quickly grow and become a catalyst for attracting a pool of skilled talent, technology and inward investment. This would be the critical success factor in achieving the vision we had, to become the world's foremost innovation district."
In the past 16 years, the University of Sheffield's AMRC has grown to include over 90 industrial partners from sectors such as aerospace, medical, automotive and construction and has become a model world-wide in how to conduct collaborative research to develop new manufacturing techniques and technologies. The AMRC and its partners are now a central offer for the Sheffield City Region's Advanced Manufacturing Innovation District.
As part of the plans for its new facility, Boeing will initiate a major research and development programme with the AMRC to develop new manufacturing techniques.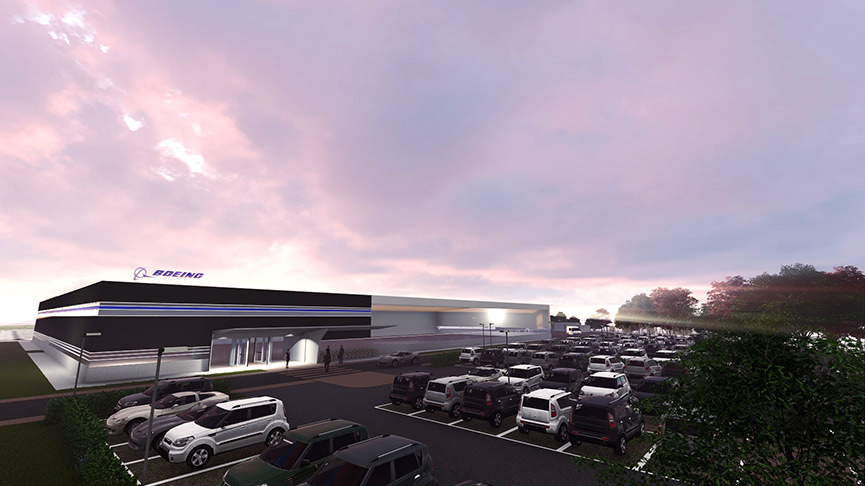 Sir Michael Arthur, President of Boeing Europe and Managing Director of Boeing UK and Ireland, said: "The UK provides Boeing with the talent and infrastructure we need to grow and maintain a high level of productivity and quality to meet our significant order book.
"We are proud to expand our relationship with the UK still further with Boeing Sheffield. Our decision to start manufacturing high-value components in the UK is a step-change in our engagement and a further example of Boeing's commitment to grow here, supporting the UK's long-term prosperity."
Boeing Sheffield is expected to begin hiring new employees in 2018 - capitalising on the skilled workforce in Sheffield as well as the AMRC's existing capabilities.
The Boeing Sheffield announcement follows the recently announced new partnership between the University of Sheffield's AMRC and McLaren Automotive.
The AMRC is working with the supercar manufacturer to develop the advanced manufacturing processes that will allow McLaren Automotive to ramp up production of the chassis for its future cars at its new Composites Technology Centre. This new manufacturing facility will also be built in the Sheffield City Region, within the vicinity of the AMRC.
"These announcements reinforce that our region is a leading location for high-value advanced manufacturing," said Professor Ridgway.
"They give testimony to the world class research skills and capabilities on offer at the University of Sheffield and the AMRC, supporting the major investments coming into the region. Investments that will provide opportunities for the UK supply chain. We look forward to supporting Boeing and continuing to ensure that UK manufacturers remain competitive, through access to our expertise here at the AMRC."
Professor Sir Keith Burnett, President and Vice-Chancellor of the University of Sheffield, said: "This is hugely important, not only for our region and the North of England, but also the UK's global industrial ambitions in high-productivity, high-value manufacturing.
"Areas such as Sheffield can play a crucial role in a new Industrial Revolution for the UK - one centred on science and innovation, but working hand in hand with industry. I am deeply proud that leading global companies recognise that Made in Sheffield still remains a hallmark of quality."
Read the full announcement from Boeing.
McLaren to build supercar chassis in Sheffield City Region - bringing £100m boost to UK economy
A pioneering partnership between luxury sports car producer McLaren Automotive and the University of Sheffield's Advanced Manufacturing Research Centre (AMRC) has led to the development of a significant new manufacturing facility – bringing a £100 million boost to the economy.
Additional information
About the AMRC with Boeing

The University of Sheffield Advanced Manufacturing Research Centre (AMRC) with Boeing is a world-class centre for research into advanced manufacturing technologies used in the aerospace, automotive, medical and other high-value manufacturing sectors.
The AMRC has previously been recognised as Boeing Supplier of the Year. It has a global reputation for helping companies overcome manufacturing problems and is a model for collaborative research involving universities, academics and industry worldwide. Combining state of the art technologies with the AMRC's expertise in design and prototyping, machining, casting, welding, additive manufacturing, composites and structural testing, has created a manufacturing resource far beyond anything previously available in the UK.
The AMRC Training Centre also trains over 550 advanced manufacturing apprentices - using insight from industry and state-of-the-art machinery and technology. The AMRC is a member of the High Value Manufacturing Catapult, a consortium of leading manufacturing and process research centres, backed by the UK's innovation agency, Innovate UK.
University of Sheffield
With almost 27,000 of the brightest students from over 140 countries, learning alongside over 1,200 of the best academics from across the globe, the University of Sheffield is one of the world's leading universities.
A member of the UK's prestigious Russell Group of leading research-led institutions, Sheffield offers world-class teaching and research excellence across a wide range of disciplines.
Unified by the power of discovery and understanding, staff and students at the university are committed to finding new ways to transform the world we live in.
Sheffield is the only university to feature in The Sunday Times 100 Best Not-For-Profit Organisations to Work For 2017 and was voted number one university in the UK for Student Satisfaction by Times Higher Education in 2014. In the last decade it has won four Queen's Anniversary Prizes in recognition of the outstanding contribution to the United Kingdom's intellectual, economic, cultural and social life.
Sheffield has six Nobel Prize winners among former staff and students and its alumni go on to hold positions of great responsibility and influence all over the world, making significant contributions in their chosen fields.
Global research partners and clients include Boeing, Rolls-Royce, Unilever, AstraZeneca, Glaxo SmithKline, Siemens and Airbus, as well as many UK and overseas government agencies and charitable foundations.
Contact
For further information from Boeing please contact:
Katerina Giannini
Boeing International Corporate Communications
+44 20 7340 1971
katerina.giannini@boeing.com
For further information from the University of Sheffield contact:
Hannah Postles
Media Relations Officer
University of Sheffield
0114 222 1046
h.postles@sheffield.ac.uk