Boeing begins construction on its first European production facility in Sheffield
Ceremonial ground-breaking event held at the site of Boeing Sheffield, which will be built alongside the University of Sheffield's Factory 2050 at its Advanced Manufacturing Research Centre (AMRC)
Boeing Sheffield is the company's first production facility in Europe
Boeing chose Sheffield based on its longstanding partnership with the AMRC and because of its partnership opportunities, skilled workforce and investment in research, training and development
Sheffield's inward investment is the strongest it has been for a generation after deals with McLaren, Boeing and Ikea in recent months.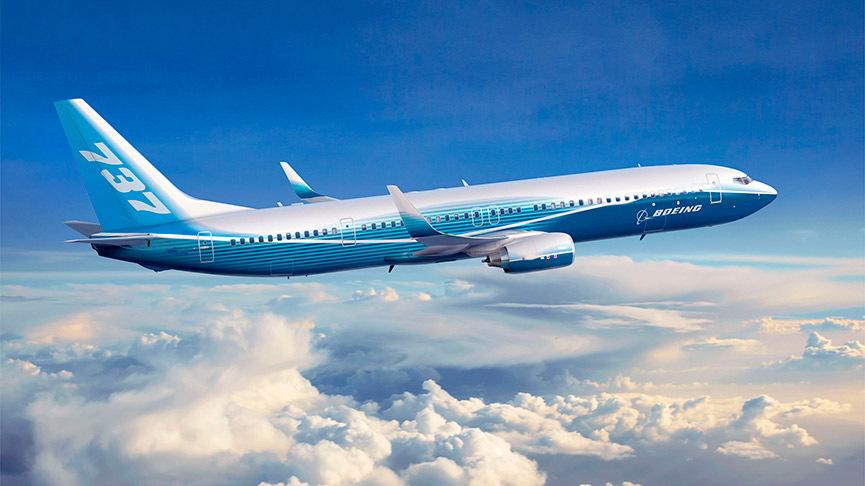 Leading aerospace company Boeing ceremonially broke ground at the site of its new manufacturing facility today (12 September 2017).
The new 6,200-square metre Boeing Sheffield facility, due to open in late 2018, is situated alongside the University of Sheffield's Factory 2050, part of the Advanced Manufacturing Research Centre (AMRC).
It will manufacture actuation system components for Boeing's Next-Generation 737, 737 MAX and 777 aeroplanes – enhancing production efficiency and reducing costs whilst maintaining quality.
The Sheffield facility is part of Boeing's broader plan to grow in-house production of selective technologies and will be the company's first production facility in Europe.
This symbolic event confirms that the Sheffield City Region is fast becoming the leading location in Europe for investment in high-value, advanced manufacturing.

Professor Keith Ridgway, founder and Executive Dean of the AMRC
Boeing also plans a major research and development programme with the AMRC to develop new manufacturing techniques that can be applied to the Boeing Sheffield facility and then implemented across Boeing internationally.
Sir Michael Arthur, President of Boeing Europe and Managing Director of Boeing UK and Ireland, said the company was proud to celebrate the ground-breaking of Boeing Sheffield and welcome more employees to the company - seven months after it announced its intention to build the factory.
He said: "Boeing Sheffield is further evidence of Boeing's long-term commitment to the prosperity of this country. We are grateful to the communities of Sheffield and Rotherham, as well as Sheffield City Council and the Local Enterprise Partnership, for supporting Boeing Sheffield and our growing presence in the region."
When it opens, Boeing Sheffield will produce as many as 8,000 components per month that will be shipped to Boeing Portland, another Boeing Fabrication site in Oregon, U.S.A., to be assembled into actuation systems. The Sheffield facility will initially employ 30 people on opening, growing to more than 50 employees. This includes 19 manufacturing apprentices, who have already been recruited and are being trained at the University of Sheffield's Advanced Manufacturing Research Centre (AMRC) Training Centre.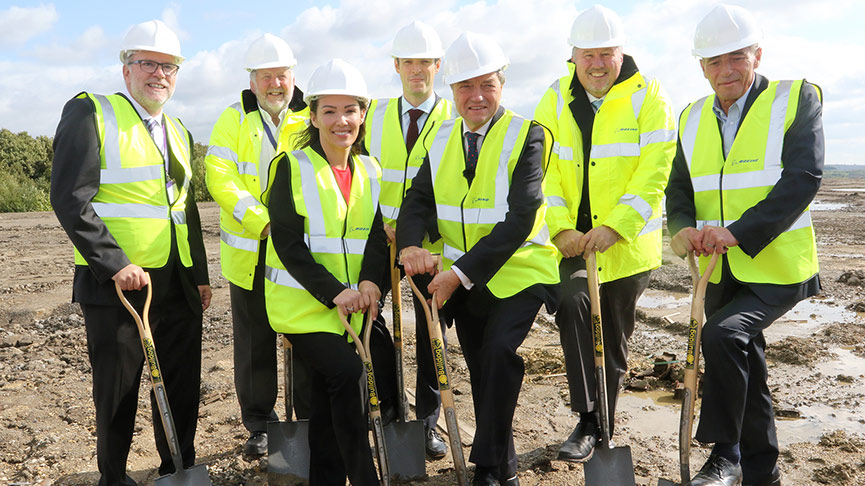 The AMRC was originally established in 2001 by Professor Keith Ridgway and local businessman Adrian Allen. Boeing is the industrial founding partner of the AMRC and the partnership has applied Sheffield's traditional expertise to new materials, focusing on machining research. The result was the establishment of the AMRC as a centre for collaborative research.
Professor Ridgway, founder and Executive Dean of the AMRC said: "The ground-breaking today is an important event not only for Boeing, but for the AMRC, the University of Sheffield and the city region.
"It is the culmination of a partnership that began 16 years ago, and the realisation of a vision that one day we would see a Boeing manufacturing plant built in our region and employing skilled and talented local people."
"This symbolic event confirms that the Sheffield City Region is fast becoming the leading location in Europe for investment in high-value, advanced manufacturing. We look forward to supporting Boeing with a research and development programme that will bolster their manufacturing activities in the UK."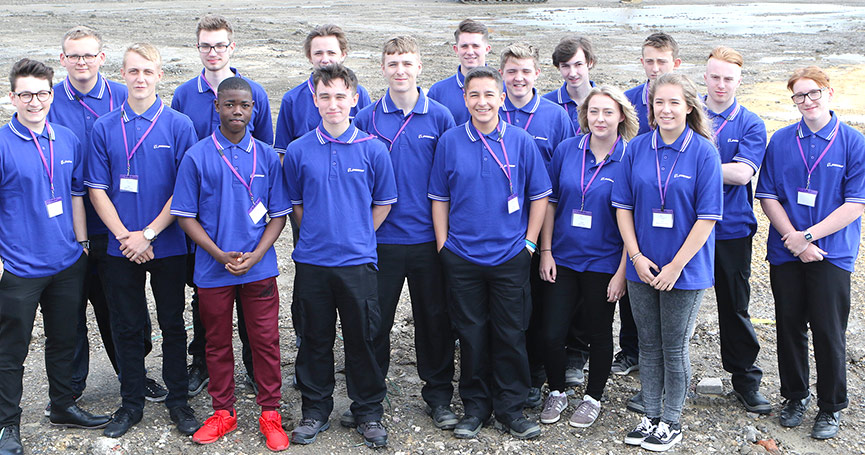 Cofounder Adrian Allen, now Executive Director of the AMRC, added: "We are proud to be associated with Boeing and the beginning of construction for Boeing Sheffield gives testimony one of the many reasons many major investors are attracted to the region; our increasing talent pool.
"We have over 600 staff and to date our AMRC Training Centre has trained over 800 talented engineering apprentices, some of whom will now form a new generation of Boeing engineers.
"Drawing on our expertise here at the AMRC, will ensure Boeing can take advantage of the latest technologies, techniques and research to fuel its growth within the UK and provide opportunities for the UK supply chain."
Professor Sir Keith Burnett, President and Vice-Chancellor of the University of Sheffield, added that the groundbreaking ceremony marked a key milestone in a 20-year relationship between the University of Sheffield and Boeing, but also between Boeing's global ambitions as a company and the UK.
"The University's AMRC with Boeing is a true partnership," he said.
"It began with a vision of true collaboration between world-leading research and industry and has grown over the years to include supply chain companies, new technologies and high-performance materials, virtual reality prototyping, the data revolution and the training of advanced apprentices.
"Its founders Professor Keith Ridgway, Adrian Allen and close colleagues in Boeing always hoped that at some point aerospace production itself might be located alongside our AMRC in Sheffield. Today they have seen that dream fulfilled through their talent and hard work over many years, bringing with it wonderful opportunities for young people. I warmly congratulate them on all they have achieved so far and I know they have the support of people from across the region who are delighted to share in their success."
Councillor Julie Dore, leader of Sheffield City Council, added: "Boeing Sheffield joins McLaren, Forgemasters and many others in choosing our region as the place from which they can achieve global success, with stunning innovation and research capabilities and the ability to recruit and retain the very best jobs for our people and workforce.
"This new factory will bring a global company at the absolute cutting-edge of its industry to Sheffield and reinforces our position as a world leader for advanced manufacturing.
"This is Boeing's first factory in Europe, a decision that is testament to the great skills, research and infrastructure we have across the region. We have shown that we are a city that is able to work with global leaders, national agencies and local partners to attract world leading firms like Boeing. Sheffield means business."
The Boeing Sheffield project was supported with significant financial support from the Sheffield City Region (SCR). Sir Nigel Knowles, Chair of the SCR's Local Enterprise Partnership, said: "We are very proud to welcome Boeing on board for this investment. It demonstrates the strengths of our supply chain and skilled workforce.
"I am delighted that such a highly respected world leader as Boeing recognised this.
"This opens the doors to an exciting and prosperous future for many people in the Sheffield City Region, where we are creating inclusive growth and ensuring that we stay in the vanguard of innovation and advanced manufacturing.
"The region is a global centre for automotive and aerospace expertise with McLaren and Boeing now alongside the University of Sheffield's Advanced Manufacturing Research Centre, and the research and development expertise it offers."
---
McLaren to build supercar chassis in Sheffield City Region - bringing £100m boost to UK economy
A pioneering partnership between luxury sports car producer McLaren Automotive and the University of Sheffield's Advanced Manufacturing Research Centre (AMRC) has led to the development of a significant new manufacturing facility – bringing a £100 million boost to the economy.
Additional information
About the AMRC with Boeing
The University of Sheffield Advanced Manufacturing Research Centre (AMRC) with Boeing is a world-class centre for research into advanced manufacturing technologies used in the aerospace, automotive, medical and other high-value manufacturing sectors.
The AMRC has a global reputation for helping companies overcome manufacturing problems and is a model for collaborative research involving universities, academics and industry worldwide.
Combining state of the art technologies with the AMRC's expertise in design and prototyping, machining, casting, welding, additive manufacturing, composites, assembly and structural testing, has created a manufacturing resource far beyond anything previously available in the UK.
Advanced Manufacturing Research Centre (AMRC)
University of Sheffield
With almost 27,000 of the brightest students from over 140 countries, learning alongside over 1,200 of the best academics from across the globe, the University of Sheffield is one of the world's leading universities.
A member of the UK's prestigious Russell Group of leading research-led institutions, Sheffield offers world-class teaching and research excellence across a wide range of disciplines.
Unified by the power of discovery and understanding, staff and students at the university are committed to finding new ways to transform the world we live in.
Sheffield is the only university to feature in The Sunday Times 100 Best Not-For-Profit Organisations to Work For 2017 and was voted number one university in the UK for Student Satisfaction by Times Higher Education in 2014. In the last decade it has won four Queen's Anniversary Prizes in recognition of the outstanding contribution to the United Kingdom's intellectual, economic, cultural and social life.
Sheffield has six Nobel Prize winners among former staff and students and its alumni go on to hold positions of great responsibility and influence all over the world, making significant contributions in their chosen fields.
Global research partners and clients include Boeing, Rolls-Royce, Unilever, AstraZeneca, Glaxo SmithKline, Siemens and Airbus, as well as many UK and overseas government agencies and charitable foundations.