Boeing opens its first European production facility in Sheffield
Boeing Sheffield opens alongside the University of Sheffield's Factory 2050 at its Advanced Manufacturing Research Centre (AMRC)
Boeing chose Sheffield based on its longstanding relationship with the University of Sheffield's AMRC and its partnership opportunities, skilled workforce and investment in research, training and development
Boeing Sheffield is the company's first production facility in Europe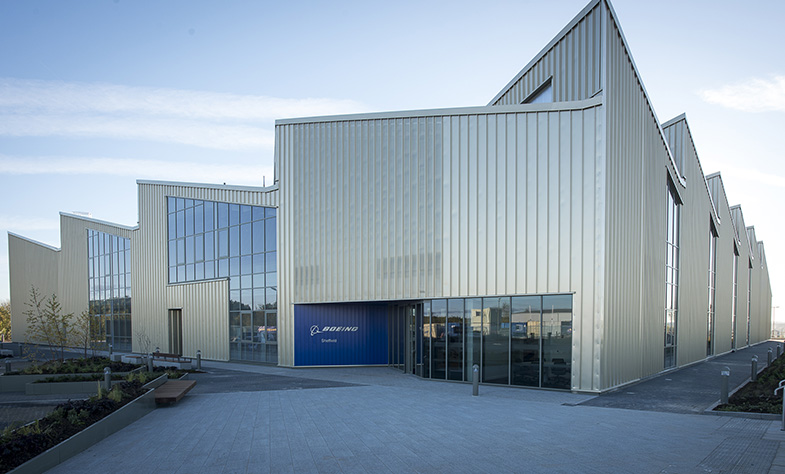 Leading aerospace company Boeing has opened its first European manufacturing facility in Sheffield today (25 October 2018).
The new 6,200-square-metre Boeing Sheffield site is situated alongside the University of Sheffield's Factory 2050, part of its Advanced Manufacturing Research Centre (AMRC).
Boeing first established a presence in Sheffield City Region in 2001 when the company co-founded the AMRC with the University of Sheffield. Boeing Sheffield is a direct result of this longstanding and successful relationship with the AMRC and its world-class research and development.
The company has also initiated a major new research programme with the AMRC to develop new manufacturing techniques that can be applied to the new Boeing Sheffield facility.
Jenette Ramos, Boeing Senior Vice President of Manufacturing, Supply Chain and Operations, said: "We appreciate all the community support for Boeing's new advanced manufacturing factory in the UK. This is a fabulous example of how we are engaging global talent to provide greater value to our customers.
"In Boeing Sheffield, we are building on longstanding relationships and the region's manufacturing expertise to enhance our production system and continue to connect, protect, explore and inspire aerospace innovation."
The facility, which makes actuation system components for 737 and 767 passenger jets, represents a Boeing investment of more than £40 million – placing the world's largest aerospace company at the heart of Sheffield City Region's growing Global Innovation Corridor. A total of 52 employees, including experienced mechanics, engineers and more than 20 apprentices being trained at the AMRC's Training Centre, make up the current Boeing Sheffield team.
Secretary of State for Business, Energy and Industrial Strategy Greg Clark said: "Boeing choosing the heart of South Yorkshire as its first European home is testament to our capabilities, talent pool and strong manufacturing supply chains which are vital to job creation and creating value for local economies.
"We are leading the world in UK aerospace manufacturing and through our modern Industrial Strategy, we, along with industry have committed to invest £3.9 billion in aerospace."
Boeing had faith in us because they connected with our passion and commitment to engineering and manufacturing excellence. If we retain that passion and keep to the vision, the sky is the limit.

Professor Keith Ridgway

After the speeches, AMRC Executive Director and founder Adrian Allen said: "This has been a dream day for all of us. Twenty-years ago we went knocking on the doors of Boeing in St Louis believing that if we kissed enough frogs one day we would find a prince. Boeing is that prince.
"They have been with us from the beginning; a constant source of support, inspiration and challenge. The one thing you learn working with Boeing is that they think big, so they were able to buy into our vision from the very start. It's been great to open this facility and see so many young people from across the region who will be playing a vital role in the manufacture of Boeing airplanes. But this, I believe, is just the beginning. There is much, much more to come."
Co-founder and Executive Dean of the University of Sheffield's AMRC, Professor Keith Ridgway, added: "Our success is all down to our people and the relationships between our partners. Boeing had faith in us because they connected with our passion and commitment to engineering and manufacturing excellence. If we retain that passion and keep to the vision, the sky is the limit."
Dan Jarvis, Mayor of the Sheffield City Region, said: "It's excellent news that Boeing has opened its first European factory here in the Sheffield City Region. Boeing's choice of location is a strong sign of confidence in our advanced engineering excellence, confidence in our workforce and strong manufacturing heritage, and confidence in the cutting-edge collaborations between university and business that enable us to lead the world.
"Boeing Sheffield will also be a key part of our region's 'Global Innovation Corridor', creating a connected set of research and business interactions based on the advanced manufacturing and engineering strengths we have here in the region, and linking people, places and ideas. The opportunities for our communities, for businesses, for researchers and for the workforce of the future are limitless.
"This opening of this new facility is hugely significant for South Yorkshire, the wider Northern Powerhouse, and indeed for the UK."
The University of Sheffield's AMRC was originally established in 2001 by Professor Keith Ridgway and local businessman Adrian Allen. Boeing is the industrial founding partner of the AMRC and the partnership has applied Sheffield's traditional expertise to new materials, focusing on machining research.
Comment: Why Boeing chose Sheffield
Additional information
About Boeing
Boeing is the world's largest aerospace company and leading manufacturer of commercial jetliners and defense, space and security systems. Boeing employs more than 2,200 people across the UK at numerous sites, from Glasgow to Gosport, and contracts with more than 250 U.K. suppliers, spending £1.8 billion ($2.3 billion) with tier 1 suppliers based in the U.K. in 2017. More than 29,000 people are employed as a result of Boeing U.K. operations, its purchases and the spending of those employed directly or in its supply chain. In 2018 Boeing celebrates 80 years of partnership with the United Kingdom, the Armed Forces, British manufacturing and the air transport industry. Today the UK remains a critically important market, supplier base and a source of some of the world's most innovative technology partners. For more information visit www.boeing.co.uk or @BoeingUK on Twitter.
The University of Sheffield
With almost 29,000 of the brightest students from over 140 countries, learning alongside over 1,200 of the best academics from across the globe, the University of Sheffield is one of the world's leading universities.
A member of the UK's prestigious Russell Group of leading research-led institutions, Sheffield offers world-class teaching and research excellence across a wide range of disciplines.
Unified by the power of discovery and understanding, staff and students at the university are committed to finding new ways to transform the world we live in.
Sheffield is the only university to feature in The Sunday Times 100 Best Not-For-Profit Organisations to Work For 2018 and for the last eight years has been ranked in the top five UK universities for Student Satisfaction by Times Higher Education.
Sheffield has six Nobel Prize winners among former staff and students and its alumni go on to hold positions of great responsibility and influence all over the world, making significant contributions in their chosen fields.
Global research partners and clients include Boeing, Rolls-Royce, Unilever, AstraZeneca, Glaxo SmithKline, Siemens and Airbus, as well as many UK and overseas government agencies and charitable foundations.
Contact
For further information please contact:
Hannah Postles
Media Relations Officer
The University of Sheffield
0114 222 1046
h.postles@sheffield.ac.uk