Sheffield families taken on a journey of discovery

Local children and their parents were given a fascinating insight into the world of research on Saturday (7 July 2012) thanks to a collaboration between the University of Sheffield and the national organisation Vitae, during an event held as part of the Sheffield Children's Festival.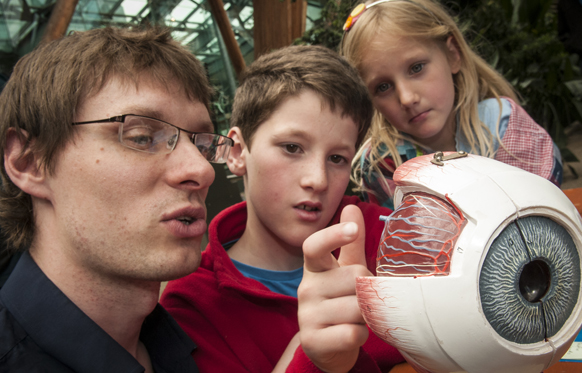 Entitled 'A Box of Ideas', the event, which took place in the Winter Gardens, gave youngsters the chance to meet with young researchers from the University of Sheffield and universities across Yorkshire and the North East , to hear about their passion for science.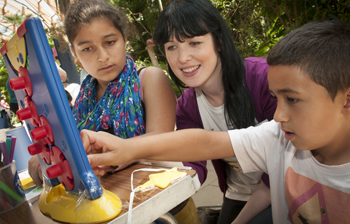 Lisa Procter, a researcher in the School of Education, who is studying for a PhD, said: "This event was a great way to engage children with research covering a wide range of topics. It was an exciting opportunity for me, as a researcher, to explore my research with children in hands-on and collaborative ways."
Through presentations, games, interactive displays, experiments and stories, visitors were able to explore some interesting concepts, such as how to design future electric cars, what the dance of bees tells us about the environment and what filling a cup with water says about your brain.
Other intriguing topics that were discussed on the day included whether a logbook of sailing ships who ventured to the Arctic seas two centuries ago could help us study climate change and what makes a good friend in terms of the role of facial differences.
The event formed part of the Sheffield Children's Festival, the biggest children's arts festival in the UK, which is run by Sheffield City Council's Events Team and is sponsored by VINCI Construction UK. The aim of the festival, which runs from Monday 18 June to Saturday 14 July 2012, is to showcase the work of children and young people from the Sheffield area.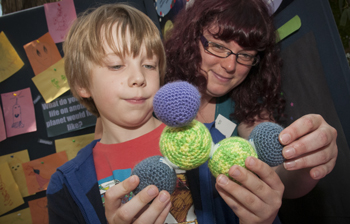 Dr Llida Ortega Asencio, a researcher from the University's Department of Materials Engineering who took part in the event, commented: "Who said that science and fun are not related? The Sheffield Children's Festival is a great example of how to combine science and entertainment and is a wonderful opportunity to meet scientists with very diverse backgrounds. In our lab we are developing devices similar to a contact lens for helping people with blindness so my stand involved explaining how we try to improve damaged eyes by making fancy houses for stem cells."
Roxanne But, who is studying for a PhD in the School of English, added: "The Sheffield Children's Festival offers a unique opportunity for us, aspiring researchers, to engage and to share our passion for research with the community. By displaying a wide variety of subjects that can be studied at university and in making these science-based topics fun and accessible to the general public, we want to capture people's interest in learning and to encourage young people to embark on higher education."
Additional information
Sheffield Children's Festival
http://sheffieldchildrensfestival.org/
The University of Sheffield
With nearly 25,000 students from 125 countries, the University of Sheffield is one of the UK's leading and largest universities. A member of the Russell Group, it has a reputation for world-class teaching and research excellence across a wide range of disciplines.

The University of Sheffield has been named University of the Year in the Times Higher Education Awards for its exceptional performance in research, teaching, access and business performance. In addition, the University has won four Queen's Anniversary Prizes (1998, 2000, 2002, 2007). These prestigious awards recognise outstanding contributions by universities and colleges to the United Kingdom's intellectual, economic, cultural and social life. Sheffield also boasts five Nobel Prize winners among former staff and students and many of its alumni have gone on to hold positions of great responsibility and influence around the world.

The University's research partners and clients include Boeing, Rolls Royce, Unilever, Boots, AstraZeneca, GSK, ICI, Slazenger, and many more household names, as well as UK and overseas government agencies and charitable foundations.

The University has well-established partnerships with a number of universities and major corporations, both in the UK and abroad. Its partnership with Leeds and York Universities in the White Rose Consortium has a combined research power greater than that of either Oxford or Cambridge.
For further information please contact