Exhibition shows life and culture on Britain's railways
New collection of images provides glimpse into everyday life on Britain's railways
Photos show scenes experienced by rail users across the UK
Exhibition is part of collaboration between University of Sheffield and National Railway Museum documenting railway life and cultures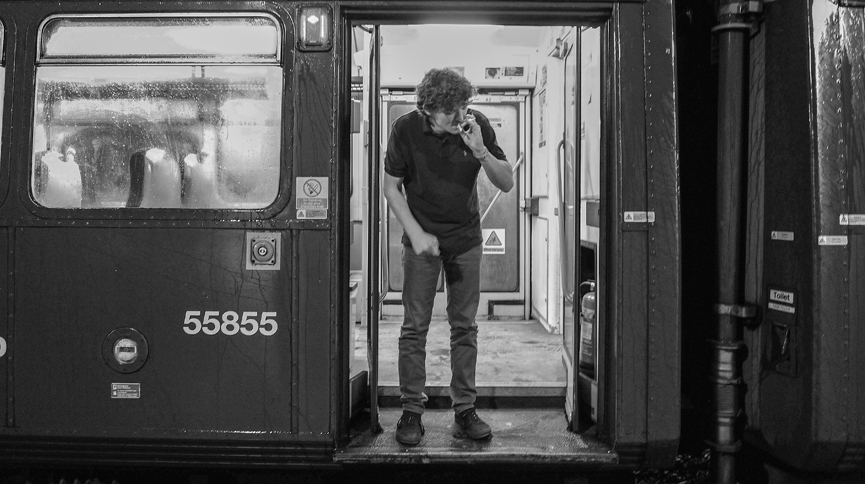 A new collection of images providing a unique glimpse into everyday life on Britain's railways is being published this week as part of a project between researchers at the University of Sheffield and the National Railway Museum in York.
The photos, which show candid scenes behind passengers' experiences on train journeys across the UK, are part of an exhibition on the life and culture of railways in Britain.
Led by researchers from the University's Faculty of Arts and Humanities, the exhibition at Sheffield railway station features artworks illustrating life on the nation's railways, past and present, from steam engines and the heritage of British Rail to the journeys experienced by commuters and rail users today.
Artworks in the exhibition include:
A new piece by artist and writer Simon Bill produced using the colours of King Edward VII's Royal Carriage
A series of paintings depicting railways in 1950s, 60s, and 70s Britain. The paintings were made by Peter Bartle, a signalman with no artistic training, who died in 2006.
A series of eight photographs by artist Laura Page, depicting contemporary rail users
A series of six photographs by artist Andrew Conroy, depicting the abandoned colliery lines of Yorkshire
Dr Amanda Crawley Jackson from the University of Sheffield's School of Languages and Cultures, said: "Railways are a hugely important part of life and culture in modern day Britain. The first passenger railway was built in the UK and railways were an integral part of Britain's role in the Industrial Revolution. However, fast forward nearly 200 years and railways are still very much an important part of many people's lives in the UK today.
"Railways take people to work, they take people on holiday and they connect people with their loved ones. They may seem like just another mode of transportation, but they actually contain lots of stories that illustrate life and culture in modern day Britain.
"The artwork featured in the Railway Cultures Exhibition provides a glimpse into everyday life on Britain's railways, but they also give us a unique perspective of how life and culture in Britain has changed over the past 200 years."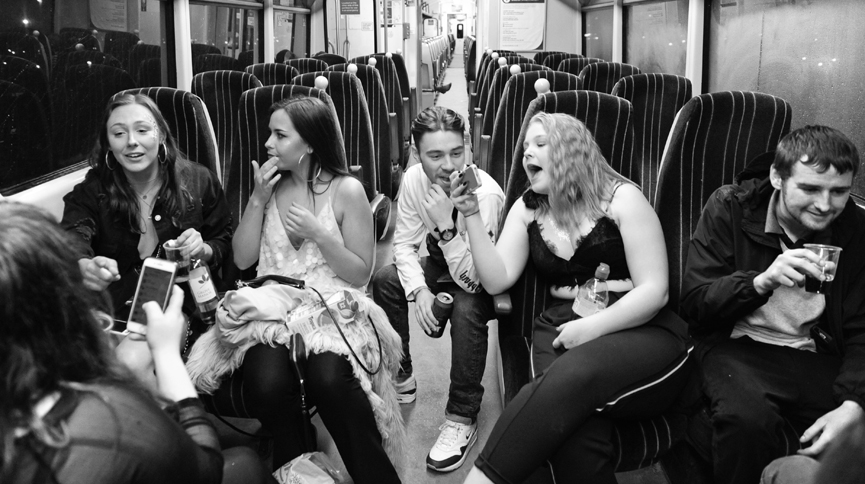 Ed Bartholomew, Lead Curator at the National Railway Museum, added: "We're delighted to be working with the University of Sheffield on this project, celebrating the enduring importance of the railways and their importance to British life. We have more than one million railway photographs in our collection and it would be fantastic to think that these images might be used by future generations as a record of what every day travel on the railway was like."
Artist Laura Page has been working with Dr Komarine Romdenh-Romluc from the University's Department of Philosophy on a collection of images that capture natural scenes on Britain's railway network.
Laura, who also studied philosophy at the University of Sheffield, said: "I spent a lot of time travelling around on random trains often chatting with people and telling them what I was doing until they forgot I was there so I could photograph candidly, capturing a natural scene. Some people made their train journeys an enjoyable part of their trip, sharing a drink on the way to a night out or having a chat with friends. Others tried to just continue getting on with the jobs they had to do, working on their laptops or eating their lunch while some tried to block the journey out having a sleep before reaching their destination."
She added: "I worked with Dr Romdenh Romluc who does a lot of fascinating work around perception. We looked at how the space in a train is shaped to accommodate certain activities and actions and how the behaviours that shape human environments, like the train, include those that are dictated by cultural norms - we regulate our behaviour, such as how close we stand to someone else, how we sit and eat, and so on, in a way that is considered socially acceptable.
"We also try to adapt the environment further to aid our own needs so we might, for example, use a hook to hang a coat from to make a small tent to block out the light so we can sleep - all of which can be seen in my images in the exhibition."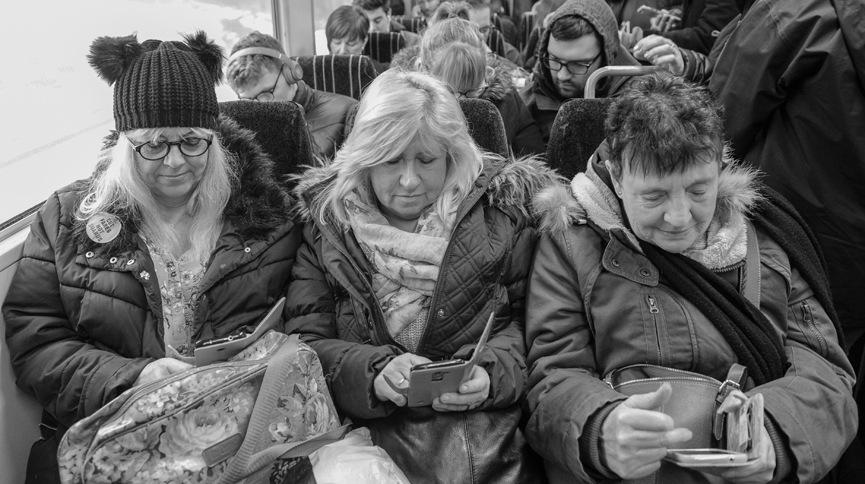 The exhibition is part of a collaboration between the University of Sheffield and the National Railway Museum which is examining the role played by heritage institutions in towns, cities and urban regeneration.
Results from the collaboration also include a book, which features artworks and short essays about the collections held in the National Railway Museum's archives and life on the railways today.
Students and staff from the University of Sheffield have also been commissioned to write short stories and poems on the theme of railways for a creative writing journal – Route 57: Loco-Motion – that will be published alongside the project.
Results from the collaboration were shared at a two-day conference at the National Railway Museum (19-20 April 2018) where researchers from UK universities met with delegates from the heritage industry and cultural sector. The conference further explored how museums and universities can work together to support urban regeneration and communities.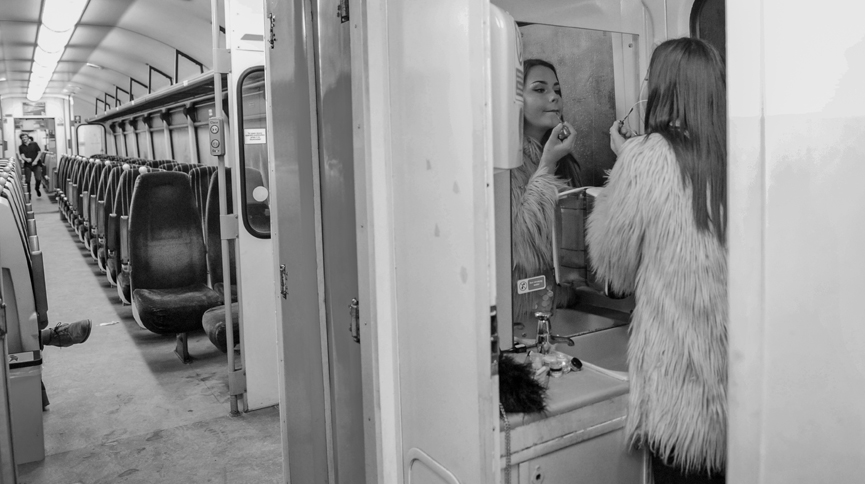 The collection of artwork is on display at Sheffield Railway Station following a launch event at DLA Piper in the city.
Petra Billing, Office Managing Partner at DLA Piper Sheffield, added: "We were delighted to host the Railway Cultures exhibition in our DLA Piper Sheffield office. This was a fabulous opportunity to showcase the work of local artists allowing our guests the opportunity to meet the artists with the added bonus of viewing the artwork."
Additional information
The University of Sheffield
With almost 29,000 of the brightest students from over 140 countries, learning alongside over 1,200 of the best academics from across the globe, the University of Sheffield is one of the world's leading universities.
A member of the UK's prestigious Russell Group of leading research-led institutions, Sheffield offers world-class teaching and research excellence across a wide range of disciplines.
Unified by the power of discovery and understanding, staff and students at the university are committed to finding new ways to transform the world we live in.
Sheffield is the only university to feature in The Sunday Times 100 Best Not-For-Profit Organisations to Work For 2018 and for the last eight years has been ranked in the top five UK universities for Student Satisfaction by Times Higher Education.
Sheffield has six Nobel Prize winners among former staff and students and its alumni go on to hold positions of great responsibility and influence all over the world, making significant contributions in their chosen fields.
Global research partners and clients include Boeing, Rolls-Royce, Unilever, AstraZeneca, Glaxo SmithKline, Siemens and Airbus, as well as many UK and overseas government agencies and charitable foundations.
Contact
For further information please contact:
Sean Barton
Media Relations Officer
University of Sheffield
0114 222 9852
s.barton@sheffield.ac.uk