Butterfly effect: Scientists discover how butterflies change colour
Study identifies gene responsible for changes in butterfly colour patterns
Cortex gene regulates wing colour variation in butterfly species
Research shows moths use same gene to control their camouflage
Butterflies are loved throughout the world for their striking and diverse colours and now scientists at the University of Sheffield have identified the gene responsible for their colour patterns.
The study, led by Dr Nicola Nadeau from the University's Department of Animal and Plant Sciences, has discovered that a gene called cortex controls some of the major differences in butterfly warning colour patterns.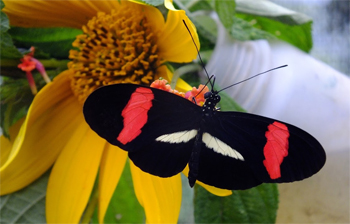 The researchers studied the wing colour patterns of the Heliconius, also known as passion-vine butterflies- a species of brightly coloured butterfly found in the rainforests of Latin America. Their colours warn predators that they contain toxins, which they get from the passion-vine plants they eat as caterpillars.
As well as being bright, their colours are also extremely variable, and the same species of butterfly often has very different patterns in different areas.
Predators in a particular area will only recognise and avoid the patterns of butterflies found in that same area, which stops any one pattern from spreading to other places.
The research led by scientists from the Universities of Sheffield and Cambridge, found that the cortex gene controls wing pattern variation in three different species of Heliconius butterfly.
Two of these species mimic each other by having almost identical colour patterns where they are found together, even though they are not closely related to each other. Having the same colours protects both species from predators by making it easier for the predators to learn to avoid the pattern they both share.
The third species has very different patterns, copying unrelated butterfly species.
Dr Nadeau, who led the research from Sheffield's Department of Animal and Plant Sciences, said: "The wing patterns of butterflies have puzzled scientists and nature-lovers for generations. Their patterns are beautiful to look at but also amazing when you see how much they can change, sometimes within tens of kilometres, as you travel through the rainforest.
"What our study did was look for differences in the DNA of butterflies with different patterns to try to understand what it is that controls their colour patterns. We identified a fast-evolving gene called cortex, which we believe is responsible for butterflies changing colours and patterns in order to protect themselves from predators."
In a separate study published at the same time as the Sheffield research, Dr Nadeau's peers at the University of Liverpool found that the cortex gene also controls colour variation in the peppered moth.
These moths apparently changed colour in Britain during the Industrial Revolution, from their usual mottled white pattern, which camouflages them against lichen covered tree trunks, to black, which camouflaged them against soot-covered tree trunks that were common during that time.
Following the introduction of the Clean Air Act, the moths have since gone back to being mostly pale coloured.
The Liverpool-led team found that this colour change was produced by a mutation in the cortex gene, which occurred around 30 years before the first reported sighting of black peppered moths in Manchester.
Dr Nadeau from the University of Sheffield added: "It's remarkable that the same gene controls such a diversity of different colours and patterns in butterflies and a moth. Our study together with the findings from the University of Liverpool shows that the cortex gene is important for colour and pattern evolution in this whole group of insects.
"Our results are even more surprising because the cortex gene was previously thought to only be involved in producing egg cells in female insects, and is very similar to a gene that controls cell division in everything from yeast to humans."
The University of Sheffield study is published in the journal Nature on 1 June 2016
Additional information
To view the article on Nature please visit: http://www.nature.com/nature/journal/v534/n7605/full/nature17961.html
To view a copy of the paper please visit: http://rdcu.be/iFw5
The University of Sheffield
With almost 27,000 of the brightest students from over 140 countries, learning alongside over 1,200 of the best academics from across the globe, the University of Sheffield is one of the world's leading universities.
A member of the UK's prestigious Russell Group of leading research-led institutions, Sheffield offers world-class teaching and research excellence across a wide range of disciplines.
Unified by the power of discovery and understanding, staff and students at the university are committed to finding new ways to transform the world we live in.
Sheffield is the only university to feature in The Sunday Times 100 Best Not-For-Profit Organisations to Work For 2016 and was voted number one university in the UK for Student Satisfaction by Times Higher Education in 2014. In the last decade it has won four Queen's Anniversary Prizes in recognition of the outstanding contribution to the United Kingdom's intellectual, economic, cultural and social life.
Sheffield has five Nobel Prize winners among former staff and students and its alumni go on to hold positions of great responsibility and influence all over the world, making significant contributions in their chosen fields.
Global research partners and clients include Boeing, Rolls-Royce, Unilever, AstraZeneca, Glaxo SmithKline, Siemens and Airbus, as well as many UK and overseas government agencies and charitable foundations.
Contact
For further information please contact:
Sean Barton
Media Relations Assistant
University of Sheffield
0114 222 9852
s.barton@sheffield.ac.uk