Air-cleansing poetry: poems that clean the air we breathe could help tackle pollution
World's first air-cleansing poem has removed more than two tons of nitrogen oxide from the environment
Catalytic poem is printed on specially treated material which purifies its surroundings
Catalytic technology could help urban areas tackle high levels of pollution
A revolutionary air-cleansing poem has removed more than two tons of pollution from the environment as part of a project which could be used to fight pollution in cities across the world.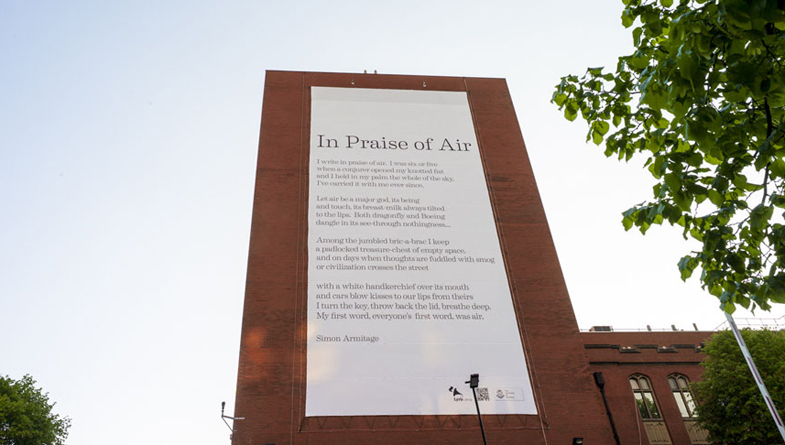 In Praise of Air, the world's first air-cleansing poem, has been produced by scientists and writers at the University of Sheffield.
The catalytic poem, by award-winning writer Simon Armitage who is Professor of Poetry in the University's School of English, has been printed on specially treated material developed by scientists at the University which is capable of purifying its surroundings through catalytic oxidation.
The poem, which has been on display on the University of Sheffield's Alfred Denny building since May 2014, has now reached the end of its exhibition in Sheffield and the project team has estimated that it has removed over two tons of nitrogen oxide from the surrounding environment.
The team now hope the poem and its air-cleansing technology can be replicated on billboards and artwork in towns and cities across the world to help tackle pollution.
Professor Joanna Gavins, who leads the project from the University of Sheffield's School of English, said: "We all know that pollution is a major problem for the world's urban areas but so far we as a society haven't fully adopted any long-term solutions to tackle the problem.
"Scientists, such as my colleagues in Sheffield, are developing technologies to help us clean the environment but it's the arts and humanities that can help raise awareness of environmental issues and inspire people to adopt altruistic pro-environmental behaviours.
"Since the poem was installed in 2014 we've been inundated with positive and supportive comments from the community and passers-by. It also generated interest from people all over the world and received worldwide media coverage. We've had lots of comments from people who feel it has not only made an impact on the environment but added another cultural landmark to the city."
Professor Tony Ryan, who developed the pollution-busting technology at the University of Sheffield's Department of Chemistry, added: "This poem has shown how science and the arts and humanities can work together to address the very serious issue of poor air quality in our towns and cities.
"The poem is printed on a material that can mitigate the pollution caused by our addiction to driving and could cut disease and help save lives.
"The project has been really well received both in Sheffield and all over the world. If we could replicate this in every urban area in the UK then we could have much better air quality."
The team behind the poem is now developing other public poems on environmental issues.
They have also been working with Northern Flags, one of the UK's leading companies in flag design, manufacture and printing, and Pureti who manufacture photocatalytic products, to explore the potential of developing air-cleansing signs that could be used in places such as fuel station forecourts and roadside advertising boards.
The poem's exhibition in Sheffield was a temporary project to demonstrate its potential impact and has now ended because planning permission has expired.
Additional information
To find out more about Catalytic Poetry please visit: http://catalyticpoetry.org/
The University of Sheffield
With almost 27,000 of the brightest students from over 140 countries, learning alongside over 1,200 of the best academics from across the globe, the University of Sheffield is one of the world's leading universities.
A member of the UK's prestigious Russell Group of leading research-led institutions, Sheffield offers world-class teaching and research excellence across a wide range of disciplines.
Unified by the power of discovery and understanding, staff and students at the university are committed to finding new ways to transform the world we live in.
Sheffield is the only university to feature in The Sunday Times 100 Best Not-For-Profit Organisations to Work For 2016 and was voted number one university in the UK for Student Satisfaction by Times Higher Education in 2014. In the last decade it has won four Queen's Anniversary Prizes in recognition of the outstanding contribution to the United Kingdom's intellectual, economic, cultural and social life.
Sheffield has six Nobel Prize winners among former staff and students and its alumni go on to hold positions of great responsibility and influence all over the world, making significant contributions in their chosen fields.
Global research partners and clients include Boeing, Rolls-Royce, Unilever, AstraZeneca, Glaxo SmithKline, Siemens and Airbus, as well as many UK and overseas government agencies and charitable foundations.
Contact
For further information please contact:
Sean Barton
Junior Public Relations Officer
University of Sheffield
0114 222 9852
s.barton@sheffield.ac.uk