Head of CBeebies awarded honorary degree from University of Sheffield
The controller of the popular children's television channel, CBeebies, will receive an honorary degree from the University of Sheffield this week (11-13 January 2017) alongside thousands of jubilant graduates.
Sheffield-born Kay Benbow, was appointed head of the BBC's brand for under sixes in May 2010. Her work has led to CBeebies winning a number of prestigious awards, including being named Channel of the Year at the 2016 BAFTA Children's Awards.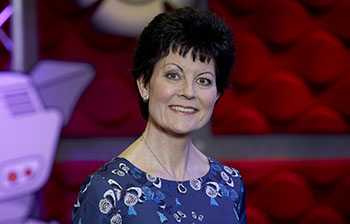 In a career spanning 30 years, Kay has worked as a presenter and as the director or executive producer of many popular children's programs including: In the Night Garden, Numberjacks, Get Your Own Back and the internationally-acclaimed Tweenies.
Kay, who studied Theology at St Hugh's College Oxford, will receive an honorary degree for her achievements in the industry and her commitment to research-informed understanding of young children's engagement with television in a partnership with the University of Sheffield's School of Education.
Also receiving an honorary degree at the University's Winter Graduation Ceremonies is David Simons, who retired from dentistry to start a Sheffield cancer care charity.
David is a qualified dentist who ran a successful practice in Dore until he retired in 1990 in order to focus on his ideas surrounding the use of hypnosis in alleviating pain and anxiety.
He is the Founder Resident of Cavendish Cancer Care, which became a registered charity in 1992. With treatment free at the point of need, the centre continues to provide support through counselling and complementary therapies for patients and their families.
Another prominent scholar set to receive an honorary degree is Dr Lee Elliot Major who has been instrumental in improving social mobility through education.
The Chief Executive of the Sutton Trust has campaigned for improved educational opportunities for non-privileged students, and his work has enabled universities to attract talent from all walks of life. A graduate of the University of Sheffield with a BSc in Physics and a PhD in Theoretical Physics, he was the first to attend university in his family.
He appears regularly in the national press commenting on educational issues and has been a crucial player in the drive to create an evidence-led approach to education.
Experimental psychologist, Professor Neil Rackham, will become an Honorary Doctor of Science in recognition of his internationally renowned research in many areas of business development including management training, sales and team-work. His 1988 book, SPIN® Selling, is one of the best-selling business books and his work has been translated into 35 languages.
A psychology graduate of the University of Sheffield, he went on to found a major company which continues to offer management and sales training worldwide. He now supports the University in developing students' teamwork skills.
Brian Wrigley will also receive the Professor Robert Boucher Distinguished Alumni Award.
Alongside a distinguished career as senior partner at Norrie Waite and Slater Solicitors, law graduate Brian has been a dedicated member of the University community for over 40 years.
Through his roles as Secretary and Chair of Convocation and his involvement with the University Council and Alumni Boards, he has demonstrated a long-standing commitment and passion for advancing the best interests of the University, its students and alumni.
Additional information
Dates and times for all honorary degree ceremonies are as follows:
Ms Kay Benbow, Wednesday 11 January, 12.30pm
Mr David Simons, Wednesday 11 January, 4pm
Mr Brian Wrigley, Friday 13 January, 10.30am
Professor Neil Rackham, Friday 13 January, 2.30pm
Dr Lee Elliot Major, Friday 13 January, 2.30pm
The University of Sheffield
With almost 27,000 of the brightest students from over 140 countries, learning alongside over 1,200 of the best academics from across the globe, the University of Sheffield is one of the world's leading universities.
A member of the UK's prestigious Russell Group of leading research-led institutions, Sheffield offers world-class teaching and research excellence across a wide range of disciplines.
Unified by the power of discovery and understanding, staff and students at the university are committed to finding new ways to transform the world we live in.
Sheffield is the only university to feature in The Sunday Times 100 Best Not-For-Profit Organisations to Work For 2016 and was voted number one university in the UK for Student Satisfaction by Times Higher Education in 2014. In the last decade it has won four Queen's Anniversary Prizes in recognition of the outstanding contribution to the United Kingdom's intellectual, economic, cultural and social life.
Sheffield has six Nobel Prize winners among former staff and students and its alumni go on to hold positions of great responsibility and influence all over the world, making significant contributions in their chosen fields.
Global research partners and clients include Boeing, Rolls-Royce, Unilever, AstraZeneca, Glaxo SmithKline, Siemens and Airbus, as well as many UK and overseas government agencies and charitable foundations.
Contact
For further information please contact:
Amy Pullan
Media Relations Officer
University of Sheffield
0114 222 9859
a.l.pullan@sheffield.ac.uk