Study finds apps can benefit pre-schoolers, but parents need to choose wisely
Under-fives use tablets for an average of one hour and 19 minutes on weekdays and one hour and 23 minutes on a weekends
In households with tablets, 31 per cent of 0-five year olds have their own
Certain apps foster play and creativity, but others are less beneficial
Publications have been produced to offer guidance to parents, early years educators and app developers
Apps can foster play and creativity in children aged between 0 and five, but parents need to choose the ones they use carefully, research by the University of Sheffield has found.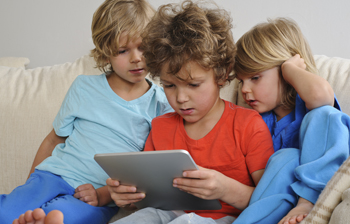 A study examining pre-school children's use of apps and tablets found that in households where there are tablets, 31 per cent of under-fives have their own and use them for an average of one hour and 19 minutes on weekdays and one hour and 23 minutes on weekends.
Researchers found that while age-appropriate apps could help children with play and creativity, those which included many adverts for other apps and featured pop-ups for in-app purchases hampered this. Apps aimed at older children, like Candy Crush Saga and Angry Birds, are less beneficial to pre-schoolers.
The project, funded by the Economic and Social Research Council, was undertaken as a collaboration between the universities of Sheffield and Edinburgh, the pre-school children's television channel, CBeebies, children's media industry partners Dubit and Foundling Bird and Monteney Primary School, Sheffield.
The project has led to a range of publications aimed at parents, early years educators and the children's media industry, including recommendations for app developers that provide guidance on how to design apps for pre-schoolers.
Principal investigator Professor Jackie Marsh, of the University of Sheffield's School of Education, said: "The study showed that the use of apps on tablets by pre-schoolers can be very productive and foster a wide range of play and creativity. However, apps need to be chosen carefully by parents for this age group.
"Apps that contain adverts and pop-ups for in-app purchases can limit children's play. In addition, whilst children of this age want to play some of the same games that their older siblings or parents play, these are not age-appropriate and do not offer a great deal of value for pre-schoolers.
She added: "Parents should look for apps produced by broadcasters or companies that know a great deal about this age group."
In the study, researchers found youngsters use their tablets to watch television programmes and films, play games, listen to music, draw and paint, create virtual worlds, look after pets, dress up avatars and engage in role play.
Over half of children aged 0-five can swipe the screen, trace shapes with their fingers, drag items across the screen, open their apps, draw things, tap the screen to operate commands, exit apps and enter other apps and turn the device on and off without any assistance.
The study found that children's top ten favourite apps are:
1. YouTube
2. CBeebies (Playtime and Storytime)
3. Angry Birds
4. Peppa's Paintbox
5. Talking Tom (and similar)
6. Temple Run
7. Minecraft
8. Disney (general)
9. Candy Crush Saga
10. Toca Boca
From the top ten list, the CBeebies app 'Playtime' was the app that promoted the widest range of play and creativity for the under-fives.
Co-investigator, Professor Lydia Plowman of the University of Edinburgh, said: "It may seem surprising that in homes with a tablet, nearly a third of under 5s have their own device. But when parents upgrade their tablet many pass on their older model to their children. Budget models are also popular gifts, as parents don't have to worry so much about breakages. While there are benefits to children becoming independent users, it's also important that parents are able to find time to share the experience of interacting with apps."
Early years settings and schools could also play a role in advising parents. Peter Winter, Information Communication Technology teacher at Monteney Primary School, said: "Teachers could be a valuable source of information for parents on apps that have educational value through the use of Twitter feeds, blogs and/ or newsletters. Offering guidance in these areas is crucial if parents are going to help their children to use digital tools effectively."
For more information on the project, visit http://www.techandplay.org.
Additional information
The University of Sheffield
With almost 26,000 of the brightest students from around 120 countries, learning alongside over 1,200 of the best academics from across the globe, the University of Sheffield is one of the world's leading universities.
A member of the UK's prestigious Russell Group of leading research-led institutions, Sheffield offers world-class teaching and research excellence across a wide range of disciplines.
Unified by the power of discovery and understanding, staff and students at the university are committed to finding new ways to transform the world we live in.
In 2014 it was voted number one university in the UK for Student Satisfaction by Times Higher Education and in the last decade has won four Queen's Anniversary Prizes in recognition of the outstanding contribution to the United Kingdom's intellectual, economic, cultural and social life.
Sheffield has five Nobel Prize winners among former staff and students and its alumni go on to hold positions of great responsibility and influence all over the world, making significant contributions in their chosen fields.
Global research partners and clients include Boeing, Rolls-Royce, Unilever, AstraZeneca, Glaxo SmithKline, Siemens and Airbus, as well as many UK and overseas government agencies and charitable foundations.
For further information, please visit www.sheffield.ac.uk
Exploring Play - A free open online course from the University of Sheffield
Professor Jackie Marsh looks at how play has changed during the digital age as part of The University of Sheffield's open online course Exploring Play. Presented by Futurelearn, Exploring Play takes learners from playgrounds and the V&A Museum of Childhood to technology-related play, Minecraft and beyond. Discover a world of play in the company of academics, historians of play and guerrilla explorers alike.
More information here - https://www.futurelearn.com/courses/play
Contact
For further information please contact:
Hannah Postles
Media Relations Officer
University of Sheffield
0114 222 1046
h.postles@sheffield.ac.uk