University​ ​of​ ​Sheffield​ ​supports​ ​students​ ​to​ ​reduce crime​ ​and​ ​keep​ ​safe
University​ ​of​ ​Sheffield​ ​launches​ ​Crime​ ​Reduction​ ​and​ ​Safety​ ​Fortnight
The​ ​Crime​ ​Reduction​ ​and​ ​Safety​ ​Fortnight​ ​works​ ​with​ ​Sheffield​ ​Students'​ ​Union and​ ​South​ ​Yorkshire​ ​Police​ ​to​ ​keep​ ​students​ ​safe​ ​in​ ​new​ ​academic​ ​year
Partnership​ ​shares​ ​important​ ​safety​ ​advice​ ​and​ ​information​ ​to​ ​help​ ​students protect​ ​their​ ​belongings​ ​from​ ​theft
The​ ​University​ ​of​ ​Sheffield​ ​is​ ​joining​ ​forces​ ​with​ ​South​ ​Yorkshire​ ​Police​ ​this​ ​fortnight (from​ ​Monday​ ​25​ ​September​ ​2017)​ ​to​ ​help​ ​students​ ​keep​ ​safe​ ​as​ ​they​ ​start​ ​their​ ​new academic​ ​year.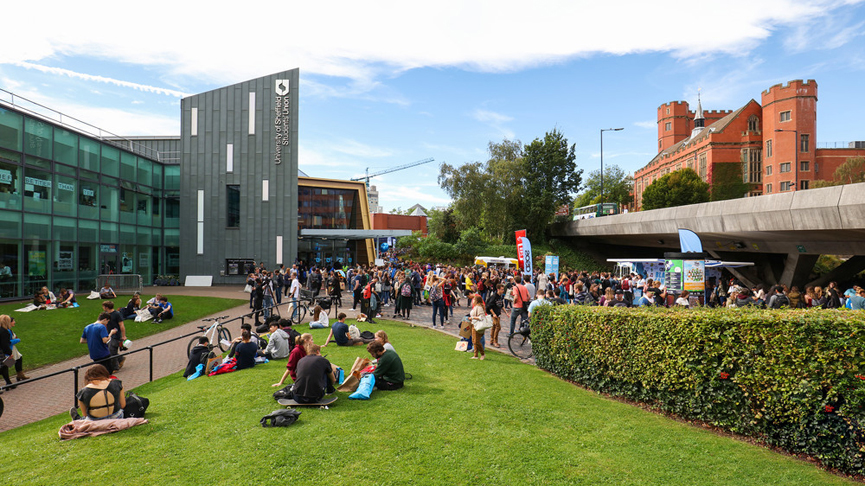 The​ ​Crime​ ​Reduction​ ​and​ ​Safety​ ​Fortnight​ ​is​ ​a​ ​partnership​ ​between​ ​the​ ​University​ ​of Sheffield,​ ​Sheffield​ ​Students'​ ​Union​ ​and​ ​South​ ​Yorkshire​ ​Police​ ​to​ ​reduce​ ​the​ ​level​ ​of crime​ ​against​ ​the​ ​University's​ ​community.
Sheffield​ ​is​ ​repeatedly​ ​named​ ​as​ ​one​ ​of​ ​the​ ​safest​ ​large​ ​cities​ ​in​ ​the​ ​UK.​ ​However,​ ​in order​ ​to​ ​tackle​ ​crime​ ​rates​ ​further​ ​and​ ​help​ ​keep​ ​students​ ​safe​ ​as​ ​they​ ​return​ ​to Sheffield,​ ​the​ ​University​ ​is​ ​committed​ ​to​ ​sharing​ ​important​ ​safety​ ​messages​ ​and​ ​advice for​ ​students.
Specially​ ​trained​ ​staff​ ​from​ ​the​ ​University​ ​and​ ​the​ ​police​ ​are​ ​on​ ​campus​ ​to​ ​provide advice​ ​on​ ​everything​ ​from​ ​the​ ​best​ ​ways​ ​for​ ​students,​ ​staff​ ​and​ ​others​ ​to​ ​keep themselves​ ​and​ ​their​ ​property​ ​safe​ ​and​ ​secure​ ​to​ ​important​ ​safety​ ​messages​ ​on​ ​drug use​ ​and​ ​the​ ​dangers​ ​they​ ​present​ ​to​ ​the​ ​University's​ ​community.
Support​ ​staff​ ​will​ ​also​ ​be​ ​handing​ ​out​ ​free​ ​personal​ ​attack​ ​alarms​ ​and​ ​supporting students​ ​to​ ​mark​ ​their​ ​property​ ​onto​ ​the​ ​Immobilise​ ​National​ ​Database.​ ​Once registered,​ ​property​ ​is​ ​traceable​ ​to​ ​its​ ​owner​ ​if​ ​it​ ​is​ ​ever​ ​stolen.
Richard​ ​Yates,​ ​Head​ ​of​ ​Security​ ​Services​ ​at​ ​the​ ​University​ ​of​ ​Sheffield,​ ​said:​ ​"Sheffield is​ ​regularly​ ​seen​ ​as​ ​one​ ​of​ ​the​ ​safest​ ​cities​ ​in​ ​the​ ​UK​ ​but​ ​unfortunately​ ​there​ ​are​ ​some people​ ​who​ ​see​ ​students​ ​as​ ​an​ ​easy​ ​target​ ​for​ ​crime,​ ​particularly​ ​at​ ​the​ ​start​ ​of​ ​the​ ​new academic​ ​year.
"The​ ​University​ ​has​ ​been​ ​working​ ​with​ ​our​ ​Students'​ ​Union​ ​and​ ​South​ ​Yorkshire​ ​Police for​ ​the​ ​past​ ​19​ ​years​ ​to​ ​help​ ​keep​ ​students​ ​safe​ ​and​ ​reduce​ ​crime​ ​against​ ​the University's​ ​community.
"This​ ​year​ ​we​ ​are​ ​on-hand​ ​providing​ ​advice​ ​on​ ​how​ ​students​ ​can​ ​keep​ ​their​ ​belongings and​ ​accommodation​ ​safe​ ​from​ ​theft.​ ​We're​ ​also​ ​providing​ ​information​ ​on​ ​the​ ​steps​ ​they can​ ​take​ ​to​ ​ensure​ ​their​ ​own​ ​personal​ ​safety​ ​and​ ​wellbeing​ ​is​ ​protected,​ ​including​ ​how to​ ​report​ ​crime​ ​and​ ​receive​ ​support​ ​if​ ​you​ ​are​ ​a​ ​victim​ ​of​ ​crime."
University​ ​security​ ​staff​ ​and​ ​police​ ​officers​ ​will​ ​be​ ​in​ ​the​ ​University​ ​of​ ​Sheffield's Diamond​ ​building​ ​from​ ​Tuesday​ ​26​ ​September​ ​2017​ ​to​ ​Friday​ ​6​ ​October​ ​between​ ​10am and​ ​4pm​ ​each​ ​day​ ​to​ ​offer​ ​advice,​ ​information​ ​and​ ​support.
The​ ​University​ ​also​ ​has​ ​a​ ​wealth​ ​of​ ​support​ ​and​ ​guidance​ ​services​ ​for​ ​students​ ​on everything​ ​from​ ​issues​ ​related​ ​to​ ​financial​ ​support​ ​and​ ​the​ ​first​ ​few​ ​weeks​ ​at​ ​university to​ ​health​ ​and​ ​welfare.​ ​For​ ​more​ ​information​ ​and​ ​to​ ​access​ ​these​ ​services,​ ​visit: https://www.sheffield.ac.uk/ssid/index
Additional information
The University of Sheffield
With almost 27,000 of the brightest students from over 140 countries, learning alongside over 1,200 of the best academics from across the globe, the University of Sheffield is one of the world's leading universities.
A member of the UK's prestigious Russell Group of leading research-led institutions, Sheffield offers world-class teaching and research excellence across a wide range of disciplines.
Unified by the power of discovery and understanding, staff and students at the university are committed to finding new ways to transform the world we live in.
Sheffield is the only university to feature in The Sunday Times 100 Best Not-For-Profit Organisations to Work For 2017 and was voted number one university in the UK for Student Satisfaction by Times Higher Education in 2014. In the last decade it has won four Queen's Anniversary Prizes in recognition of the outstanding contribution to the United Kingdom's intellectual, economic, cultural and social life.
Sheffield has six Nobel Prize winners among former staff and students and its alumni go on to hold positions of great responsibility and influence all over the world, making significant contributions in their chosen fields.
Global research partners and clients include Boeing, Rolls-Royce, Unilever, AstraZeneca, Glaxo SmithKline, Siemens and Airbus, as well as many UK and overseas government agencies and charitable foundations.
Contact
For further information please contact:
Sean Barton
Junior Public Relations Officer
University of Sheffield
0114 222 9852
s.barton@sheffield.ac.uk