Major reports on homelessness launched by Crook Public Service Fellows
Two major reports tackling the issue of homelessness, produced by future leaders in policy with academics at the University of Sheffield, have been launched today (21 September 2017).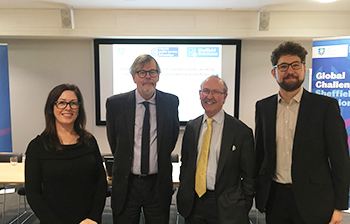 The Crook Public Service Fellowships at the University of Sheffield provide the opportunity for emerging leaders in public and not-for-profit sectors to take short periods away from their day job and immerse themselves in a collaborative project with academic colleagues on a pressing policy issue or challenge.
This year's theme was The Housing Challenge, with reports by Faye Greaves, a policy and practice officer at the Chartered Institute of Housing (CIH), and Sam Thomas, policy manager for the Making Every Adult Matter coalition, both in collaboration with University of Sheffield academics.
Their reports were launched at a high profile event in London, chaired Lord Best, who received an honorary doctorate from the University of Sheffield in 2003, today.
At the event, it was announced that leading figures from the civil service, social work and youth work sectors will be among this year's cohort of Crook Public Service Fellows who will address the highly pressing theme of 'Children's Chances' alongside University of Sheffield Social Sciences academics.
Each Fellow will visit Sheffield for short periods over the next 12 months to work in collaboration with academic colleagues on a diverse range issues affecting young people.
These areas include the effectiveness of early intervention, family breakdowns, the role of voluntary organisations in supporting and monitoring young carers and the services provided for young people leaving care at age 16-18.
Professor Gill Valentine, Acting Provost and Deputy Vice-Chancellor at the University of Sheffield, said: "At the heart of our University's mission is a desire to help people understand the world and make it a better place. The Crook Public Service Fellowships are an innovative way of helping us achieve that goal, giving future leaders in policy the opportunity to combine their practical experience with academia to identify solutions to some of society's biggest challenges.
"We're extremely grateful to Professor Crook for his generosity and support of this scheme, which reflects his deep commitment to public service."
Professor Craig Watkins, Vice President and Head of the Faculty of Social Sciences, added: "It's a pleasure to welcome this year's cohort of Crook Public Service Fellows to the University.
"The Fellowships have proved to be a successful way of bringing together the policy world, public sector and academia in its first two years. We look forward to seeing how this year's cohort will work with staff within the Faculty to bring together practical experience with the latest academic thinking to approach this crucial policy area."
The Crook Public Service Fellowship scheme, named in honour of the donor, Emeritus Professor Tony Crook, CBE FAcSS FRTPI, from the Faculty's Department of Urban Studies and Planning and former Pro Vice Chancellor, aims to encourage original thinking and influence public policy.
Professor Crook said: 'I have been pleased to help instigate and fund the Fellowships. They reflect what has been important to me both in my own research and in my non-executive roles in the policy and practice communities and that is to ensure that policy research is both theoretically rigorous and policy relevant. Without the rigour, there can be no impact. I also wanted to build more bridges between academic practice and the policy communities.
"I am absolutely delighted with the success of the Fellowship programme to date and with the way the first two cohorts of Fellows have produced reports with real impact on their chosen theme. I am also delighted with way they have developed what I hope will be long lasting relationships with the academic colleagues here who supported their fellowship projects.
"The Children's Chances Fellows will be looking at what works in helping disadvantaged children build resilience and realise their full potential. It is hard to think of an issue which is more salient for the future of these children. I wish our new Fellows well."
Each year, the Fellowships focus on a different theme. This year's fellows will engage with academic staff across the Faculty, including the Departments of Sociological Studies, Education, Geography and Politics.