BBC's Dan Walker offers mentoring as part of new £10,000 scholarships for Sheffield journalism students
BBC presenter and University of Sheffield alumnus Dan Walker will offer students a unique insight into journalism as part of two new scholarships worth £10,000 each to support talented postgraduate students.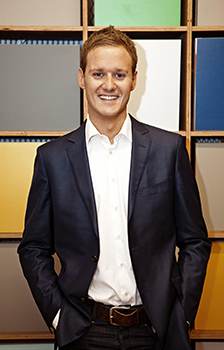 As well as financial support from the University, the Dan Walker Journalism Scholarship winners will be given work experience opportunities and personal mentoring from Dan, who studied journalism at the University of Sheffield before becoming a household name as a BBC sports journalist and Breakfast presenter.
A keen supporter of the Department of Journalism Studies, Dan already serves on the Journalism Studies Advisory Board, which strengthens its links with the media industry to ensure that Sheffield journalism students continue to develop the skills that digital newsrooms demand.
The new scholarships - which are among 100+ Sheffield Postgraduate Scholarships offered by the University - are aimed at students who may have a particular interest in journalism, and who come from social groups that are under-represented in higher education or are high achievers in their undergraduate degree.
Dan said: "I'm delighted to team up with my university to try and help two people each year start out in an increasingly competitive industry.
"I don't want potential candidates to feel that the cost of an education has prevented them from getting the job they have dreamed of.
"Ever since I trained as a journalist I've been passionate about keeping the door open for others. This is my way of helping."
Dan prepared for his career as one of the UK's leading journalists and broadcasters by taking an MA in Broadcast Journalism at Sheffield after completing his undergraduate degree in History at the University. He presents Football Focus each weekend and BBC Breakfast as well as a weekly show on BBC World. He has travelled the world covering numerous events including the Olympic Games, World Cups, European Championships, the Grand National, Six Nations, Wimbledon and The Open Championship golf.
Professor Marie Kinsey, joint head of the Department of Journalism Studies, said: "We're absolutely delighted that Dan will be working with us to help train and educate the next generation of journalists.
"His experience, particularly in the world of sport, will be an invaluable help to people wanting to establish a career in journalism. It will build on the experience of news and current affairs and grounding in the issues facing journalism that the department provides."
The scholarship will be available to UK or European Union students taking either MA Broadcast Journalism or MA Print Journalism at the University of Sheffield in 2017-18. As well as the funding award, recipients will get work experience in sports journalism and production, and advice from Dan as they go through the course and prepare for a career.
Potential applicants for the scholarships can find information and apply at sheffield.ac.uk/journalism/walker
The Dan Walker Journalism Scholarships are part of the University's 100+ Sheffield Postgraduate Scholarship scheme - offering over 100 scholarships worth £10,000 each, which many other alumni are supporting through generous donations - to ensure talented students from all backgrounds have access to postgraduate study and the top professions.
For more information about the scheme, visit: https://www.sheffield.ac.uk/ssid/finance/sps
For more information about supporting the university, through volunteering or donating, please visit: https://www.sheffield.ac.uk/alumni
Additional information
The University of Sheffield
With almost 27,000 of the brightest students from over 140 countries, learning alongside over 1,200 of the best academics from across the globe, the University of Sheffield is one of the world's leading universities.
A member of the UK's prestigious Russell Group of leading research-led institutions, Sheffield offers world-class teaching and research excellence across a wide range of disciplines.
Unified by the power of discovery and understanding, staff and students at the university are committed to finding new ways to transform the world we live in.
Sheffield is the only university to feature in The Sunday Times 100 Best Not-For-Profit Organisations to Work For 2017 and was voted number one university in the UK for Student Satisfaction by Times Higher Education in 2014. In the last decade it has won four Queen's Anniversary Prizes in recognition of the outstanding contribution to the United Kingdom's intellectual, economic, cultural and social life.
Sheffield has six Nobel Prize winners among former staff and students and its alumni go on to hold positions of great responsibility and influence all over the world, making significant contributions in their chosen fields.
Global research partners and clients include Boeing, Rolls-Royce, Unilever, AstraZeneca, Glaxo SmithKline, Siemens and Airbus, as well as many UK and overseas government agencies and charitable foundations.
Department of Journalism Studies
The University of Sheffield's Department of Journalism Studies was founded in 1994 and quickly established a reputation as a unique centre of excellence for both the teaching of journalists and academic research in media and communication studies. In 2015 it became the only journalism department in the UK to feature in the top five of all three higher education league tables. Its graduates are working in media organisations all over the world, including the Guardian, Daily Mail, Channel 4 News, Wall Street Journal, Al Jazeera and the BBC.
Contact
For further information please contact: 
Hannah Postles
Media Relations Officer
University of Sheffield
0114 222 1046
h.postles@sheffield.ac.uk