University of Sheffield announces pioneering degree level apprenticeships
University's AMRC to offer unique advanced manufacturing undergraduate and postgraduate pathways in higher education designed for apprentices
Successful apprentices will be able to study through Foundation, Bachelors and Masters Degree levels, funded by businesses
New education route will boost UK productivity by filling vital skills gaps to meet the needs of economy and industry
New pathway made possible thanks to £1.6m HEFCE Catalyst funding award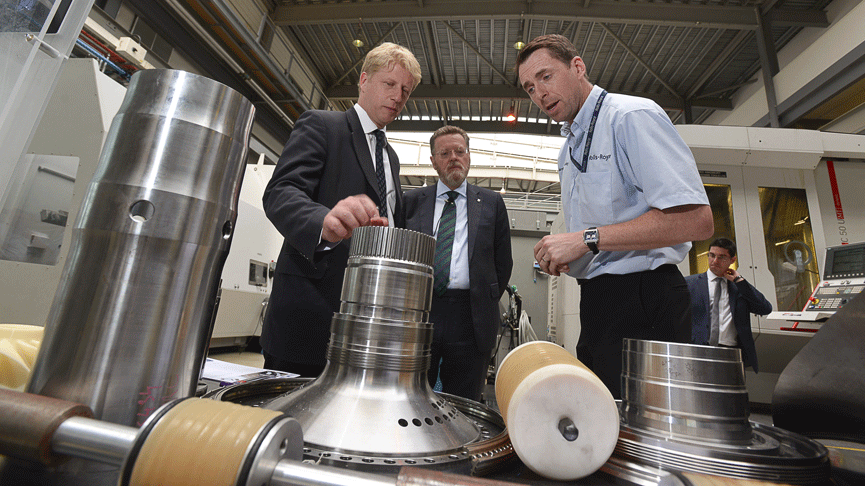 The University of Sheffield's Advanced Manufacturing Research Centre (AMRC) has announced a pioneering new education route for successful apprentices to study advanced vocational University degrees, as part of their apprenticeship training.

The quality, industry powered, apprenticeships are set to play a key role in cementing collaborations between universities and businesses and boosting UK productivity.
The University will become one of the first in higher education to offer quality advanced manufacturing Foundation, Undergraduate and Masters degrees using the apprenticeship model jointly funded with businesses. Successful apprentices will have the opportunity to continue their studies up to Masters level.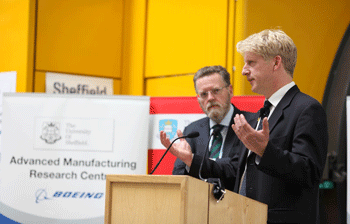 The news was announced today (16 July 2015) by Minister for Universities and Science, Jo Johnson, during a visit to the AMRC. The Minister highlighted the key role the degree level apprenticeships will have in supporting innovation and boosting productivity. The pioneering new education route will train the advanced manufacturers of tomorrow, filling vital skills gaps to help Britain re-shore manufacturing - from research and development to supply.
The new educational pathway will be developed thanks to a £1.6m HEFCE funding award. The award will give groups under-represented in higher education access to world class university education in an internationally leading translational research context, with simultaneous work-based training to create the next generation of engineers.
Jo Johnson, Minister for Universities and Science said: "The strength and resilience of our economy is dependent on the skills of our workforce, and it's only right that as a One Nation government we ensure everyone can gain new qualifications and a rewarding career.
"The new degree-level apprenticeship programme being developed by the University of Sheffield with employers will provide a way for students to take their capabilities to advanced levels, and not only means brighter prospects for them, but provides a stronger talent pool for businesses."
The traditional route to becoming an Incorporated or Chartered Engineer is through GCSEs, A-levels, a traditional academic BEng or MEng degree at university and then employment. The new, high quality, technical, vocational route into university, which is a development of the University's successful AMRC advanced apprentices scheme, will feature an innovative curriculum in advanced manufacturing to recognise the skills, experiences and particular learning styles of the apprentices, while meeting the needs of employers.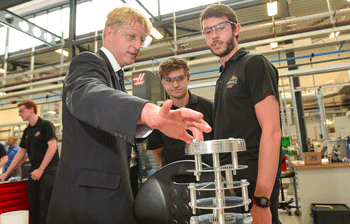 The degree level apprenticeships programme will give a tailored alternative for students wishing to continue from their advanced apprenticeship or A-Levels/BTEC onto a Foundation Degree and a Higher Apprenticeship that will link into a new Bachelor and Master of Manufacturing Technology.
University of Sheffield Vice-Chancellor Professor Sir Keith Burnett said: "Universities have a key role to play in driving innovation, economic growth and creating jobs. Just last week, the Government's Productivity Plan laid out the challenge to the UK to find an 'extra gear in productivity'.
"A key element of this is the very best quality skills of the kind being demanded by high-tech industries such as aerospace and automotive. This is why we have added to our world-class research centres an advanced apprentice route which opens up degree level study and beyond in a world-leading University research environment.
"This very much reflects the ambitions of the government and the needs of our economy, and I am delighted that Sheffield has worked closely with HEFCE and industry partners to respond to this challenge to develop the very highest quality apprenticeships which allow talented young people to take this pioneering route, fully funded by industry. It also complements our significant investment in engineering teaching, including a state of the art £81 million Engineering building on our main campus offering truly exceptional facilities for this vital area of teaching."
The University's Advanced Manufacturing Centre already boasts a track record of boosting productivity, with companies using the AMRC's expertise typically achieving a five-fold reduction in the time it takes to machine a component and double their productivity. Training the next generation of advanced vocational degree level engineering apprentices through a new education pathway looks set to further enhance this.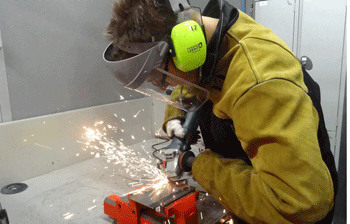 Professor Keith Ridgway, Executive Dean of the University of Sheffield Advanced Manufacturing Research Centre (AMRC) with Boeing said: "The new pathway will be delivered with a curriculum which will provide academic rigour alongside practical skills and high quality employer-led training that is designed to meet business needs and create the professional, creative engineers of tomorrow.
"The innovative new model of work-based learning is expected to attract different groups of students than traditional academic models, increasing diversity within cohorts and ultimately within the profession itself."
The Royal Academy of Engineering forecasts that the UK needs an extra 50,000 science, technology, engineering and maths (STEM) technicians and 90,000 STEM professionals every year just to replace people retiring from the workforce.
Current trends indicate that the proportion of higher-skilled jobs in the manufacturing sector will continue to increase annually. Between 2011 and 2013 engineering vacancies increased by 12 per cent overall but the proportion of 'skills shortage' vacancies carried by employers has risen by 60 per cent in the SCR. Additional job creation in the manufacturing sector could add up to £12bn per year to the UK economy.
The Foundation and Bachelors Degree pathways will be available to those who have completed an Advanced Apprenticeship in Engineering, A-Levels or BTEC who then want to progress on to a higher apprenticeship. There will also be routes onto the Foundation Degree course for those who have work experience or employment in engineering at Level 3.
Professor Madeleine Atkins, Chief Executive of HEFCE commented: "The Government's productivity plan stresses that addressing UK shortfalls in intermediate and advanced professional and technical skills is imperative for our economic future. Higher education has a strong interest in this agenda. Technical education is part of the ladder of opportunity that needs to lead into higher education to ensure the country uses all its talents inclusively and that prosperity is spread.
"The Catalyst fund supports innovative step-change projects that can influence the wider higher education sector through dissemination. This project supports the role of the university in providing the technical and professional qualifications needed in the economy, which will be delivered through the apprenticeships model combining employment with high quality learning.
"HEFCE is pleased to support the Sheffield project from our Catalyst Fund, addressing as it does our priorities to support the Productivity Plan, including links with Catapults, technical education and anchor role of universities."
Additional information
The University of Sheffield's AMRC Advanced Apprentices
The first cohort of AMRC Advanced Apprentices was accepted in 2014 in a state-of-the-art training centre at the Advanced Manufacturing Park.
The ground breaking AMRC Training Centre, supported by the Regional Growth Fund and European Regional Development Fund, aims to create knowledge and manufacturing breakthroughs by equipping highly skilled workers who will go on to regenerate the UK's manufacturing industry.
Aged from 16, all of the apprentices come from a wide range of manufacturers with operations in the Sheffield city region, including Tata Steel, Rolls-Royce, Sheffield Forgemasters, AES Seal, MTL Group and Newburgh Engineering, and from the AMRC group itself.
As well as apprenticeships, the centre links with both Sheffield universities for higher-level education up to doctorate and MBA level, and offers a range of courses for continuing professional development.
The University's AMRC is the recipient of the Queen's Anniversary Prize for Higher Education for the way it works in partnership with industry, and has won a number of international awards including Boeing Supplier of the Year - the first time this international award had been made either to the UK or to a university. The AMRC Advanced Apprentices were also named Widening Participation Initiative of the Year in the most recent Times Higher Education awards.
The AMRC Training Centre was praised in 'Forging Futures: Building higher level skills through university and employer collaboration', published by Universities UK and the UK Commission for Employment and Skills. The report included the AMRC as a case study of how employers and universities are working together to build pathways to the highly skilled jobs crucial to the UK's economic future.
The University of Sheffield
With almost 26,000 of the brightest students from around 120 countries, learning alongside over 1,200 of the best academics from across the globe, the University of Sheffield is one of the world's leading universities.
A member of the UK's prestigious Russell Group of leading research-led institutions, Sheffield offers world-class teaching and research excellence across a wide range of disciplines.
Unified by the power of discovery and understanding, staff and students at the university are committed to finding new ways to transform the world we live in.
In 2014 it was voted number one university in the UK for Student Satisfaction by Times Higher Education and in the last decade has won four Queen's Anniversary Prizes in recognition of the outstanding contribution to the United Kingdom's intellectual, economic, cultural and social life.
Sheffield has five Nobel Prize winners among former staff and students and its alumni go on to hold positions of great responsibility and influence all over the world, making significant contributions in their chosen fields.
Global research partners and clients include Boeing, Rolls-Royce, Unilever, AstraZeneca, Glaxo SmithKline, Siemens and Airbus, as well as many UK and overseas government agencies and charitable foundations.
Contact
For further information please contact:
Hannah Postles
Media Relations Officer
University of Sheffield
0114 222 1046
h.postles@sheffield.ac.uk