Build-up of DNA damage in nerve cells can lead to dementia
High levels of DNA damage in nerve cells can lead to dementia, researchers from the University of Sheffield have found.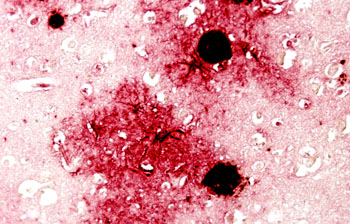 Scientists from the world-leading Sheffield Institute for Translational Neuroscience (SITraN) have discovered a novel pathway contributing to dementia in individuals that lack the typical signs of Alzheimer's disease in the brain.
The research published today (26 June 2015) in the journal Neuropathology and Applied Neurobiology builds on previous work using brain tissue donated to the Medical Research Council Cognitive Function and Ageing Study (CFAS).
This population-based study shows that one in five of the elderly with documented dementia lack significant amounts of the classical hallmarks of Alzheimer's disease in the brain, namely ß-amyloid plaques and neurofibrillary tangles.
The Sheffield group have subsequently worked to investigate what else may be affecting brain function in this group of people.
The research team led by Steve Wharton, Professor of Neuropathology based at SITraN, focussed on this group of over 65 year olds with little or no classical signs of typical Alzheimer's or dementia pathology.
They isolated nerve cells from donated brain tissue and found that higher levels of DNA damage in nerve cells correlate with cognitive decline as documented in the donors' medical records.
The scientists further examined the changes in cellular pathways in these dementia cases with high levels of DNA damage compared to healthy control samples. They found changes in genes associated with increased cholesterol biosynthesis, as well as impaired signalling pathways, which are essential for regulating the way that nerve cells respond to their environment, including insulin and Wnt signalling – made up of proteins that pass signals from outside a cell through cell surface receptors to the inside of the cell.
"As these changes are independent of established Alzheimer's disease, they may underlie neuronal dysfunction in these cases and targeting them may provide another potential therapeutic approach to dementia," said Professor Steve Wharton.
As life expectancy and with it the rate of dementia increases, there is a growing need to identify, prevent and effectively treat dementia. Most studies and clinical trials have focussed on tackling typical Alzheimer's pathology – ß-amyloid plaques and neurofibrillary tangles in the brain. However, at present dementia remains incurable.
The Sheffield team which leads the neuropathology studies within CFAS has previously demonstrated that there is a significant overlap of what is seen as classical Alzheimer's pathology between people with and without dementia, particularly in the very oldest.
Professor Wharton added: "Studies of the abnormal proteins deposited in Alzheimer's, ß-amyloid and tau, are very important for understanding dementia and they are very important as targets for therapies, but it is important, given the very slow pace of development of such treatments, that our focus on the causes of dementia should not be too narrow.
"There is a compelling case to identify other cellular and molecular processes contributing to dementia in order to identify potential new therapeutic targets."
Carol Brayne, Lead Investigator for the CFA study based at Cambridge University, said: "This work highlights the unique and enormous value of the contribution of individual CFAS participants, as brain tissue donors, and their families to understanding the complexity of dementia across the whole of the older population, compared with findings from groups selected by their contact with particular clinical services."
Additional information
References:
JE Simpson, PG Ince, T Minett, FE Matthews, PR Heath, PJ Shaw, E Goodall, CJ Garwood, LE Ratcliffe, C Brayne, M Rattray, SB Wharton (2015) Neuronal DNA damage response-associated dysregulation of signalling pathways and cholesterol metabolism at the earliest stages of Alzheimer-type pathology. Neuropathology and Applied Neurobiology; published online June 2015 http://onlinelibrary.wiley.com/doi/10.1111/nan.12252/abstract
JE Simpson, PG Ince, FE Matthews, PJ Shaw, PR Heath, C Brayne, C Garwood, A Higginbottom, SB. Wharton. (2015) A neuronal DNA damage response is detected at the earliest stages of Alzheimer's neuropathology and correlates with cognitive impairment in the MRC-CFAS ageing brain cohort. Neuropathology and Applied Neurobiology 41(4):483-96.
The Medical Research Council Cognitive Function and Ageing Study CFAS
The University of Sheffield is the lead centre for the neuropathology studies within MRC CFAS and currently holds more than 550 donated CFAS brains as part of the Sheffield Brain Tissue Bank.
For more information visit www.cfas.ac.uk
SITraN - The Sheffield Institute for Translational Neuroscience
SITraN is a world-leading research centre purpose-built and dedicated to research into motor neuron disease (MND/ALS) and related neurodegenerative diseases including Parkinson's disease, Alzheimer's disease, and stroke. The state-of-the art research facility was opened in 2010 by HM The Queen and uniquely allows the multidisciplinary collaboration of clinicians, scientists and health professionals to develop new treatments for the benefit of patients.
To find out more visit www.sheffield.ac.uk/sitran
The University of Sheffield
With almost 26,000 of the brightest students from around 120 countries, learning alongside over 1,200 of the best academics from across the globe, the University of Sheffield is one of the world's leading universities.
A member of the UK's prestigious Russell Group of leading research-led institutions, Sheffield offers world-class teaching and research excellence across a wide range of disciplines.
Unified by the power of discovery and understanding, staff and students at the university are committed to finding new ways to transform the world we live in.
In 2014 it was voted number one university in the UK for Student Satisfaction by Times Higher Education and in the last decade has won four Queen's Anniversary Prizes in recognition of the outstanding contribution to the United Kingdom's intellectual, economic, cultural and social life.
Sheffield has five Nobel Prize winners among former staff and students and its alumni go on to hold positions of great responsibility and influence all over the world, making significant contributions in their chosen fields.
Global research partners and clients include Boeing, Rolls-Royce, Unilever, AstraZeneca, Glaxo SmithKline, Siemens and Airbus, as well as many UK and overseas government agencies and charitable foundations.
For further information, please visit www.sheffield.ac.uk
Contact
For further information please contact:
Hannah Postles
Media Relations Officer
University of Sheffield
0114 222 1046
h.postles@sheffield.ac.uk