Dipping blood sugars cause surprisingly irregular heart rhythms in diabetics
• Research unveils clues to 'Dead in Bed' cases where young people without any history of long-term complications die suddenly from diabetes.

• Low blood sugar levels lead to heart rhythm disturbances and even life-threatening heart attacks.
Dangerous overnight blood sugar levels often go undetected and cause prolonged periods of heart rhythm disturbances in older patients with Type 2 diabetes and associated heart problems, new research reveals.
The findings from the research – led by Professor Simon Heller of the University of Sheffield's Department of Human Metabolism and Sheffield Teaching Hospitals NHS Foundation Trust - could offer vital clues to the mechanism by which low blood sugar levels could contribute to life-threatening changes in heart rhythm, a major risk for patients with diabetes.
They also shed important new light on the 'Dead in Bed' syndrome – where young people without any history of long-term complications die suddenly from the disease.
Previous studies have apparently ruled out a direct effect of hypoglycaemia (very low levels of sugar in the blood) as a cause of death in patients with Type 2 diabetes.
Few of the patients taking part in the present study reported symptoms of low blood sugar levels or irregular heartbeats – and they were only detected through continuous glucose monitoring and electrocardiograms used by Sheffield researchers which tracked blood glucose levels and heart rates over a week in a group of older patients with Type 2 diabetes and a history of cardiovascular disease.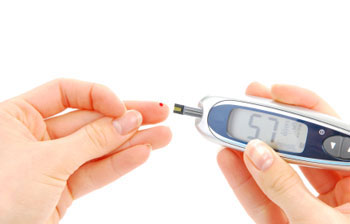 The breakthrough research was conducted by Elaine Chow, a specialist registrar at Sheffield Teaching Hospitals and the University of Sheffield under a £190K Biomedical Research Fellowship awarded by the National Institute for Health Research. The findings are being published in the May issue of Diabetes, the journal of the American Association of Diabetes.
Professor Simon Heller, Professor of Clinical Diabetes and Honorary Consultant Physician, Sheffield Teaching Hospitals NHS Foundation Trust, said: "We don't want to alarm patients, but what we've found is potentially important in explaining a possible mechanism by which low overnight blood sugars lead to prolonged, slow heart rates that could disturb blood flow to the heart, causing life-threatening heart attacks.
"While we expected to find some low overnight blood sugars we were startled to find how extensively it was occurring overnight and that it was sometimes lasting for several hours. When this occurred, we also saw evidence of prolonged periods of very slow heart rate rhythms in patients.
"While a cause for concern, these slow heart rates were not associated with any very serious heart rhythm disturbances in the study. But the findings suggest that even those on standard insulin therapy who are not aiming for intensive glucose targets should be aware of the risk of running low sugars overnight, particularly if they have known cardiovascular disease."
Previous research has focused on the effects of high blood sugars on patients with diabetes, so more research was needed to understand how low blood sugars in patients with Type 2 diabetes caused irregular heartbeats, Professor Heller emphasised.
"In an older group with a known history of cardiovascular disease this might turn out to be something to be very concerned about, but further investigation is needed to confirm the link between overnight low blood sugar levels and abnormal heart rates that disturb the flow of blood to the heart. If patients are aware they have low blood sugar levels, they can act accordingly, perhaps by checking their blood glucose in the middle of the night every now and then and talking with the doctor to change insulin type or the timing of the dose to minimise the risk of prolonged episodes of hypoglycaemia overnight.
"Clinicians responsible for the care of patients using insulin to treat Type 2 diabetes need to be more aware of the potential for prolonged nocturnal episodes of hypoglycaemia at night. They need to check for it and alter therapy to reduce the risk, especially for those who have known history of cardiovascular disease."
Additional Information
University of Sheffield
With almost 25,000 of the brightest students from around 120 countries, learning alongside over 1,200 of the best academics from across the globe, the University of Sheffield is one of the world's leading universities.
A member of the UK's prestigious Russell Group of leading research-led institutions, Sheffield offers world-class teaching and research excellence across a wide range of disciplines.
Unified by the power of discovery and understanding, staff and students at the university are committed to finding new ways to transform the world we live in.
In 2011 it was named University of the Year in the Times Higher Education Awards and in the last decade has won four Queen's Anniversary Prizes in recognition of the outstanding contribution to the United Kingdom's intellectual, economic, cultural and social life.
Sheffield has five Nobel Prize winners among former staff and students and its alumni go on to hold positions of great responsibility and influence all over the world, making significant contributions in their chosen fields.
Global research partners and clients include Boeing, Rolls-Royce, Unilever, AstraZeneca, Glaxo SmithKline and Siemens, as well as many UK and overseas government agencies and charitable foundations.
For further information, please visit www.sheffield.ac.uk
Sheffield Teaching Hospitals NHS Foundation Trust
Sheffield Teaching Hospitals is one of the UK's largest NHS Foundation Trusts and one of the largest and busiest teaching hospitals. We have over 15,000 staff caring for over a million patients each year at our five hospitals and in the local community:
• The Royal Hallamshire Hospital
• The Northern General Hospital
• Charles Clifford Dental Hospital
• Weston Park Cancer Hospital
• Jessop Wing Maternity Hospital
We offer a full range of local hospital and community health services for people in Sheffield as well as specialist hospital services to patients from further afield in our many specialist centres.
The Trust is recognised internationally for its work in neurosciences, spinal injuries, renal, cancer, transplantation, neurosciences and orthopaedics.
The Trust has been awarded the title of 'Hospital Trust of the Year' in the Good Hospital Guide three times in five years and we are proud to be one of the top 20% of NHS Trusts for patient satisfaction.
The Trust is a recognised leader in medical research for bone, cardiac, neurosciences and long term conditions such as diabetes and lung disease. We also play a key role in the training and education of medical, nursing and dental students with our academic partners, including the University of Sheffield and Sheffield Hallam.
For more information visit: www.sth.nhs.uk
Contact
For further information please contact:
Amy Pullan
Media Relations Officer
University of Sheffield
0114 222 9859
a.l.pullan@sheffield.ac.uk