University of Sheffield benefits from £10 million investment to train the next generation of data scientists
University of Sheffield will be part of eight new Centres for Doctoral Training in data intensive science
The centres will include industrial partners and will offer comprehensive training in cutting edge research projects
Collaboration will help Sheffield scientists develop pioneering technologies with real-world applications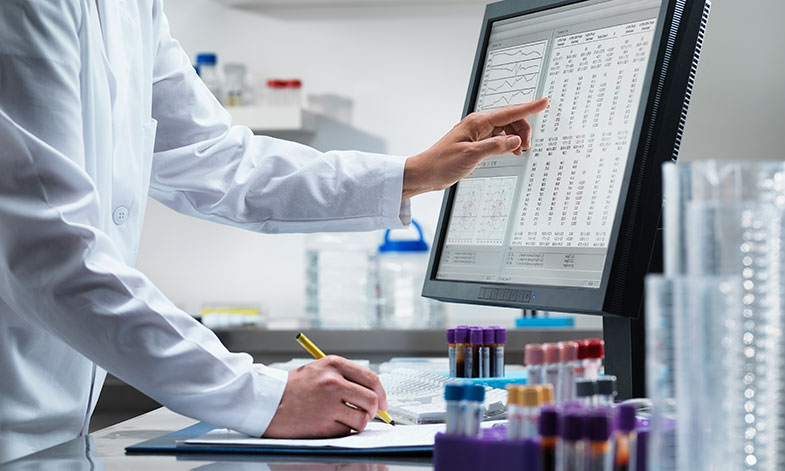 Data intensive science in the UK has received a major boost thanks to an investment of almost £10 million to train the next generation of experts in this important research area.
The UK's Science and Technology Facilities Council (STFC) is supporting eight new Centres for Doctoral Training (CDT) in data intensive science to address the skills need. The eight new centres will be based at 19 universities – including the University of Sheffield, Liverpool, Liverpool John Moores and Lancaster.
The centres include industrial partners and will offer comprehensive training in data intensive science through cutting edge research projects and a targeted academic training programme. This will be complemented by secondments to national and international partners.
Professor Nigel Clark, Vice-President and Head of the Faculty of Science, at the University of Sheffield, said: "Our scientists at the University of Sheffield's Department of Physics and Astronomy are developing pioneering technologies with real-world applications and this investment will allow us to work more closely with other leaders in the field to tackle big data challenges.
"It is vital that we encourage and support the next generation of experts in data intensive science in order to sustain the constant advancement of computer technology which has had a profound impact on science and industry."
The constant advancement of computer technology has had a profound impact on science and industry, making possible some of the most important discoveries in recent years.
This investment is vital in order to sustain the constant advancement of computer technology which has had a profound impact on science and industry.

Professor Nigel Clark, Vice-President and Head of the Faculty of Science
Thanks to increasingly powerful technology, researchers can gather, store and utilise vast amounts of data – but to make sense of this data, many more expert scientists are needed to ensure the UK takes full advantage.
STFC's Executive Director of Programmes Professor Grahame Blair said: "This investment will not only bring on the next generation of much-needed data scientists with the skills and knowledge to become leaders in the field, it will be crucial in ensuring the UK research sector and the UK economy remains competitive on the world stage."
The bulk of the funding comes from the £90 million allocated for 1,000 new PhD places across all the UK's Research Councils, announced in the 2017 Spring Budget as part of the National Productivity Investment Fund.
Through this funding, the STFC will be supporting nearly 100 PhD students, who will be trained to analyse data from astrophysics, accelerator science, nuclear or particle physics research, as well as to problems posed by industry and other organisations. They will be supplemented by around 40 additional studentships funded directly through the STFC and other sources.
Professor Blair added: "It is vital that all sectors in this field work together and learn from each other. The investment in these new Centres builds on the creation of the World Wide Web at CERN and the big data challenges of both the Large Hadron Collider in our particle physics programme and the large cosmological surveys in our astronomy programme.
"It reinforces the importance that STFC and BEIS places on having a strong community of research staff with expertise in data intensive science and on tapping this exceptional pool of talent for both frontier research and for interaction with industry."
Modern observational and experimental facilities produce mountains of data and sifting through that data manually would take years. This is where the data scientists come in.
Data-intensive science utilises sophisticated computational, statistical and programming techniques, including artificial intelligence and machine learning to extract insights from huge datasets to make new discoveries.
Additional information
STFC and High Performance Computing (STFC)
The University of Sheffield
With almost 27,000 of the brightest students from over 140 countries, learning alongside over 1,200 of the best academics from across the globe, the University of Sheffield is one of the world's leading universities.
A member of the UK's prestigious Russell Group of leading research-led institutions, Sheffield offers world-class teaching and research excellence across a wide range of disciplines.
Unified by the power of discovery and understanding, staff and students at the university are committed to finding new ways to transform the world we live in.
Sheffield is the only university to feature in The Sunday Times 100 Best Not-For-Profit Organisations to Work For 2017 and was voted number one university in the UK for Student Satisfaction by Times Higher Education in 2014. In the last decade it has won four Queen's Anniversary Prizes in recognition of the outstanding contribution to the United Kingdom's intellectual, economic, cultural and social life.
Sheffield has six Nobel Prize winners among former staff and students and its alumni go on to hold positions of great responsibility and influence all over the world, making significant contributions in their chosen fields.
Global research partners and clients include Boeing, Rolls-Royce, Unilever, AstraZeneca, Glaxo SmithKline, Siemens and Airbus, as well as many UK and overseas government agencies and charitable foundations.
Contact
For more information, contact
Amy Huxtable
Media Relations Officer
The University of Sheffield
0114 222 9859
a.l.huxtable@sheffield.ac.uk