University of Sheffield Vice-Chancellor launches Education 4.0 at global innovator conference in Shenzhen, China
Professor Sir Keith Burnett addresses audience of Global Innovators in China on how next generation technologies can revolutionise education
Big data, 5G and augmented reality create new possibilities for education which links with industry in research-business environments across the world
Sir Keith showcased how the University of Sheffield's Advanced Manufacturing Research Centre and Factory 2050 are already working with global companies like Boeing, Rolls-Royce, Jaguar Land Rover, Siemens and McLaren.
President and Vice-Chancellor of the University of Sheffield Sir Keith Burnett unveiled what he believes will be a revolutionary concept in higher education, research and teaching with industry at a conference of global innovators in China's high-tech city, Shenzhen.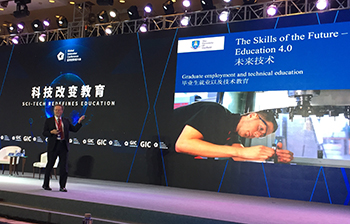 Speaking to an audience of tech innovators and industry leaders from around the world, including leading individuals from Google DeepMind, Sir Keith described an approach to education matching the transformation of next generation technologies in Industry 4.0 which integrates the latest technologies with industry needs and global partnerships: Education 4.0.
Describing Education 4.0, Sir Keith said: "This is a ground-breaking approach to education which began in Sheffield through our in-depth work on the very latest applications of technology and collaboration in advanced manufacturing with partners such as Boeing.
"From them, we learned that we need to completely rethink our boundaries, so it is no longer possible to see where the lab and lecture theatre end and the factory begins. Our Factory 2050, for example, looks more like an Apple Store than most people's idea of an industrial research lab, and in it you see industrialists, research scientists and engineers, PhDs in AI and apprentices working side by side.
"We are taking virtual reality and bringing it all the way back to the reality of design and production."
Education 4.0 is the intellectual property of the University of Sheffield but the University is already working with global partners to develop its potential.
Sir Keith said: "We know that Education 4.0 offers us the chance to do enormous local good, creating new opportunities for young people in our communities in the UK while simultaneously working with our partners in China, in South Korea or in Portland, Oregon.
"To develop this concept – and it is of course still developing fast – we are working with the world's best. People like Martin Bean at the Royal Melbourne Institute of Technology who developed Future Learn and who works in an environment which never separated technical and academic education. We are using technologies to cross borders, to challenge old divides and to reboot the economy as we do it.
"It is a very exciting concept. I'm absolutely delighted that the Ministry for Industry in China is as excited about this work as are our partners Boeing and McLaren and all those who have supported the almost 1,000 apprentices we have already trained, providing industry sponsorship so the students themselves don't have to pay fees. It really is the future."
Additional information
About the AMRC with Boeing
The University of Sheffield Advanced Manufacturing Research Centre (AMRC) with Boeing is a world-class centre for research into advanced manufacturing technologies used in the aerospace, automotive, medical and other high-value manufacturing sectors.
The AMRC has a global reputation for helping companies overcome manufacturing problems and is a model for collaborative research involving universities, academics and industry worldwide.
Combining state of the art technologies with the AMRC's expertise in design and prototyping, machining, casting, welding, additive manufacturing, composites, assembly and structural testing, has created a manufacturing resource far beyond anything previously available in the UK.
Sir Keith Burnett FRS
Sir Keith Burnett FRS is President of the UK Science Council and a member of the UK Prime-Minister's Advisory Council on Science and Technology. He also Chairs the Advanced Manufacturing Research Centre Board and leads work on Science and Innovation for the Sheffield City Region. Sir Keith is a Chinese speaker who has been honoured by China for his contribution to the understanding of Chinese language and culture.
The University of Sheffield
With almost 27,000 of the brightest students from over 140 countries, learning alongside over 1,200 of the best academics from across the globe, the University of Sheffield is one of the world's leading universities.
A member of the UK's prestigious Russell Group of leading research-led institutions, Sheffield offers world-class teaching and research excellence across a wide range of disciplines.
Unified by the power of discovery and understanding, staff and students at the university are committed to finding new ways to transform the world we live in.
Sheffield is the only university to feature in The Sunday Times 100 Best Not-For-Profit Organisations to Work For 2017 and was voted number one university in the UK for Student Satisfaction by Times Higher Education in 2014. In the last decade it has won four Queen's Anniversary Prizes in recognition of the outstanding contribution to the United Kingdom's intellectual, economic, cultural and social life.
Sheffield has six Nobel Prize winners among former staff and students and its alumni go on to hold positions of great responsibility and influence all over the world, making significant contributions in their chosen fields.
Global research partners and clients include Boeing, Rolls-Royce, Unilever, AstraZeneca, Glaxo SmithKline, Siemens and Airbus, as well as many UK and overseas government agencies and charitable foundations.
Contact
For further information please contact;
Hannah Postles
Media Relations Officer
University of Sheffield
0114 222 1046
h.postles@sheffield.ac.uk