Expression of emotion in books declined during 20th century, study finds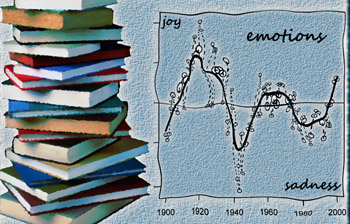 The use of words with emotional content in books has steadily decreased throughout the last century, according to new research from the Universities of Sheffield, Bristol and Durham.
The study, published today in PLOS ONE, also found a divergence between American and British English, with the former being more 'emotional' than the latter.
The researchers looked at how frequently 'mood' words were used through time in a database of more than five million digitised books provided by Google.
The list of words was divided into six categories (anger, disgust, fear, joy, sadness, surprise) previously used by a co-author Dr Vasileios Lampos, from the University of Sheffield's Department of Computer Science and the Natural Language Processing Group, to detect contemporary mood changes in public opinion as expressed in tweets collected in the UK over more than two years.
Dr Lampos said: "The initial idea was simple: what if we apply a similar analysis on digitised books? And even the very first experimental results were depicting clear patterns of correlation between historical events and mood tendencies, such as the obvious peak in sadness during the Second World War."
Dr Alberto Acerbi, a Newton Fellow in the Department of Archaeology and Anthropology at the University of Bristol and lead author of the paper, said: "We thought that it would be interesting to apply the same methodology to different media and, especially, on a larger time scale. We were initially surprised to see how well periods of positive and negative moods correlated with historical events. The Second World War, for example, is marked by a distinct increase of words related to sadness, and a correspondent decrease of words related to joy."
In applying this technique, the researchers made some remarkable discoveries about the evolution of words usage in English books over the past century. Firstly, the emotional content of published English has been steadily decreasing over the past century, with the fascinating exception of words associated with fear, an emotion which has resurged over the past decades.
They also found that American English and British English have undergone a distinct stylistic divergence since the 1960s. American English has become decidedly more 'emotional' than British English in the last half-century.
The same divergence was also found in the use of content-free words, that is words which carry little or no meaning on their own, such as conjunctions ('and', 'but') and articles ('the').
Dr Acerbi said: "This is particularly fascinating because it has recently been shown that differences in usage of content-free words are a signature of different stylistic periods in the history of western literature."
This suggests that the divergence in emotional content between the two forms of English is paired by a more general stylistic divergence.
Co-author Professor Alex Bentley said: "We don't know exactly what happened in the sixties but our results show that this is the precise moment in which literary American and British English started to diverge. We can only speculate whether this was connected, for example, to the baby-boom or to the rising of counterculture.
"In the USA, baby boomers grew up in the greatest period of economic prosperity of the century, whereas the British baby boomers grew up in a post-war recovery period so perhaps 'emotionalism' was a luxury of economic growth."
While the trends found in this study are very clear, their interpretation is still open. "A remaining question," the authors say, "is whether word usage represents real behaviour in a population, or possibly an absence of that behaviour which is increasingly played out via literary fiction. Books may not reflect the real population any more than catwalk models reflect the average body."
Dr Acerbi continued: "Today we have tools that are revolutionising our understanding of human culture and of how it changes through time. Interdisciplinary studies such as this one can detect clear patterns by looking at an unprecedented amount of data, such as tweets, Google trends, blogs, or, in our case, digitised books, that are freely available to everyone interested in them."
The research shows the potential of computer science to help us understand society, added Dr Lampos: "I strongly believe that in the era of "Big Data" interdisciplinary works such as this one enable us to come up with some answers on previously unresolved questions. Computational Social Science, in particular, brings together well-developed scientific fields that in the past were seen as disjoint; the key factor, in this case, is the existence of new forms of data. Such studies can provide a better understanding of our society, which is a significant tool for improvement."
Additional information
The University of Sheffield
With nearly 25,000 of the brightest students from 117 countries coming to learn alongside 1,209 of the world's best academics, it is clear why the University of Sheffield is one of the UK's leading universities. Staff and students at Sheffield are committed to helping discover and understand the causes of things - and propose solutions that have the power to transform the world we live in.
A member of the Russell Group, the University of Sheffield has a reputation for world-class teaching and research excellence across a wide range of disciplines. The University of Sheffield has been named University of the Year in the Times Higher Education Awards 2011 for its exceptional performance in research, teaching, access and business performance. In addition, the University has won four Queen's Anniversary Prizes (1998, 2000, 2002, 2007), recognising the outstanding contribution by universities and colleges to the United Kingdom's intellectual, economic, cultural and social life.
One of the markers of a leading university is the quality of its alumni and Sheffield boasts five Nobel Prize winners among former staff and students. Its alumni have gone on to hold positions of great responsibility and influence all over the world, making significant contributions in their chosen fields.
Research partners and clients include Boeing, Rolls-Royce, Unilever, Boots, AstraZeneca, GSK, Siemens, Yorkshire Water, and many more household names, as well as UK and overseas government agencies and charitable foundations.
The University has well-established partnerships with a number of universities and major corporations, both in the UK and abroad. The White Rose University Consortium (White Rose) is a strategic partnership between 3 of the UK's leading research universities of Leeds, Sheffield and York. Since its creation in 1997 White Rose has secured more than £100M into the Universities.
Contact
For further information please contact:
Amy Stone
Media Relations Officer
The University of Sheffield
0114 222 1046
a.f.stone@sheffield.ac.uk