Building a brighter future
Engineering students were given an invaluable insight into pioneering construction work as they helped lay the foundations of the University of Sheffield's new Graduate School.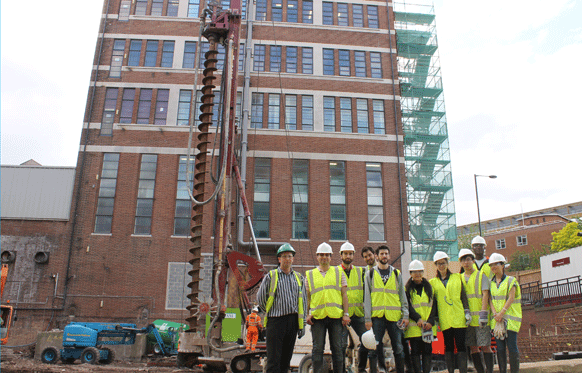 The 43 undergraduates, from the University's Department of Civil and Structural Engineering, gained real practical experience whilst helping to build a brighter future for themselves and other budding engineers in the future.
They were taught about the techniques of piling which forms the very basis of construction; the essential support needed for any kind of structure. It is a technique that sets deep foundations for any form of construction work, such as buildings.
Andrew Fallon, Head of Estates Development, said: "This project marks the start of a very exciting transformation of new and existing buildings for the Faculty of Engineering. The new Graduate School project involves a substantial civil and structural package to be safely constructed alongside a live operational campus. We were more than happy to take this opportunity to involve our civil and structural engineering students in a practical site visit with our contractor, Graham Construction, to witness the engineering – as it happens!"
The Engineering Graduate School will become the centre of the faculty's postgraduate research and postgraduate teaching activities. It will house collaborative and interdisciplinary research groups and has been planned to enable the growth of the faculty's postgraduate offer. It is scheduled to open in the autumn of next year.
Rachel Horn, Deputy Head of the Department of Civil and Structural Engineering, said: "This has been a fantastic opportunity for Civil and Structural Engineering students to visit the site to see real engineering in practice, to talk to the contractor and to understand the piling operation as it takes place. We look forward to further opportunities of this nature as the work progresses."
Graham Construction has moved continuous flight auger piles on site so that high production rates can be achieved on these first steps of construction. This particular method also limits the risk of damage to adjacent foundations or utilities.
Along with refurbishment of St George's Campus (the quadrangle bound by Mappin Street, Portobello Street, Newcastle Street and Broad Lane), the work is part of the first phase of a 15-year plan to improve and expand Engineering's estate.
Planning permission will be sought soon for the new engineering building on Jessop East. This landmark building will provide a wide range of teaching and research facilities as well as student-led learning spaces, including 19 state-of-the-art teaching laboratories.
Additional information
The Faculty of Engineering
The Faculty of Engineering at the University of Sheffield - the 2011 Times Higher Education's University of the Year - is one of the largest in the UK. Its seven departments include over 4,000 students and 900 staff and have research-related income worth more than £50M per annum from government, industry and charity sources. The 2008 Research Assessment Exercise (RAE) confirmed that two thirds of the research carried out was either Internationally Excellent or Internationally Leading.
The Faculty of Engineering has a long tradition of working with industry including Rolls-Royce, Network Rail and Siemens. Its industrial successes are exemplified by the award-winning Advanced Manufacturing Research Centre (AMRC) and the new £25 million Nuclear Advanced Manufacturing Research Centre (NAMRC).
The Faculty of Engineering is set to ensure students continue to benefit from world-class labs and teaching space through the provision of the University's new Engineering Graduate School. This brand new building, which will become the centre of the faculty´s postgraduate research and postgraduate teaching activities, will be sited on the corner of Broad Lane and Newcastle Street. It will form the first stage in a 15 year plan to improve and extend the existing estate in a bid to provide students with the best possible facilities while improving their student experience.
For more information about these and other Estates projects visit Estates
The University of Sheffield
With nearly 25,000 students from 125 countries, the University of Sheffield is one of the UK's leading and largest universities. A member of the Russell Group, it has a reputation for world-class teaching and research excellence across a wide range of disciplines.
The University of Sheffield has been named University of the Year in the Times Higher Education Awards for its exceptional performance in research, teaching, access and business performance. In addition, the University has won four Queen's Anniversary Prizes (1998, 2000, 2002, 2007). These prestigious awards recognise outstanding contributions by universities and colleges to the United Kingdom's intellectual, economic, cultural and social life. Sheffield also boasts five Nobel Prize winners among former staff and students and many of its alumni have gone on to hold positions of great responsibility and influence around the world.
The University's research partners and clients include Boeing, Rolls Royce, Unilever, Boots, AstraZeneca, GSK, ICI, Slazenger, and many more household names, as well as UK and overseas government agencies and charitable foundations.
The University has well-established partnerships with a number of universities and major corporations, both in the UK and abroad. Its partnership with Leeds and York Universities in the White Rose Consortium has a combined research power greater than that of either Oxford or Cambridge.
Contact
For further information please contact:
Amy Pullan
Media Relations Officer
The University of Sheffield
0114 222 9859
a.l.pullan@sheffield.ac.uk