£4.9 million funding to help educate engineers of the future
University awarded almost £4.9 million to equip state-of-the-art new building The Diamond
Funding part of £200 million Higher Education Funding Council England scheme for STEM teaching projects
The University of Sheffield has been awarded almost £4.9 million of Government funding to buy world-class equipment for a new flagship building filled with exceptional facilities for engineers of the future.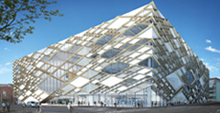 The Higher Education Funding Council England (HEFCE) has announced The Diamond – an £81 million state-of-the-art facility at the heart of campus – will receive a share of £200 million earmarked for science, technology, mathematics and engineering teaching capital projects.
Scheduled to open by September 2015, work is already well underway on the six-storey building which, as well as providing specialist engineering teaching facilities, will also house a range of lecture theatres, seminar rooms, open-plan learning spaces, library services and social spaces, including a café.
The Diamond is the University's largest-ever investment in teaching and learning, with Engineering at Sheffield expecting to welcome 1,600 additional engineering students and 400 extra staff by 2020.

"We're delighted that our capital funding bid to HEFCE to purchase additional equipment for The Diamond – the best integrated engineering teaching space in the UK, if not the world – has been successful," said Professor Mike Hounslow, Pro-Vice Chancellor for Engineering.
"This is an incredibly exciting time for Engineering at Sheffield. With the opening of The Diamond in sight, this funding will make a real difference by providing additional teaching capacity and helping us to develop the academic and technical skills of our engineers of the future."
Professor Stephen Beck, Head of Multidisciplinary Engineering Education at the University of Sheffield, added: "The Diamond is our new flagship building which will provide a step change in the practical experiences of our students.
"This HEFCE funding will enable us to fully equip the labs in it so larger cohorts of students can develop the key professional skills that they will need for their careers. This will help us educate more of the engineers that Britain and the world needs."
The University of Sheffield is among 73 universities and colleges across the country to receive share of funding through a HEFCE scheme to ensure higher education responds to the increase in demand for STEM studies by developing new facilities.
Madeleine Atkins, Chief Executive of HEFCE, said: "This funding is badly needed by universities and colleges to meet the increased interest in science and engineering. It will also ensure that students benefit from state-of-the-art equipment and laboratories, and are thereby equipped for the workplace of the 21st century.
'I am particularly pleased to see successful projects across all parts of the country, and the degree to which institutions are focusing their investment to support their local economies and key industry partners.'
Vince Cable, Secretary of State for the Department for Business, Innovation and Skills, added: "Inspiring young people to take up STEM courses is vital to the success of the UK economy. This investment will mean world-class teaching facilities to build tomorrow's skilled workforce. It's just one way we are ensuring the UK remains a world leader in science and research."
Additional information
The University of Sheffield
With almost 25,000 of the brightest students from around 120 countries, learning alongside over 1,200 of the best academics from across the globe, the University of Sheffield is one of the world's leading universities.
A member of the UK's prestigious Russell Group of leading research-led institutions, Sheffield offers world-class teaching and research excellence across a wide range of disciplines.
Unified by the power of discovery and understanding, staff and students at the university are committed to finding new ways to transform the world we live in.
In 2014 it was voted number one university in the UK for Student Satisfaction by Times Higher Education and in the last decade has won four Queen's Anniversary Prizes in recognition of the outstanding contribution to the United Kingdom's intellectual, economic, cultural and social life.
Sheffield has five Nobel Prize winners among former staff and students and its alumni go on to hold positions of great responsibility and influence all over the world, making significant contributions in their chosen fields.
Global research partners and clients include Boeing, Rolls-Royce, Unilever, AstraZeneca, Glaxo SmithKline, Siemens and Airbus, as well as many UK and overseas government agencies and charitable foundations.
For further information, please visit www.sheffield.ac.uk
Contact
For more information please contact:
Hannah Postles
Media Relations Officer
University of Sheffield
0114 222 1046
h.postles@sheffield.ac.uk