New campaign launched in parliament to tackle shortage of UK engineers
A campaign aimed at children and written by student engineers will be launched in the Houses of Parliament today (Thursday 3 November 2016) aimed at encouraging more young people to study engineering.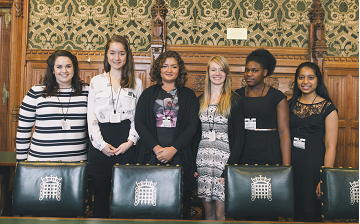 The Engineering is… campaign, launched by the University of Sheffield and backed by the Royal Academy of Engineering and Sheffield Central MP Paul Blomfield, includes a children's book written by student engineers from the university as well as online games, lesson plans for teachers and information on different engineering careers.
It aims to challenge perceptions of engineering and inspire primary school children, particularly young girls, to consider studying engineering at university.
Female engineer and TV presenter, Roma Agrawal will speak at the launch.
Roma said: "The UK society needs a concerted effort as a whole to change the perception of engineering in order for it to become an aspirational career for girls and boys. Many people simply don't know about the wide range of roles within engineering, that engineering is creative, and can help you change the world."
The shortage of UK engineers is a massive problem for the UK economy. Engineering companies will need 182,000 people per year with engineering skills in the decade to 2022 but there is a current annual shortfall of 55,000 skilled workers¹.
Filling the demand for new engineering jobs will generate an additional £27 billion per year for the UK economy from 2022, according to the 2015 Engineering UK report: 'The State of Engineering'.
In a CBI survey, 44% of engineering, science and hi-tech firms reported difficulties in finding experienced recruits with STEM skills.
Many people simply don't know about the wide range of roles within engineering, that engineering is creative, and can help you change the world

roma agrawal, engineer & tv presenter

The shortage of women in engineering roles is even more acute - with only 9% of the engineering and technology workforce being female, according to an IET Skills Survey 2015.
Dr Rachael Rothman, Faculty Director for Women in Engineering in the Faculty of Engineering at the University of Sheffield, said: "At Sheffield we aim to inspire more women and girls to study engineering - diversity is more than a box ticking exercise.
Engineering is a massively important career, needed by the UK economy, and if we only train men we are not reaching a huge potential pool of talented engineers."
The book, written by students from the University of Sheffield's Women in Engineering Society, tells the story of Suzie and Ricky who discover an alien has crashed in their back garden. The children go on a school trip to an engineering research institute and meet engineers from different disciplines who help them build a rocket to send the alien home.
Families can receive a free copy of the book from the website and play the online games. Teachers can download the resources to plan lessons around the concepts in the story book.
Paul Blomfield MP for Sheffield Central said: "Engineering is hugely important for the UK economy and especially the Sheffield city region. This campaign by the University of Sheffield is an important step towards encouraging more young people to study STEM subjects and think about a career in engineering."
Additional Information
¹ Engineering UK: The State of Engineering report 2015
CBI Survey: Inspiring Growth: Education and Skills Survey 2015
Engineering is...campaign resources: www.engineeringis.co.uk
The University of Sheffield
With almost 27,000 of the brightest students from over 140 countries, learning alongside over 1,200 of the best academics from across the globe, the University of Sheffield is one of the world's leading universities.
A member of the UK's prestigious Russell Group of leading research-led institutions, Sheffield offers world-class teaching and research excellence across a wide range of disciplines.
Unified by the power of discovery and understanding, staff and students at the university are committed to finding new ways to transform the world we live in.
Sheffield is the only university to feature in The Sunday Times 100 Best Not-For-Profit Organisations to Work For 2016 and was voted number one university in the UK for Student Satisfaction by Times Higher Education in 2014. In the last decade it has won four Queen's Anniversary Prizes in recognition of the outstanding contribution to the United Kingdom's intellectual, economic, cultural and social life.
Sheffield has six Nobel Prize winners among former staff and students and its alumni go on to hold positions of great responsibility and influence all over the world, making significant contributions in their chosen fields.
Global research partners and clients include Boeing, Rolls-Royce, Unilever, AstraZeneca, Glaxo SmithKline, Siemens and Airbus, as well as many UK and overseas government agencies and charitable foundations.