University psychiatrist to help England football team get ready for World Cup
• Psychiatrist Professor Steve Peters, Undergraduate Dean for the University of Sheffield's Medical School, has been recruited by England Manager Roy Hodgson
• Professor Peters has already been brain trainer to Bradley Wiggins and scores of Olympic champions and sports stars
• Steven Gerrard credits Professor Peters for helping him recover during his 2010 injury
A University of Sheffield professor, who has helped British cyclists win Olympic gold, is set to use his skills on the England football team as they continue their preparations for the World Cup.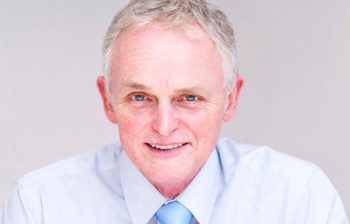 Psychiatrist Professor Peters, Undergraduate Dean for the University of Sheffield's Medical School and a former lecturer in medicine at the University, has already been mind mechanic to multiple champions including Bradley Wiggins; Sir Chris Hoy, six times Olympic Champion and 11 times World Champion; and Victoria Pendleton, World and Olympic Champion.
His pioneering psychological preparation, which has also extended to snooker champion Ronnie O'Sullivan, is based on the Chimp Model – whereby the irrational, emotional side of our personality is depicted as a chimp – to help people understand how their minds work and how they can manage them.
During the summer of 2012, he coached sporting stars full time at the Olympics and Paralympics and will now help England ahead of them kicking off their World Cup campaign against Italy on 14 June, as well as beyond in Rio.
Professor Peters, who was awarded an Honorary Professor title by the University last June, said: "I see this as a great privilege to be called upon to help support the England team in the run up and during the World Cup in Rio. The power of the mind is often underestimated but in actual fact, mind management can help elite athletes and senior managers alike to operate with greater control, focus and confidence.
"I'm looking forward to working with the England team to help them try to be as prepared as they can possibly be for one of the most crucial sporting competitions in their careers."
England captain Steven Gerrard has publically spoken of his admiration for Professor Peters and said if it was not for him, he could have been forced to retire following a serious injury he suffered four years ago.
He said: "At the time for six to eight weeks I'd seen three or four surgeons and they weren't really convincing me that I could maybe play again so I turned to him.
"He helps you with positivity, the power of thought, and staying upbeat, that sort of stuff.
"It was a very important stage in my career. I went to see him and I can only speak very highly of my private one on ones with him."
Additional information
The University of Sheffield
With almost 25,000 of the brightest students from around 120 countries, learning alongside over 1,200 of the best academics from across the globe, the University of Sheffield is one of the world's leading universities.
A member of the UK's prestigious Russell Group of leading research-led institutions, Sheffield offers world-class teaching and research excellence across a wide range of disciplines.
Unified by the power of discovery and understanding, staff and students at the university are committed to finding new ways to transform the world we live in.
In 2011 it was named University of the Year in the Times Higher Education Awards and in the last decade has won four Queen's Anniversary Prizes in recognition of the outstanding contribution to the United Kingdom's intellectual, economic, cultural and social life.
Sheffield has five Nobel Prize winners among former staff and students and its alumni go on to hold positions of great responsibility and influence all over the world, making significant contributions in their chosen fields.
Global research partners and clients include Boeing, Rolls-Royce, Unilever, AstraZeneca, Glaxo SmithKline and Siemens, as well as many UK and overseas government agencies and charitable foundations.
Contact
For further information please contact:
Shemina Davis
Media Relations Manager
The University of Sheffield
0114 222 5339
shemina.davis@sheffield.ac.uk