Leading the way for staff and future entrepreneurs
University shortlisted for national awards for Enterprise and Leadership Development
The University of Sheffield's position as an international centre of excellence, ambition and enterprise was strengthened today by the announcement that it has been shortlisted for two prestigious Times Higher Education (THE) awards – Entrepreneurial University of the Year and Outstanding Contribution to Leadership Development.
The University submitted entries in areas which reflect an impressive record of success in developing the skills and talents of outstanding staff and students who use knowledge to find solutions to problems using creativity and innovation.
Enterprise has always been at the heart of education at the University which was founded by 'penny donations' from Sheffield residents in order to change the lives of local people and the economy.
A hundred years on 'making ideas happen' is still something the institution is famed for, giving students a unique learning experience and the very best foundations for their future careers.
This instinct also motivates the work of the award-winning Advanced Manufacturing Research Centre (AMRC) with Boeing where over 200 University staff work with hundreds of companies to develop new manufacturing processes and improve competitiveness.
A willingness to rethink traditional approaches to partnership with business and developing skills has also resulted in a novel programme which sees the first intake of 160 young people arrive this autumn at the new AMRC Training Centre to begin advanced apprenticeships backed by local employers.
A desire to approach manufacturing problems in new ways will also be demonstrated in the construction of Factory 2050 – the world's most advanced factory – in partnership with the UK Government, Boeing, Airbus and Rolls-Royce.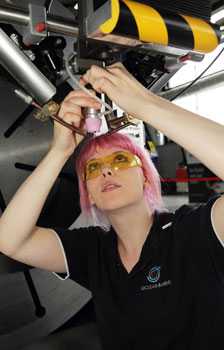 The University of Sheffield also has by far the largest number of Students in Free Enterprise (Enactus) in the UK. Pioneering projects launched by Sheffield students include transforming the lives of Bolivian villagers by creating blankets made from recycled crisp packets to prevent the rising number of hypothermia cases and helping homeless people to get out of a cycle of poverty by making their own jam making business.
There are currently 290 students working on over 30 life changing projects impacting on the lives of 3,215 people and in just nine months University of Sheffield Enterprise (USE) dealt with 293 new student enquiries about starting a business or enterprise project.
Professor Elena Rodriguez-Falcon, Director of Enterprise Education, has been recognised for her innovative teaching methods which encourage and inspire her students to change the world in which we live.
She has developed degrees which embed entrepreneurial skills into the syllabus, enabling engineering students to apply their technical and business skills to help make a real difference.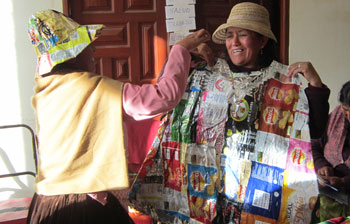 "A hundred years after this University was founded by local people who believed a University could transform people's lives, we are still committed to ambition and enterprise," said Professor Rodriguez-Falcon.
"It is a joy to see the way that staff and students cultivate, cherish and celebrate entrepreneurship, innovation and enterprise. People from around the world are now looking to Sheffield as leaders in this field. We are immensely proud that our passion and commitment to this work has been recognised by Times Higher Education by shortlisting our University for the Entrepreneurial University of the Year award."
University of Sheffield Vice-Chancellor, Professor Sir Keith Burnett, said: "Enterprise is all about taking up a challenge, and working in a focused way to create real benefits. This quality is highly valued by employers as they look at graduate CVs for evidence of initiative and entrepreneurship. But it is also crucial for society.
"Enterprise can also transform a town or a city. It can make a difference to a group of people who are in real need. It is about taking up the challenge and making change happen."
As well as empowering entrepreneurial students the University of Sheffield has been recognised for letting its staff lead the way after being shortlisted for the Outstanding Contribution to Leadership Development Award.
The University's Leadership development programme, The Sheffield Leader, which gives staff the knowledge and behaviour they need to support the University to face challenges ahead, has made a huge impact and international recognition since its launch in 2010.
Developing world-class leadership across subject areas is at the heart of the innovative Sheffield Leader, which has been shortlisted for its Outstanding Contribution to Leadership Development.
Andy Dodman, Director of Human Resources said: "Investing in our staff through the Sheffield Leader ensures leaders have the knowledge, skills and behaviours needed to face the challenges ahead, both internally and externally, and lead others to provide excellence throughout the institution."
Since launching in 2010, 396 participants have completed the Sheffield Leader. The Sheffield Leader Community have also developed a number of University-wide projects, and its reputation has spread beyond the UK with universities in Canada and China replicating the Sheffield approach.
The award winners will be announced at a glittering award ceremony later this year.
Additional information
Advanced Manufacturing Research Centre
For more information on the AMRC please visit: http://www.amrc.co.uk/
University of Sheffield Enterprise
To learn more about University of Sheffield Enterprise visit USE 
Sheffield Leader
To find out more about the Sheffield Leader visit https://www.sheffield.ac.uk/hr/sld/lmd/sheffieldleader
Enactus
To learn more about Enactus visit http://enactus.org/
The University of Sheffield
With nearly 25,000 of the brightest students from 117 countries coming to learn alongside 1,209 of the world's best academics, it is clear why the University of Sheffield is one of the UK's leading universities. Staff and students at Sheffield are committed to helping discover and understand the causes of things - and propose solutions that have the power to transform the world we live in.
A member of the Russell Group, the University of Sheffield has a reputation for world-class teaching and research excellence across a wide range of disciplines. The University of Sheffield has been named University of the Year in the Times Higher Education Awards 2011 for its exceptional performance in research, teaching, access and business performance. In addition, the University has won four Queen's Anniversary Prizes (1998, 2000, 2002, 2007), recognising the outstanding contribution by universities and colleges to the United Kingdom's intellectual, economic, cultural and social life.
One of the markers of a leading university is the quality of its alumni and Sheffield boasts five Nobel Prize winners among former staff and students. Its alumni have gone on to hold positions of great responsibility and influence all over the world, making significant contributions in their chosen fields.
Research partners and clients include Boeing, Rolls-Royce, Unilever, Boots, AstraZeneca, GSK, Siemens, Yorkshire Water and many more household names, as well as UK and overseas government agencies and charitable foundations.
The University has well-established partnerships with a number of universities and major corporations, both in the UK and abroad. The White Rose University Consortium (White Rose) a strategic partnership between three of the UK's leading research universities of Leeds, Sheffield and York. Since its creation in 1997 White Rose has secured more than £100M into the Universities.
Contact
For further information please contact:
Amy Pullan
Media Relations Officer
University of Sheffield
0114 222 9859
a.l.pullan@sheffield.ac.uk