Helping female cancer patients make vital decisions about fertility
Only 12 per cent of 170 women had been referred to a fertility consultant
Many women are unaware that infertility could be a consequence of chemotherapy
New tools will be developed to help female cancer patients make more informed decisions about their future fertility in a pioneering project at the University of Sheffield.
The £250,000 project, funded by Yorkshire Cancer Research, will build on ground-breaking research which shows that women across the county do not feel well-supported in making choices about preserving their ability to have children while undergoing treatment for cancer.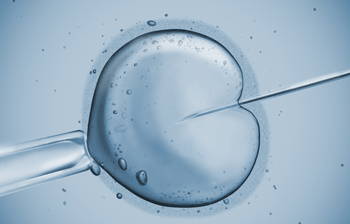 Increasing survival rates mean more women than ever before are living with the long-term effects of their cancer treatment.
Dr Georgina Jones, Reader in Social Science at the University's School of Health and Related Research (ScHARR), said: "It is incredibly important that we start to address the late effects of cancer treatment. Female cancer patients are required to make decisions about fertility preservation rapidly, before starting chemotherapy. These decisions are stressful, complex and the consequences are eternally binding.
"Despite this, most women fail to receive any guidance until their consultation with a fertility expert. Our previous research has shown that this negatively affects women's psychological well-being and their quality of life. Women want to receive specialist information sooner."
In a recent national study, the charity Breast Cancer Care found that only 12 per cent of 170 women had been referred to a fertility consultant, and many were unaware that infertility could be a consequence of chemotherapy1. Another UK investigation involving 100 oncologists found that 87 per cent wanted more information about fertility preservation, and a third stated they did not usually refer patients who had questions about fertility to a specialist fertility service2.
Dr Jones and her team will develop an extensive range of resources that will be made available to oncologists and nurses so they can offer them to patients before they see a fertility expert.
Once created, the resources will be reviewed by a wide range of key stakeholders including oncologists, nurses, fertility experts, patients and charities before being introduced to newly-diagnosed women who are referred to Weston Park Hospital in Sheffield or the Leeds Cancer Centre at St James' Hospital. All women aged 16 or over, facing chemotherapy and considering their future fertility will be invited to receive the information.
The impact of the project will then be evaluated and the findings, along with the resources, will be made available to all female cancer patients free of charge through a wide range of organisations and charities.
Dr Jones said: "Our aim is for patients to feel better supported and more informed at the time of planning their cancer treatment and before referral to the fertility expert. It should enable women to make better informed decisions, have more focused consultations with the fertility experts, and have a better opportunity to ask the right questions at the right time during the fertility consultation.
"The availability of these resources should also raise awareness amongst women of this possible late effect of cancer treatment and encourage them to seek fertility care and advice at this crucial time."
Additional information
1 Breast Cancer Care study 'Standards of Care for Younger Women; Results from the survey of health care professionals' by Grete Brauten-Smith and Jennifer Finnegan-John.
2 Adams, E., Hill, E., Watson, E., (2013. Fertility Preservation in Cancer Survivors: a national survey of oncologists' current knowledge, practice and attitudes. British Journal of Cancer 108, pp 1602-1615.
Yorkshire Cancer Research
Harrogate-based Yorkshire Cancer Research was founded in 1925 and is the largest independent regional cancer charity in England (Registered Charity 516898). During 2015 it will mark its 90th anniversary with a renewed commitment to reducing the devastating impact of cancer on the lives of people living in Yorkshire. Its mission is to work in partnership, fund research and support initiatives that will help people in Yorkshire avoid, survive and cope with cancer. Current statistics show that 527 people are diagnosed with cancer in Yorkshire every week. Incidence and mortality rates are higher than the England average due to social deprivation, post-industrialisation and lifestyle choices but also availability of healthcare services and difficulties accessing early diagnostics, clinical trials and the latest treatments.
Yorkshire Cancer Research aims to:
Be the leading authority on cancer in Yorkshire, understanding the problems and priorities in the region and sharing knowledge with partners.
Raise awareness of cancer and how to prevent it by working in local communities, schools and colleges, sports clubs and with other health-related organisations.
Promote screening programmes and fund research that can improve the diagnosis of cancer so we can detect and treat it at the earliest opportunity.
Invest in innovative research projects at every stage of a cancer patient's journey.
Campaign for fair and equal access to the very best healthcare services and a greater share of the money spent nationally on research.
For further information, please visit www.yorkshirecancerresearch.org.uk
University of Sheffield
With almost 26,000 of the brightest students from around 120 countries, learning alongside over 1,200 of the best academics from across the globe, the University of Sheffield is one of the world's leading universities. A member of the UK's prestigious Russell Group of leading research-led institutions, Sheffield offers world-class teaching and research excellence across a wide range of disciplines. Unified by the power of discovery and understanding, staff and students at the university are committed to finding new ways to transform the world we live in. In 2014 it was voted the number one university in the UK for Student Experience by Times Higher Education and in the last decade has won four Queen's Anniversary Prizes in recognition of the outstanding contribution to the United Kingdom's intellectual, economic, cultural and social life. Sheffield has five Nobel Prize winners among former staff and students and its alumni go on to hold positions of great responsibility and influence all over the world, making significant contributions in their chosen fields. Global research partners and clients include Boeing, Rolls-Royce, Unilever, AstraZeneca, Glaxo SmithKline, Siemens and Airbus, as well as many UK and overseas government agencies and charitable foundations.
Contact
For further information please contact:
Amy Pullan
Media Relations Officer
University of Sheffield
0114 222 9859
a.l.pullan@sheffield.ac.uk