Inspirational female physicist honoured at University
• UK's second woman ever to hold a Professorship in a UK Physics Department honoured with unique portrait
• Portrait's unveiling comes just ahead of International Women's Day on Sunday 8 March
• Prize marks University's commitment to celebrating success of inspirational women
An inspirational female scientist at the University of Sheffield, who is the UK's second woman ever to hold a professorship in a UK physics department, was last night (Monday 2 March 2015) honoured by a landmark Portrait of a Woman Prize.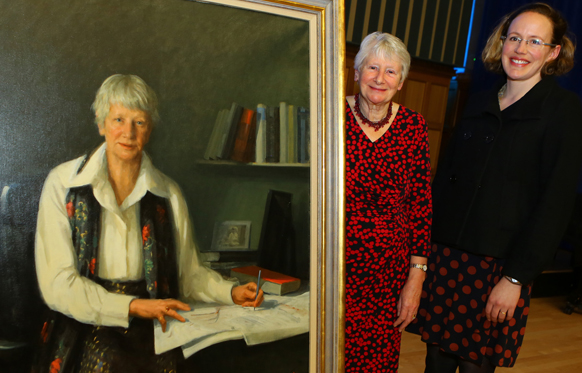 A portrait of Emeritus Professor Gillian Gehring will soon be hung in the University's Firth Hall and will be the first portrait in this location depicting a woman.
The move is the result of an initiative launched in 2012 by Rosie Valerio, former HR Director at the University, which called for women with inspirational life stories and achievements to be celebrated - as so many male counterparts have historically been - with specially commissioned portrait photographs to be displayed in pride of place around the University.
Rosie chose her retirement gift fund to be spent on the exhibition, to contribute to her legacy of a career that has significantly improved working life for women.
As a result, 28 women were invited to have a professional photo portrait by leading fine art photographer Anton Want. Anton's previous work includes Ambition, a project and exhibition focussing on ambition among young women in Sheffield, and he has had work exhibited in the National Portrait Gallery.
These 28 portraits have been displayed at various locations across campus since 2012 before a commissioning panel chose Emeritus Professor Gillian Gehring to be the first subject for the Portrait of a Woman Prize and have a portrait painted that will form a permanent fixture in Firth Hall.
Gillian, who is the first, and to date only, woman Professor of Physics at Sheffield is a distinguished international research leader in magnetism and orbital ordering, making great contributions to both theoretical and experimental projects, with her seminal work on the co-operative Jahn-Teller effect inspiring a generation of new physics experiments.
Gillian has also inspired a new generation of young people to be excited by physics, establishing one of the first comprehensive outreach programmes, promoting physics and astronomy in primary schools, to which she now devotes much of her time.
She has also led national and international efforts to increase the number of women studying physics, and campaigned tirelessly for gender equality in STEM subjects as a whole. She sits on the Administrative Board of the European Platform for Women in Science, has served on the Institute of Physics' Women in Physics Group, and Chaired the Women's Group of the European Physical Society.
Amongst the honours she has received are an OBE, honorary membership of the Institute of Physics and their prestigious Mott Medal.
Vice-Chancellor, Professor Sir Keith Burnett, said: "The process of selecting a woman who would rightly represent the contribution of all University women included a photographic exhibition which celebrated not only women's faces but also their stories, and the esteem they are held in by others. These women sometimes held high office in this University, others were chosen because of their inspirational service or support for their colleagues.
"The woman who was chosen to have the first portrait to hang in Firth Hall is one who represents all of these qualities – a wonderful scientist and teacher, dedicated mother, grandmother and friend, Professor Gillian Gehring is someone who speaks for the spirit of this University expressed in her life and work. There could be none better."
Critically-acclaimed portrait artist Frances Bell was selected to paint Gillian's portrait. Frances trained in the Classical tradition in Florence, and her work has been displayed in various exhibitions including The Not The Turner Prize Exhibition in 2004 and The Royal Society of Portrait Painters Annual Exhibition from 2005 – 2014. In 2010 Frances was made a member of the Society of Women Artists and has shown her work there each year since. In 2012 she had her painting The Postman accepted into the BP Portrait Award.
Vice-Chancellor Professor Sir Keith Burnett also confirmed that there are to be further portraits of women commissioned within the University - these will include Kathryn Riddle OBE, the first woman to hold the post of Chair of University Council, and Dame Anne Rafferty, incoming Chancellor and the first woman to hold this position.
There are also plans for extending the Portrait of a Woman prize.
The portrait's unveiling comes just ahead of International Women's Day on Sunday 8 March for which the University and Sheffield Hallam University will be holding a career development event for female staff and a lunch comprising of a panel of inspirational speakers and guests drawn from across the city. The University itself is marked by the contribution of thousands of remarkable women staff and students, from the aviator Amy Johnson to the first British astronaut Helen Sharman.
Rosie Valerio, former Director of HR at the University of Sheffield, said of the portrait: "We wanted to paint a stunning portrait that would celebrate women's achievements; challenge perceptions about women in the workplace, and provide inspiration to future women, and to staff, students and visitors. It's great that there will be more portraits of women very soon."
Additional information
The University of Sheffield
With almost 26,000 of the brightest students from around 120 countries, learning alongside over 1,200 of the best academics from across the globe, the University of Sheffield is one of the world's leading universities.
A member of the UK's prestigious Russell Group of leading research-led institutions, Sheffield offers world-class teaching and research excellence across a wide range of disciplines. Unified by the power of discovery and understanding, staff and students at the university are committed to finding new ways to transform the world we live in.
In 2014 it was voted number one university in the UK for Student Satisfaction by Times Higher Education and in the last decade has won four Queen's Anniversary Prizes in recognition of the outstanding contribution to the United Kingdom's intellectual, economic, cultural and social life.
Sheffield has five Nobel Prize winners among former staff and students and its alumni go on to hold positions of great responsibility and influence all over the world, making significant contributions in their chosen fields.
Global research partners and clients include Boeing, Rolls-Royce, Unilever, AstraZeneca, Glaxo SmithKline, Siemens and Airbus, as well as many UK and overseas government agencies and charitable foundations.
Contact
For further information please contact:
Shemina Davis
Media Relations Manager
The University of Sheffield
0114 222 5339
shemina.davis@sheffield.ac.uk