Arts and Humanities set to take over Sheffield for day of exhibitions, talks and family activities
Leading arts and humanities researchers take over Sheffield city centre to showcase their work to the public
Free event will have exhibitions, talks and family activities for all to enjoy
Showcase event previews the upcoming Festival of Arts and Humanities
Tips on how to learn languages, a chance to see why scary dolls and super machines influence modern performance, and advice on how to become a heroine are just some of the attractions and activities taking place in Sheffield this weekend (11 March 2017).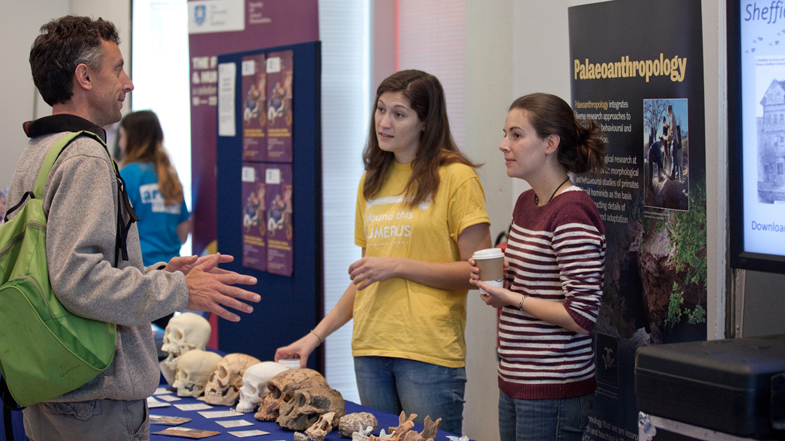 The activities are part of the University of Sheffield's Faculty Showcase, an event which will see some of the UK's leading arts and humanities researchers take over the city.
The event will see researchers from the University hold a series of exhibitions, talks and family activities in Sheffield's Millennium Galleries.
Starting at 11am, visitors to Sheffield city centre will be able to drop into bitesize talks exploring topics such as how gothic literature influences contemporary culture, the shocking truth about what happened to nuns in Britain who resisted the Reformation and the emerging Japanese drumming scene that is sweeping the UK.
Families will also have the opportunity to make their very own book that is unique to them, have a go at writing music and fashion their own Roman pantry god as part of the free activities that are open to the public.
Professor Jackie Labbe, Vice-President and Head of the University's Faculty of Arts and Humanities, said: "This event will give people in the city and region a chance to explore and interact with some of the latest and most innovative arts and humanities work that is taking place in Sheffield.
"Academic staff from our arts and humanities departments will put on a mixture of family-friendly activities and attractions for people to participate in to help them learn more about what our researchers do.
"There will be exhibition stands where the public can talk to lecturers about their latest work, short talks providing bitesize descriptions of current research, and children's activities with hands on making and doing for all ages."
The event is also a preview of the University's annual Festival of Arts and Humanities, which returns to Sheffield in May for the third year and has proved to be hugely popular.
To find out more about the University's Faculty Showcase on Saturday 11 March, please visit: https://www.sheffield.ac.uk/festivalah/index
Additional information
The University of Sheffield
With almost 27,000 of the brightest students from over 140 countries, learning alongside over 1,200 of the best academics from across the globe, the University of Sheffield is one of the world's leading universities.
A member of the UK's prestigious Russell Group of leading research-led institutions, Sheffield offers world-class teaching and research excellence across a wide range of disciplines.
Unified by the power of discovery and understanding, staff and students at the university are committed to finding new ways to transform the world we live in.
Sheffield is the only university to feature in The Sunday Times 100 Best Not-For-Profit Organisations to Work For 2017 and was voted number one university in the UK for Student Satisfaction by Times Higher Education in 2014. In the last decade it has won four Queen's Anniversary Prizes in recognition of the outstanding contribution to the United Kingdom's intellectual, economic, cultural and social life.
Sheffield has six Nobel Prize winners among former staff and students and its alumni go on to hold positions of great responsibility and influence all over the world, making significant contributions in their chosen fields.
Global research partners and clients include Boeing, Rolls-Royce, Unilever, AstraZeneca, Glaxo SmithKline, Siemens and Airbus, as well as many UK and overseas government agencies and charitable foundations.
Contact
For further information please contact:
Sean Barton
Junior Public Relations Officer
University of Sheffield
0114 222 9852
s.barton@sheffield.ac.uk