Europe's largest hybrid flywheel battery project to help grid respond to energy demand
Integrated flywheel and battery system can respond rapidly to changes in frequency on the electricity grid
€4 million project with industrial partners to develop a flywheel solution that meets the technical requirements for EU electricity grids
Europe's largest system and the UK's first will be installed at the University of Sheffield's energy storage facility in the UK, following trials in Ireland at Schwungrad Energies Hybrid Flywheel-Battery Facility.
Europe's largest and the UK's first battery flywheel system will be connected to the Irish and UK grids to help respond to energy demand as part of a new project involving engineers from the University of Sheffield, Schwungrad Energie, Adaptive Balancing Power and Freqcon.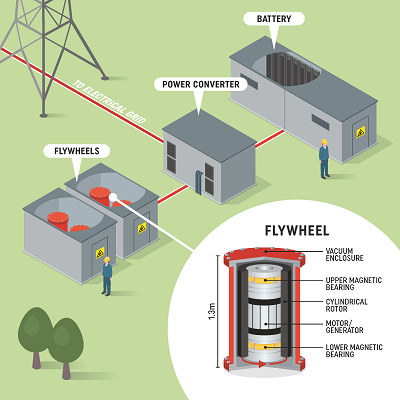 The €4 million euro project, with €2.9 million coming from the EU's Horizon2020 scheme, will develop an innovative flywheel battery hybrid energy storage system aimed at stabilising pressure on the existing grid infrastructure in Europe.
Flywheels work by accelerating a rotor to high speeds using electrical energy, effectively storing the energy within the system as rotational energy, to be converted back to electricity when required. Flywheels do not degrade over time compared to batteries so combining the two enables the storage system to operate more efficiently and reduce costs over the system's lifetime.
The new project, coordinated by Schwungrad Energie Limited, involves partners Adaptive Balancing Power GmbH who will provide their innovative adaptive flywheel technology. Freqcon GmbH will design and build scalable multi-source power converters to connect the flywheels to the grid.
Dr Dan Gladwin, from the Department of Electrical and Electronic Engineering at the University of Sheffield, said: "The UK national grid is becoming increasingly volatile due to the rising share of intermittent renewable energy sources. This manifests itself in deviations from the nominal 50Hz frequency as demand outweighs supply or vice versa.
"Battery and flywheel technologies can offer a rapid response, and can export and import energy enabling this technology to respond to periods of both under and over frequency."
In the first stage of the project, the flywheel facility will be installed in Ireland, piloted by Schwungrad Energie Limited at their hybrid flywheel battery facility, which has already seen a successful and highly beneficial demonstration project, in collaboration with EirGrid. The flywheel system will be capable of a peak power of 500kW and able to store 10kWh of energy.
The system will then be installed at the University of Sheffield's 2MW battery facility at Willenhall near Wolverhampton. The grid-connected research facility is one of the largest and fastest battery storage systems in the UK.
The flywheels will be upgraded to provide 1MW of peak power and 20kWh of energy storage and used as a hybrid energy storage system with the batteries to provide frequency response services.
Fast acting frequency response services, such as those provided by this hybrid solution, are a key enabler to the realisation of a high penetration of renewables – recognised by the Irish System Operators DS3 Programme for System Services.
More specifically, energy storage is a key priority for the UK government, with a policy by the Department of Business, Energy and Industrial Strategy (BEIS) expected later this year.
The UK national grid is becoming increasingly volatile due to the rising share of intermittent renewable energy sources...Battery and flywheel technologies can offer a rapid response. 

DR Dan gladwin, department of electrical and electronic engineering
A recent report by the National Infrastructure Commission has suggested that energy storage could contribute to innovations that could save consumers £8 billion a year by 2030 as well as securing the UK's energy supply for generations.
The University of Sheffield is an expert hub for energy storage research in the UK and home to the leading Centre for Research into Electrical Energy Storage & Applications (CREESA).
Jake Bracken, from Schwungrad Energie, said: "The existing Hybrid Flywheel-Battery Facility has concluded a trial with EirGrid, successfully demonstrating the technology's capability to rapidly inject power following a frequency event.
"When implemented at commercial scale the technology will assist in overcoming the challenges of operating a power system with increased levels of renewables.
"The adaptive flywheel and multi-source inverter being demonstrated by this project have the potential to increase the competitiveness of the solution."
Norbert Hennchen, CEO of Freqcon GmbH, said: "Increasing renewable penetration is a huge challenge for grid stability worldwide, and our company is at the forefront of developing innovative grid support solutions, based on our leading-edge power converters.
"We are delighted to be part of this consortium to develop and demonstrate the Flywheel-Battery Hybrid Technology."
Dr Hendrik Schaede from Adaptive Balancing Power, added: "We are proud to work in this great consortium on the future of our power grids, making them economic and reliable while CO2-emissions are further reduced.
"Irish and English grid operators currently hold a pioneering role by developing up-to-date regulations for grid stabilisation measures, which means we can test grid stabilisation technology in the project.
"Our adaptive flywheel technology allows us to tailor the flywheels' properties to the requirements set up by regulations and local conditions, leading to a high efficiency while providing the grid services at lowest costs."
Additional Information
The University of Sheffield
With almost 27,000 of the brightest students from over 140 countries, learning alongside over 1,200 of the best academics from across the globe, the University of Sheffield is one of the world's leading universities.

A member of the UK's prestigious Russell Group of leading research-led institutions, Sheffield offers world-class teaching and research excellence across a wide range of disciplines.

Unified by the power of discovery and understanding, staff and students at the university are committed to finding new ways to transform the world we live in.

Sheffield is the only university to feature in The Sunday Times 100 Best Not-For-Profit Organisations to Work For 2017 and was voted number one university in the UK for Student Satisfaction by Times Higher Education in 2014. In the last decade it has won four Queen's Anniversary Prizes in recognition of the outstanding contribution to the United Kingdom's intellectual, economic, cultural and social life.

Sheffield has six Nobel Prize winners among former staff and students and its alumni go on to hold positions of great responsibility and influence all over the world, making significant contributions in their chosen fields.

Global research partners and clients include Boeing, Rolls-Royce, Unilever, AstraZeneca, Glaxo SmithKline, Siemens and Airbus, as well as many UK and overseas government agencies and charitable foundations.
Energy 2050
One of the UK's largest energy research institutes based at the University of Sheffield, our initiative focuses on energy innovation and knowledge exchange and brings together more than 120 academics, and 250 PhD students. It's a research institute that goes beyond traditional research boundaries by delivering innovations to power producers and major consumers with technology providers, focused on competitiveness and the de-risking of large scale investment in new technologies both in the UK and internationally.
For further information, please visit: www.energy2050.ac.uk