Parliamentary inquiry should consider the impact of welfare reform on demand for food banks, says University expert

Research raises the question of whether the state or civil society is responsible for protecting people from hunger
Policy-makers urged to consider the impact of welfare reform on food bank demand
All-Party Parliamentary Inquiry into food poverty and hunger begins today (Wednesday 9 April 2014)
The Sheffield Political Economy Research Institute (SPERI) is today (Wednesday 9 April 2014) urging a new Parliamentary inquiry into food poverty to consider the impact welfare reform is having on food banks in the UK.
Research by experts at the University of Sheffield raises the question of whose responsibility it is to protect citizens from hunger – the state or civil society.
Experts say the relationship between food bank use and the adequacy of social protection is a key question and should be a priority for the All-Party Parliamentary inquiry into hunger and poverty, which is holding a research summit today.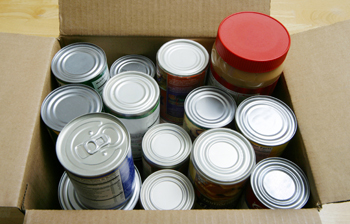 The last few years have seen rising numbers of food bank projects established and emergency parcels being distributed across the UK. The Trussell Trust Foodbank Network is the largest and most high profile network of local food bank projects, but there are also a range of independent food banking initiatives around the country.
During this period, the UK coalition government – in a continuation of Labour policies – has introduced several welfare reforms, which include but are not limited to: caps on levels of entitlement, the 'spare room subsidy' being introduced to housing benefit, longer waiting periods between unemployment and benefit eligibility and the establishment of local welfare assistance to replace the discretionary social fund.
Research by SPERI indicates that welfare reforms are having an impact on the need for food banks in two distinct ways: people are turning to them as a result of changes to entitlements which are leaving them worse off or inadequate processes which leave them without an income.
The report by the University of Sheffield's Hannah-Lambie Mumford, from the Department of Geography, highlights an urgent need for policy-makers to consider the impact of welfare reform on food bank demand and calls for reviews into the adequacy of reformed social security income levels and the fairness and effectiveness of social security processes and local welfare assistance.
Hannah Lambie-Mumford said: "The relationship between welfare reform and food banks epitomises the evolving boundaries of responsibility for the prevention of poverty between state and civil society.
"There appear to be two likely lines of development in this regard. On the one hand, philanthropic food banking could become increasingly part of the welfare state, should local assistance schemes formalise referrals to food banks as part of their provision. However, this depends upon the state taking responsibility, perhaps tacitly, for such provision locally in some form.
"On the other hand, food banks may remain distinct philanthropic initiatives but find themselves working in the absence of the state. This possibility is raised by the potential for the abolition of local welfare assistance schemes, continued reductions in social security entitlements, and failures to rectify inadequate procedures and processes."
The full report can be viewed at http://speri.dept.shef.ac.uk/publications/policy-briefs/
Today's publication is the fourth in a new series of SPERI British Political Economy Briefs.
Through this series SPERI hopes to draw upon the expertise of its academic researchers to influence the debate in the UK on sustainable economic recovery.

Additional information
SPERI
The Sheffield Political Economy Research Institute (SPERI) is an academic institute based at the University of Sheffield. The institute aims to bring together leading international researchers, policy-makers, journalists and opinion formers to develop new ways of thinking about the economic and political challenges posed for the whole world by the current combination of financial crisis, shifting economic power and environmental threat.
The evidence presented in the report is based on qualitative data collected from Trussell Trust staff, local Trussell Trust Foodbank managers, managers of independent food banks associated with local networks and/or receiving food from FareShare (the surplus food redistribution charity) and one larger day project which serves hot meals and distributes food parcels (25 interviews in total). Content analysis of the 25 interviews undertaken as part of this research shows that:
64 per cent of all respondents talked about the impact of welfare reform or welfare processes on demand.
83 per cent of food bank managers interviewed talked about the impact of welfare reform or welfare processes on demand.
50 per cent of food bank managers interviewed were concerned about the adequacy of local welfare assistance schemes in their area and the impact this would have on demand for food banks.
33 per cent of food bank managers interviewed were concerned that their projects may be incorporated within local welfare assistance schemes.
58 per cent of food bank managers interviewed were concerned about the impact that welfare reform was having on demand.
58 per cent of food bank managers interviewed were concerned about the impact that welfare processes (sanctioning decisions and length, delays in payment) were having on demand.
The University of Sheffield

With nearly 25,000 of the brightest students from 117 countries coming to learn alongside 1,209 of the world's best academics, it is clear why the University of Sheffield is one of the UK's leading universities. Staff and students at Sheffield are committed to helping discover and understand the causes of things - and propose solutions that have the power to transform the world we live in.
A member of the Russell Group, the University of Sheffield has a reputation for world-class teaching and research excellence across a wide range of disciplines. The University of Sheffield has been named University of the Year in the Times Higher Education Awards 2011 for its exceptional performance in research, teaching, access and business performance. In addition, the University has won four Queen's Anniversary Prizes (1998, 2000, 2002, 2007), recognising the outstanding contribution by universities and colleges to the United Kingdom's intellectual, economic, cultural and social life.

One of the markers of a leading university is the quality of its alumni and Sheffield boasts five Nobel Prize winners among former staff and students. Its alumni have gone on to hold positions of great responsibility and influence all over the world, making significant contributions in their chosen fields.

Research partners and clients include Boeing, Rolls-Royce, Unilever, Boots, AstraZeneca, GSK, Siemens, Yorkshire Water and many more household names, as well as UK and overseas government agencies and charitable foundations.

The University has well-established partnerships with a number of universities and major corporations, both in the UK and abroad. The White Rose University Consortium (White Rose) a strategic partnership between three of the UK's leading research universities of Leeds, Sheffield and York. Since its creation in 1997 White Rose has secured more than £100M into the Universities.
For further information, please visit www.sheffield.ac.uk
Contact
For further information please contact:
Hannah Postles
 Media Relations Officer
The University of Sheffield
0114 222 1046
h.postles@sheffield.ac.uk