University of Sheffield aims to become a global leader in energy research and innovation
University launches ambitious Energy 2050 initiative
New research group of 40 leading academic energy researchers joins University of Sheffield, complementing the University's existing science and engineering expertise in energy
Energy 2050 researchers will work with government and industry experts to address the energy 'trilemma' of sustainability, affordability and security
The University of Sheffield will work to tackle the world's greatest energy challenges by bringing together international scholars, industry experts and government officials through a pioneering initiative driving forward energy research and innovation.
More than 40 new leading academic energy researchers will significantly expand the University's existing expertise in energy research as part of the Energy 2050 initiative – a world-leading hub of excellence set up to address the 'trilemma' of making energy more affordable, secure and sustainable.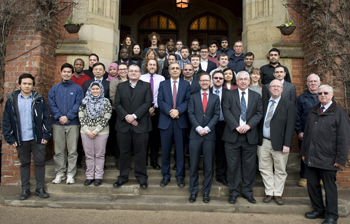 The UK is committed to reducing its greenhouse gas emissions by at least 80 per cent by 2050, but that target will only be achieved by transforming the way energy is supplied and used. Energy 2050 will explore how the country can move to a secure, affordable low-carbon energy system by this date.
The initiative, designed to strengthen the interaction between university research, industry innovation and government policy, will provide an institutional framework for a multidisciplinary collaboration in energy research and innovation.
The project has been strengthened by securing the post-election appointment of Tim Yeo MP , who has served as Minister of State for Environment and is Chair of the House of Commons Energy and Climate Change Select Committee.
University of Sheffield Vice-Chancellor Professor Sir Keith Burnett said: "The University of Sheffield is very fortunate to have attracted this key group of international scholars in such a vital area. The team is rightly ambitious to make a real impact in energy research and innovation, with application here in the UK and around the world.
"Our aim is simple - to bring together this superb expertise with our powerful existing capability, to be the place government and industry from around the world know they will find a complete energy capability.
"Added to our academic strengths and reputation for superb collaboration with industry, the appointment of individuals such as Tim Yeo will help develop even stronger links with government and industry."
Professor Mohamed Pourkashanian, who leads the multi-disciplinary energy research team, added: "My team and I are delighted to be joining the University of Sheffield, which has an increasingly powerful national and international reputation for its work on energy.
"What we intend to build is far more than merely a conventional university research centre. Rather, we need a better way to resolve our energy security, affordability and sustainability by going beyond traditional research boundaries to deliver value to regional growth, wealth creation and national and international energy security affordability and sustainability.
"Working in this way marks an exciting new chapter in our research and we will attract the world's most talented academics and students keen to address these challenging issues."
This year is expected to be a significant year for the UK's energy system – with the Government due to make decisions on Hinkley Point C nuclear power station, and further progress on the White Rose and Peterhead Carbon Capture and Storage projects. In December, governments will meet in Paris to make decisions on fighting climate change – decisions which will impact the future pace and direction of energy research and innovation.
University Director of Energy Innovation and Knowledge Exchange, Jon Price, who is leading Energy 2050, said: "This is a tremendously exciting development for Sheffield, and for energy research in the UK.
"Our first step is to build our talent pool of resources, by expanding our team of experienced academics with a strong track record in developing relationships with industry, combined with our existing strengths in science, engineering and social sciences, supported by senior resources from industry and seconded civil servants we are able to have a unique energy team."
He added: "We will now be defining our plans for a national demonstration facility at the Advanced Manufacturing Park. Key to success, given the scale of the global energy challenge, will be a national facility that will enable us to work collaboratively together with research groups industry and international government agencies, pushing the boundaries of innovation and technology. This will help de-risk the investment grade levels of finance required from industry and governments around the world which will in turn allow us to have a major influence on our future energy security, affordability and sustainability."
The University of Sheffield is already:
Home to the UK's national centres for advanced manufacturing research and nuclear advanced manufacturing based at the Advanced Manufacturing Park
Carrying out collaborative research on carbon capture and utilisation
Conducting leading research in energy storage, nuclear, wind and solar power in partnership with companies such as Siemens
Leading cross-cutting environmental research through its Project Sunshine and the Grantham Centre for Sustainable Futures.
Additional information
Interviews and visits available
Key appointments
Jon Price
Jon Price was appointed in 2014 as Director of Energy Innovation and Knowledge Exchange to develop our new energy team beyond traditional research boundaries. Jon has served as CEO of two research groups, on a portfolio of various boards as a Chair and non-executive director, and previously held senior roles within the private sector.
Professor Mohamed Pourkashanian
Professor Mohamed Pourkashanian has been appointed Head of University Energy Research, and with his wider research group of 40, will bring conventional power, CCUS, low carbon fuels, building efficiency and energy system dynamic simulation and computational modelling expertise to Sheffield. The group also includes leading academic appointments Professor Lin Ma, Dr Ben Hughes, Dr Kevin Hughes, Dr Bill Nimmo and Professor Derek Ingham and 13 Research Fellows.
Tim Yeo
Tim Yeo MP will be Chair of the Energy 2050 Industrial Advisory Board. Mr Yeo is currently Chair of the House of Commons Energy and Climate Change Select Committee, and was Minister of State for the Environment in John Major's government. Mr Yeo will be standing down as a Member of Parliament ahead of the General Election in May.
Bruce Adderley and Matthew Billson
Bruce Adderley and Matthew Billson will be co-Programme Directors. Mr Adderley has 20 years' experience in the steel industry, most recently being responsible for Tata Steel Europe's strategy with regard to both climate change mitigation and the environment. Mr Billson spent over 11 years in the UK Civil Service in a variety of roles, including as Private Secretary to former Secretaries of State Alan Johnson and Alastair Darling. Most recently, he was Head of Strategy on Carbon Capture and Storage (CCS) at the Department of Energy and Climate Change (DECC).
About Energy 2050
Drawing together academic expertise in the Faculties of Science, Social Science and Engineering working on many different aspects of the energy system, Energy2050 will offer government and industries a balanced perspective of energy challenges and solutions.
Going beyond traditional university research activities, Energy2050 will also use expertise from the Advanced Manufacturing Research Centre to help de-risk investment in innovative energy technologies through national testing facilities, from proof-of-concept to staged scale-up.
Open access national testing facilities include the existing national PACT pilot scale facilities covering conventional power, CCS and heavy industry research and development, expanded with new investment to form a national centre for testing and demonstrating energy technologies. PACT national facilities will facilitate industry and technology partnerships by combining academic research with practical experience and will promote a network that bring together academic, government, and industry leaders around the vision of commercial success.
About the Grantham Centre for Sustainable Futures
The Grantham Centre was established in summer 2014 with a £2.6m donation from the Grantham Foundation for the Protection of the Environment, working in partnership with the University of Sheffield. Its aim is to advance the science of sustainability and connect it with the policy debate around how humans can live in a more sustainable way. The Grantham Foundation was founded by US-based philanthropist and University of Sheffield alumnus Jeremy Grantham, and his wife Hanne.
Contact
For further information please contact:
Hannah Postles
Media Relations Officer
0114 222 1046 
h.postles@sheffield.ac.uk