£2.6 million gift to create a new centre leading the University's contribution to the global challenge of creating a more sustainable world
Grantham Foundation for the Protection of the Environment donation the largest individual gift received from an alumnus in the last decade
New centre will build on the University's world-leading research into sustainability through Project Sunshine
Twenty Grantham Scholars will be recruited tackle challenges such as food and energy security and play an active role in connecting science with policy
The University of Sheffield has been awarded a £2.6 million philanthropic donation – the largest individual gift received from an alumnus in the last decade – to further enhance its pioneering research into harnessing the power of the sun to solve some of the world's greatest challenges.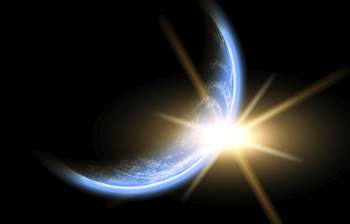 The University, in partnership with The Grantham Foundation for the Protection of the Environment, is establishing the Grantham Centre for Sustainable Futures, which will focus on advancing the science of sustainability and connecting it with the policy debate about how humans can live in a more sustainable way.
The new centre will build on the University's world-leading reputation for research, particularly in areas such as food and energy security, as well as its long commitment to public engagement and its position of trust and credibility, to confront and debate the challenges that we all must face in developing sustainable futures.
As part of this mission, the Centre will develop a cadre of young scientists who are equipped to lead the changes in behaviour and understanding that are required.
The first stage of the Centre's ambitious agenda consists of:
Programmes that engage the public and policy makers in debates about sustainability, founded on evidence and research-based solutions and training programmes that will equip academic researchers and students across the University to play leading roles in these often difficult and challenging discussions.
Recruitment of at least 20 Grantham Scholars who will combine outstanding intellect with a strong commitment to public engagement, leadership and action. They will be individuals with the passion and commitment to 'make a difference'. These ambitious young people will undertake interdisciplinary PhD research projects in areas that tackle the challenges of sustainability and will be supported by the Centre in developing the leadership and advocacy skills that they will need to use in their chosen fields after graduation.
Jeremy Grantham, a world-renowned investment manager and co-founder, with his wife Hanne, of the Grantham Foundation, was brought up in Doncaster and graduated from the University of Sheffield with a degree in Economics in 1961. He received an Honorary Doctorate from the University in 2012.
The Grantham Foundation is based in Boston in the United States of America and is dedicated to raising awareness of urgent environmental issues and supports individuals and organisations working to find solutions.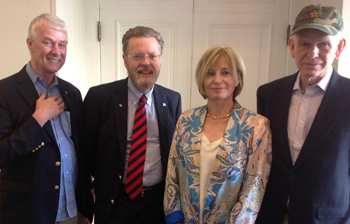 The University of Sheffield's Vice-Chancellor, Professor Sir Keith Burnett, is meeting Jeremy and Hanne Grantham to thank them for their generosity in Boston today (Tuesday 26 August 2014), along with University of Sheffield Nobel Prize winner Professor Sir Richard Roberts.
Mr Grantham said: "Project Sunshine addresses head on the central challenge of our time: dramatically reducing greenhouse gas emissions by making global energy and food systems truly sustainable.
"This imperative could not be more urgent. I commend the University of Sheffield for making this issue the strategic priority it deserves to be. The University's emphasis on training students in advocacy and communications in addition to applied scientific research is particularly encouraging."
Project Sunshine is a flagship programme within the University of Sheffield that aims to harness the power of the sun to tackle the biggest challenge facing the world today: meeting the increasing food and energy needs of the world's population in the context of an uncertain climate and global environment change.
It unites world-leading researchers from across the faculties of Science, Engineering and Social Science to develop new ways to use the sun's energy more efficiently to increase food production and provide more renewable energy.
The University of Sheffield's Vice-Chancellor, Professor Sir Keith Burnett, said: "This imaginative investment by the Grantham Foundation will enable us to take our work on sustainability to the next level; not simply by doing great science but by engaging with the great challenge of how to use that science to make our lives more sustainable. We are tremendously grateful to Jeremy and Hanne Grantham for their belief in the difference that we can make, in Sheffield, to this vital global question."
Professor Tony Ryan, Pro-Vice-Chancellor for Science and the Director of Project Sunshine, added: "This is a tremendously exciting opportunity for all of us who have been involved in creating Project Sunshine. I am particularly delighted that the Grantham Foundation is supporting the development of a cadre of Grantham Scholars who will become the leaders of tomorrow who make sustainability a reality."
Additional information
The University of Sheffield

With almost 25,000 of the brightest students from around 120 countries, learning alongside over 1,200 of the best academics from across the globe, the University of Sheffield is one of the world's leading universities.
A member of the UK's prestigious Russell Group of leading research-led institutions, Sheffield offers world-class teaching and research excellence across a wide range of disciplines.
Unified by the power of discovery and understanding, staff and students at the university are committed to finding new ways to transform the world we live in.
In 2014 it was voted number one university in the UK for Student Satisfaction by Times Higher Education and in the last decade has won four Queen's Anniversary Prizes in recognition of the outstanding contribution to the United Kingdom's intellectual, economic, cultural and social life.
Sheffield has five Nobel Prize winners among former staff and students and its alumni go on to hold positions of great responsibility and influence all over the world, making significant contributions in their chosen fields.
Global research partners and clients include Boeing, Rolls-Royce, Unilever, AstraZeneca, Glaxo SmithKline, Siemens and Airbus, as well as many UK and overseas government agencies and charitable foundations.
For further information, please visit www.sheffield.ac.uk
Contact
For further information please contact:
Hannah Postles
Media Relations Officer
The University of Sheffield
0114 222 1046
h.postles@sheffield.ac.uk