University research reveals greatest Formula One driver of all time
Statistical analysis suggests Juan Manuel Fangio is the greatest Formula One driver in history
Teams found to be around six times more important to success than individual drivers - and their importance has increased over time
Juan Manuel Fangio is the greatest Formula One driver of all time, according to new research by the University of Sheffield.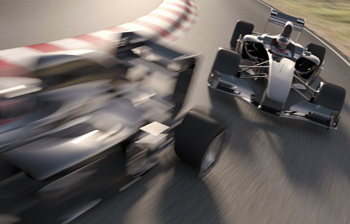 Dr Andrew Bell, of the Sheffield Methods Institute, used statistical analysis to work out who the sport's most accomplished competitor is – looking at who is the best driver because of their talent, rather than because they have a good car.
Without considering the impact of his team, the greatest driver of all time in terms of most race wins is Michael Schumacher. But the study found that once the effect of his team is removed, legendary racer Fangio claims the top spot, followed by Alain Prost in second and Fernando Alonso in third position.
In fact, Schumacher drops to ninth place in this analysis – although his ranking is dragged down by his post-retirement performances in 2010-2012 when he was generally outperformed by his Mercedes teammate Nico Rosberg. If his pre-retirement career is considered on its own, he ranks in third position.
Of current drivers, Fernando Alonso is the highest ranked driver, and both he and Sebastian Vettel are ahead of reigning champion Lewis Hamilton.
The study, published in the Journal of Quantitative Analysis in Sports, also found:
Teams matter about six times more than drivers when it comes to success in F1.
About two-thirds of the team effect is consistent over time, with the rest caused by teams changing year-on-year.
Team effects have increased over time, but appear to be smaller on street circuits, where the driver's skill plays a greater role.
Dr Bell said: "The question 'who is the greatest F1 driver of all time' is a difficult one to answer, because we don't know the extent to which drivers do well because of their talent or because they are driving a good car. The question has fascinated fans for years and I'm sure will continue to do so.
"Our statistical model allows us to find a ranking and assess the relative importance of team and driver effects, and there are some surprising results. For example the relatively unknown Christian Fittipaldi is in the top 20, whilst three time champion Niki Lauda doesn't even make the top 100. Had these drivers raced for different teams, their legacies might have been rather different."
He added: "A similar model could be used to answer a variety of questions in society –for example, how much do individuals, teams and companies affect worker productivity or how much classes, schools and neighbourhoods affect educational attainment."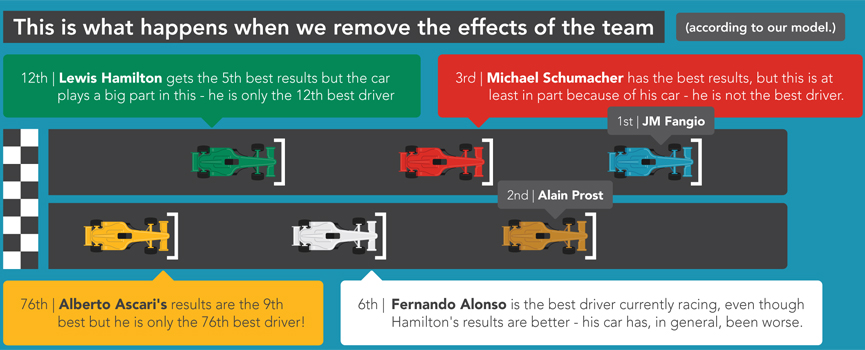 Additional information
Sheffield Methods Institute
The Sheffield Methods Institute is home to one of 15 Q-Step centres that specialise in the undergraduate teaching of quantitative research methods . Funded by the Nuffield Foundation, ESRC and HEFCE, Q-Step was developed as a strategic response to the shortage of quantitatively-skilled social science graduates. http://www.nuffieldfoundation.org/q-step
The University of Sheffield

With almost 27,000 of the brightest students from over 140 countries, learning alongside over 1,200 of the best academics from across the globe, the University of Sheffield is one of the world's leading universities.
A member of the UK's prestigious Russell Group of leading research-led institutions, Sheffield offers world-class teaching and research excellence across a wide range of disciplines.
Unified by the power of discovery and understanding, staff and students at the university are committed to finding new ways to transform the world we live in.
Sheffield is the only university to feature in The Sunday Times 100 Best Not-For-Profit Organisations to Work For 2016 and was voted number one university in the UK for Student Satisfaction by Times Higher Education in 2014. In the last decade it has won four Queen's Anniversary Prizes in recognition of the outstanding contribution to the United Kingdom's intellectual, economic, cultural and social life.
Sheffield has five Nobel Prize winners among former staff and students and its alumni go on to hold positions of great responsibility and influence all over the world, making significant contributions in their chosen fields.
Global research partners and clients include Boeing, Rolls-Royce, Unilever, AstraZeneca, Glaxo SmithKline, Siemens and Airbus, as well as many UK and overseas government agencies and charitable foundations.
Contact
For further information please contact:
Hannah Postles
Media Relations Officer
University of Sheffield
0114 222 1046
h.postles@sheffield.ac.uk