Comment: A letter from the Thessalonians
Our Vice-Chancellor reflects on what he learnt from his recent visit to our international faculty, where he celebrated the graduation of over 200 CITY College students and met the mayor of Thessaloniki.
A letter from the Thessalonians
By Professor Sir Keith Burnett CBE FRS FLSW, Vice-Chancellor of the University of Sheffield
This week I met the mayor of Thessaloniki: what a meeting. It was the best meeting I've had in some time, but it was also the worst.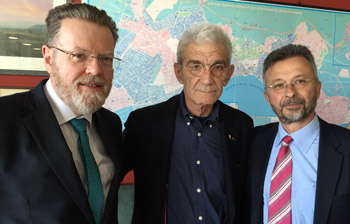 It was the best, firstly because the mayor is a wonderful and truly wise man, who some say would be prime minister of Greece, if he were not already in his seventies. It was also the best because I felt the commitment of the mayor's team to help the rising tide of people entering Europe through Greece. They are doing this with a powerful spirit of humanity that made me feel privileged to be with them.
And yet it was also a difficult meeting.
We were in Thessaloniki for the graduation of students through the International Faculty of our University, which trains exceptional undergraduates, postgraduates and PhD students in professional areas across the Balkans. Our alumni are truly impressive people, building the businesses and civic society of these countries. They are doing this at the highest levels and have made Sheffield's name respected by presidents and ministers.
You can see the economic crisis that goes on and is draining the country of money, talent and energy. (We even saw a demonstration in Athens that showed the fatigue in those wanting a better life than international banks are offering!) And now they have the waves of migrants entering and coming up against the closing frontiers of a failing European dream of free movement.
Because of the events in Paris, people are now confusing our duty to displaced people with the need to keep our streets safe. The mayor's team is not confused. They know a kinder world is a safer world.
So it was right that we met with the mayor of one of our own places of teaching and research. Yet as the meeting went on, I started to hope that we could help Thessaloniki, the home of CITY College, a part of our University and many exceptional graduates through our International Faculty. Could we do that, should we do that? Don't we have enough problems to solve closer to 'home'?
The Greek parents we had met earlier know that there are far too few jobs even for their own highly-educated Greek children – a nation which has had 80 per cent participation in higher education for many years. How could we possibly help these newcomers who might take the bread from their own precious children. It is, of course, only by helping all children that we can help any.
We had also learned that students trained by Sheffield in Thessaloniki had an astonishingly low rate of unemployment – 2-3 per cent. This is in a country where average unemployment rates are 25 per cent and as much as 40 per cent amongst the young. The rigour and reputation of our International Faculty opens doors. It made me proud but also sad that many of these, our students, have to leave Greece to find work. In itself that is not bad, having to travel to find work is as common as mankind, but the city and country is being drained of the lifeblood of talent.
As we talked my thoughts went to the great tragedy of the loss of the vibrant Thessaloniki, a truly cosmopolitan place where the Ottoman Empire welcomed different faiths. Its port which traded with Venice and Genoa shut on the Sabbath so that the Jews who ran it could celebrate that holiest of days of the week. It was common for traders to hold citizenship for several lands. What if all those merchants and makers – who had once brought the printing and technologies and education that drove the city – could somehow return to join their Orthodox and Muslim brothers and sisters?
Such thinking is needed for so many reasons, not just to assist the recent migrants who are an immediate cause of concern and need. Let me name a few: So that the wonderful students of our International Faculty at CITY College can stay in Thessaloniki to work. That the dispossessed of the Middle East now huddled on the city borders will be able to settle and find work. So that Jews can return to Thessaloniki and make it a place of vibrant life rather than past trauma. That people feel at home rather than feel left out of a society.
There are many more reasons, but they all come down to money of some sort or another.
How could we – just one university with policy and funding challenges raging in the UK – possibly help? How could we not?
The first and most crucial way to assist is, as the mayor made clear to us, to continue educating our students in a way which is quite clearly extraordinarily successful. This outpost of Sheffield is deeply impressive with exceptional teaching, and research undertaken by the South-East European Research Centre (SEERC) led by our former Pro-Vice-Chancellor Professor Tony Payne. We in Sheffield learn more about the fantastic work of our Thessalonian colleagues, and share crucial insights.
But our International Faculty does not only teach and research. As in Sheffield, students and staff are involved in superb public engagement work and changing civic society. They are motivated by academic values and committed to using their understanding to make the world a better place.
And now they are truly being put to the test, as are we. As we repeatedly stress, we are not a British-only university. We are international and we are European. And in this, we have experience and people who may well wish to help. We have seen in the UK what happens when we bring together students, industry and our friends and alumni who are in positions of leadership in industry and government. We understand about the need to offer training and to work with companies, to remember the needs of disadvantaged local people.
The city of Thessaloniki, despite its own challenges, is expecting to give shelter to 20,000 refugees. We know for sure that many of those who need help have a great deal to offer, that given the chance they will even create opportunity and much-needed prosperity. The University of Sheffield is already part of its city and we are a university of sanctuary, from Krebs to the present time, richer as a result.
Thessaloniki was once known for its golden age of diversity and commerce. It is still a gateway and could be more. We began working together two decades ago and we have built deep connections of real quality. Now it is time to see if we can help it have a new vision and will, so it can thrive once again for the sake of our students, the city, the Balkan region and those who are camped on the borders of Europe in such desperate need.