Celebrating the graduation of our International Faculty students in Greece and the Balkans
The Vice-Chancellor of the University of Sheffield will be joined by senior academic colleagues in Greece this weekend (21-22 November 2015) to officiate at the graduation of over 200 students at its International Faculty in Thessaloniki, as well as meet alumni and partner organisations in the region.
The University's International Faculty, CITY College, based in in Greece's second largest city, Thessaloniki, offers undergraduate, postgraduate and PhD level qualifications to students across the Mediterranean area and Balkans.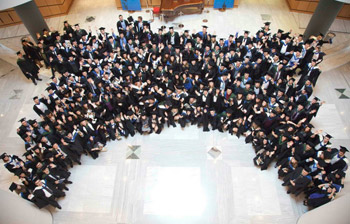 Degrees are taught in English and are tailored to address regional needs in areas such as such as computer science, psychology, healthcare, English studies, logistics and managerial studies. At the higher level, the South East European Research Centre (SEERC), located in Thessaloniki, Greece and founded in 2003, brings together research academics from Sheffield, CITY College and the region on three key interdisciplinary areas: Enterprise and Innovation; Information and Communication Technologies; and Society and Human Development. SEERC has a track record of success in attracting EU and private funding, utilising this to carry out applied research that is relevant and has impact in the region.
Professor Sir Keith Burnett, Vice-Chancellor of the University of Sheffield, said: "As a University with successful partnerships across the world, we are delighted that the work with our colleagues in Greece which began 20 years ago has flourished to the extent that the University of Sheffield now has many hundreds of alumni across the Mediterranean and Balkan region.
"The original motivation for our work in the region stemmed from a group of committed academics who recognised a real need in Greece and across the Balkan area to develop the professional and management skills which would help build society and strengthen bonds of understanding. Today we have hundreds of graduates who play key roles in business and wider society.
"What we and they could not have known then was what tremendous challenges lay just around the corner, and what a crucial role these Sheffield graduates would need to play in addressing them. Europe is facing deeply troubling times, and nobody knows this more sharply than the people of Greece and the Balkan area, who have borne so much of the impact of both the economic crisis and the influx of migrants escaping terror in the Middle East. We do not have easy answers to any of these deep and complex problems. But we know that to solve our deepest challenges we will need thoughtful and dynamic young people who want to build a better world."
Jo Purves, Vice-President of Sheffield International, added: "The University of Sheffield has a strong history of campaigning for the rights of international students, joining with its Students' Union to start the #WeAreInternational campaign in the UK. This has a clear link to the multinational nature of CITY College, offering degrees in a location where students from all areas of the region can study side by side when this is still difficult in their home countries because of historical divisions. It will be important that we continue to adapt to address new economic and social issues in a rapidly changing environment."
The University, which in Sheffield welcomes students from over 100 countries, has 2,221 alumni living in Greece who came to Sheffield over the last 50 years to achieve their degrees. It also has 700 alumni in the Republic of Macedonia and 400 in Romania. There are more than 2,500 alumni who studied in Greece at our International Faculty.
The University also delivers masters level courses in Belgrade, Sofia, Bucharest and Kyiv.
In addition to meetings with students, alumni and universities in Athens and Thessaloniki led by the Vice-Chancellor, Deputy Vice-Chancellor Professor Shearer West will attend events with the President of the Republic of Macedonia the new Romanian Minister for Education, as well as 120 Sheffield graduates in Skopje and 100 in Bucharest.

Notes to editors
International Faculty - City College, Thessaloniki
The University of Sheffield International Faculty, CITY College, is one of the six faculties within the University and the only one operating overseas. Bridging the UK with the South East and Eastern Europe, the International Faculty offers to students the unique opportunity to study for a top class British degree of the University of Sheffield in their region.
With its main campus located in Thessaloniki, Greece, the International Faculty fosters and promotes cutting-edge interdisciplinary research and innovation, providing a supporting environment for the academic staff's research activities within all academic departments.
The dynamic international environment of the University of Sheffield International Faculty comprises students and highly qualified faculty members from more than 15 countries. This unique mixture adds even more to the overall learning experience in a truly unique international environment.
International Faculty - City College, Thessaloniki
South East European Research Centre (SEERC)
The University of Sheffield
With almost 26,000 of the brightest students from around 120 countries, learning alongside over 1,200 of the best academics from across the globe, the University of Sheffield is one of the world's leading universities.
A member of the UK's prestigious Russell Group of leading research-led institutions, Sheffield offers world-class teaching and research excellence across a wide range of disciplines.
Unified by the power of discovery and understanding, staff and students at the university are committed to finding new ways to transform the world we live in.
In 2014 it was voted the number one university in the UK for Student Experience by Times Higher Education and in the last decade has won four Queen's Anniversary Prizes in recognition of the outstanding contribution to the United Kingdom's intellectual, economic, cultural and social life.
Sheffield has five Nobel Prize winners among former staff and students and its alumni go on to hold positions of great responsibility and influence all over the world, making significant contributions in their chosen fields.
Global research partners and clients include Boeing, Rolls-Royce, Unilever, AstraZeneca, Glaxo SmithKline, Siemens and Airbus, as well as many UK and overseas government agencies and charitable foundations.
Contact
For further information, please contact:
Shemina Davis
Media Relations Manager
The University of Sheffield
0114 222 5339
shemina.davis@sheffield.ac.uk