Students create innovative assistive technology to help people with disabilities overcome everyday challenges
Students from the University of Sheffield have collaborated with individuals with disabilities to help them overcome everyday challenges using assistive technology.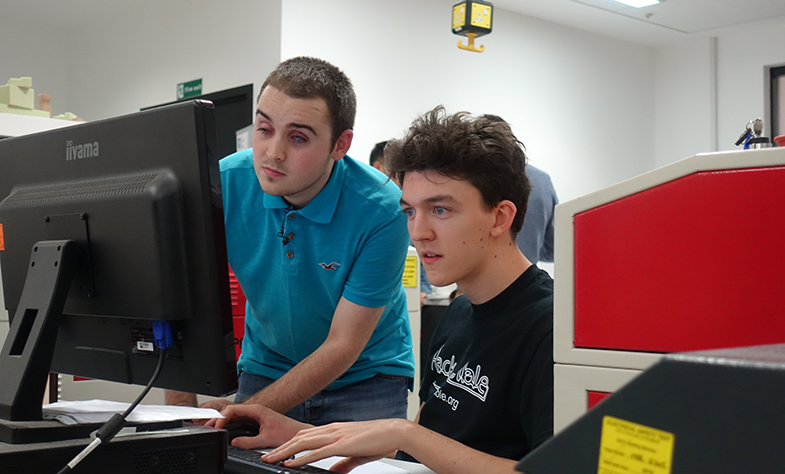 The Hackcessible make-a-thon, which aims to give students real world experience in manufacturing as well as providing solutions that will increase accessibility for individuals with disabilities, was held over the weekend (1-2 December 2018) at the University of Sheffield's iForge.
Hackcessible is a collaboration between the University of Sheffield's iForge, the Centre for Assistive Technology and Connected Healthcare (CATCH), and Assistronix.
The event allowed the teams to use tools such as 3D printers to build and prototype the ideas they had developed over the previous five weeks.
We're hoping that Sheffield will continue to lead the way in this area. We're a city of makers and so it's befitting that this event started in Sheffield.

Aejaz Zahid, Innovation and Research Fellow, Catch
The winning project included creating a system which could scan sheet music and feed it into an iPad so that it can be more easily read by someone with a visual impairment.
Vicky, who plays the euphonium, worked with her team over the weekend to create a working prototype, which was then demonstrated with a live performance.
Aejaz Zahid, the event organiser and Research and Innovation Fellow at CATCH, said: "The unique thing about Hackcessible is that the individuals with disabilities take a central role in leading the design of these products. This is the first time these students worked together in multi-disciplinary teams.
"I was really amazed at the amount of progress that the teams made so quickly. I also loved seeing the co-designers working with the teams, which is exactly what we were hoping for. It's been fantastic."
Their projects were presented on Sunday 2 December 2018 after a weekend of prototyping ideas into a workable solution.
Each team's project was judged by an expert panel which included Professor Pam Shaw DBE (Founding Director of SITraN), Professor Wendy Tindale OBE (Director of Devices for Dignity) and Professor Luc de Witte (President of AAATE - the European assistive technology association).
Running up to the make-a-thon, students attended a special event where eight people with a variety of disabilities talked about the challenges they face each day and what would help them overcome barriers to current technology.
Students and disabled co-designers then attended weekly workshops, supported by a team of mentors in healthcare, tech and academia, to help them to enhance their technology and engineering skills, as well as work in collaboration with their challengers to develop ideas.
The workshops, which included lessons in Design Thinking, 3D CAD (Computer-aided design) and electronic prototyping, were aimed at giving the students the skills to develop a prototype solution and work as a diverse, innovation focused team.
One of the users, Jake Clarke, a science undergraduate who had previously dropped out of a different university due to deteriorating vision, worked with students to create a solution that will allow him to use technology tools that are currently inaccessible to people with visual impairments.
Jake said: "Our project was to make electronic design and construction more accessible to someone with a visual impairment, including using electronic equipment like oscilloscopes and also the manufacturing of electronics equipment to assist in techniques such as soldering."
His team developed a clamp which can hold a tablet computer, using its camera as an enhancement to the vision he already has and potentially allowing him to use a soldering iron.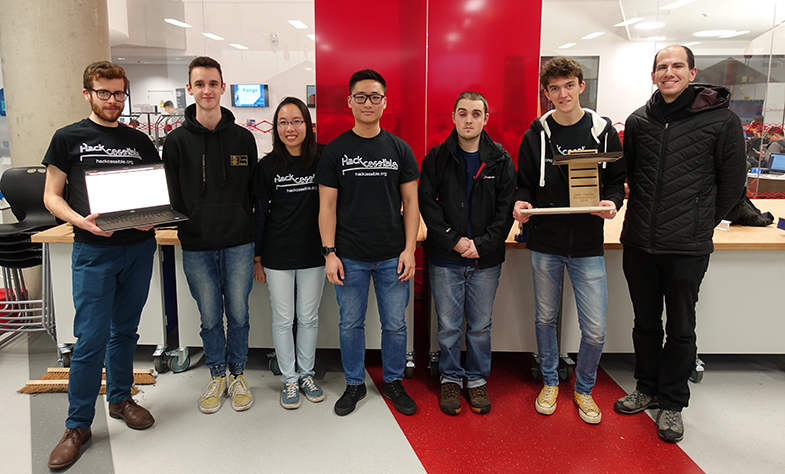 Jake added: "What we've achieved is brilliant. We've done what I set out to do, it's been cost effective and the plans have also been put online for anyone to make. The students that I've worked with have been excellent. They've all been incredibly positive and focused, and we've all had good fun."
Aejaz, added: "Some teams might want to consider converting their ideas into a product if there is a wider market potential. Other groups may wish to share their ideas, which could benefit someone with a similar challenge in a different part of the country.
"We don't want anyone to stop here. Hopefully the teams will continue working on their projects in one way or another. We're here to support them if they have the ambition to take it forward.
"We're hoping that Sheffield will continue to lead the way in this area. We're a city of makers and so it's befitting that this event started in Sheffield."
Additional information
The University of Sheffield
With almost 29,000 of the brightest students from over 140 countries, learning alongside over 1,200 of the best academics from across the globe, the University of Sheffield is one of the world's leading universities.
A member of the UK's prestigious Russell Group of leading research-led institutions, Sheffield offers world-class teaching and research excellence across a wide range of disciplines.
Unified by the power of discovery and understanding, staff and students at the university are committed to finding new ways to transform the world we live in.
Sheffield is the only university to feature in The Sunday Times 100 Best Not-For-Profit Organisations to Work For 2018 and for the last eight years has been ranked in the top five UK universities for Student Satisfaction by Times Higher Education.
Sheffield has six Nobel Prize winners among former staff and students and its alumni go on to hold positions of great responsibility and influence all over the world, making significant contributions in their chosen fields.
Global research partners and clients include Boeing, Rolls-Royce, Unilever, AstraZeneca, Glaxo SmithKline, Siemens and Airbus, as well as many UK and overseas government agencies and charitable foundations.
Contact
For further information please contact:
Harry Clulow
Media and PR Officer
University of Sheffield
0114 222 1047
h.clulow@sheffield.ac.uk