How a city's most famous solicitor inspired a century of language-learning
The first Spanish degree courses taught in Sheffield launched 100 years ago
City's most renowned lawyer Herbert Hughes inspired funding scheme to help students learn modern languages in 1917
Memorial Fund gives students opportunity to study Hispanic culture and supports Sheffield's links with the Hispanic world
A pioneering funding scheme that was the first of its kind to give students a chance to study Spanish at degree level is celebrating its centenary next month (May 2017).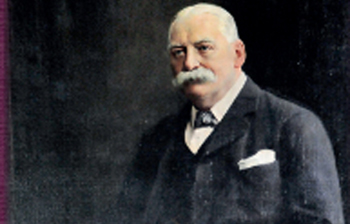 The fund was inspired by renowned Sheffield-based solicitor Herbert Hughes, who was instrumental in establishing the first ever modern languages courses in the city.
Herbert Hughes was acknowledged as an international authority on intellectual property both in the UK and overseas. He had a passion for education and believed that the teaching of modern languages should be firmly established in Sheffield.
He helped to launch the first ever French and German honours courses, which were taught at the University College Sheffield in 1901 – an institution which later formed part of the University of Sheffield.
In 1915, he presided over a pledge by Sheffield's Chamber of Commerce to support the establishment of a chair or readership in Spanish at the recently founded University.
However, following the sudden death of Hughes in 1917, the city's Chamber and Cutlers' Company launched a public appeal to help fulfil Hughes' aspirations to get Spanish on a university curriculum.
The money raised established the Herbert Hughes Memorial Fund which launched the first Hispanic Studies courses at the University of Sheffield.
Now, 100 years after the fund was established, the scheme continues to support the study of Hispanic languages at Sheffield's two universities, as well as by children in local schools.
It also funds travel bursaries for students, an annual concert showcasing students' Hispanic musical talents, and a Spanish language competition for local schools to inspire the next generation of modern languages students.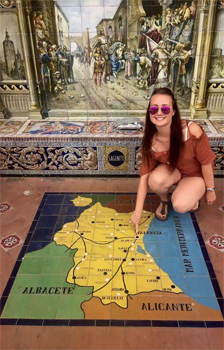 Simone Smith was awarded a bursary from the fund to help support her BA Modern Languages degree at the University's School of Languages and Cultures.
She said: "On my first year as a bursary holder, I travelled to Oviedo and Gijón in the north of Spain, an area of Spain I have never been to before. After one year of study at the University of Sheffield, I was keen to discover the true, unspoilt Spain. I would not have been able to do so without extra funding.
"On my year abroad I did a range of things, from travelling around the north of Spain, to enrolling on a Spanish language course, to having the opportunity to live and work with a family in Catalonia – none of this would have been possible without the Herbert Hughes Memorial Fund.
"The experiences that I have gained from the support given by the fund have been applied to my studies in so many different ways; in literature, culture and learning the language itself. Languages are becoming more and more important in our constantly changing world, and it is fantastic to be part of a fund that recognises this and continues to see potential for students of Spanish."
Since being awarded a bursary and having the opportunity to live and work in Spain as part of her degree, Simone has been able to take advantage of the contacts provided by the Herbert Hughes Scholarship and was recently offered a job for when she graduates from Sheffield.
She added: "Being fortunate enough to be chosen as a student to receive a bursary from the Herbert Hughes Trust has really changed and, more importantly, enhanced my time studying at the University of Sheffield. It has allowed me to put into practice and experience first-hand new cultures and languages that form part of my degree at Sheffield.
"I am extremely thankful for the support of the Herbert Hughes Trust and would really recommend any students to get involved. It is really nice to see that the important work of Herbert Hughes is being celebrated and recognised by the University and the local community."
On my year abroad I did a range of things, from travelling around the north of Spain, to enrolling on a Spanish language course, to having the opportunity to live and work with a family in Catalonia – none of this would have been possible without the Herbert Hughes Memorial Fund.

Simone smith - ba modern languages student

Katrin Burrows, who is in her final year of a BA Modern Languages degree at the University of Sheffield, was awarded funding from the scheme to help cover the costs of her internship placement in Spain.
"Last summer, I was awarded £220 by the Herbert Hughes travel fund to facilitate my internship working as an English Assistant at a language academy in Salamanca, Spain. My placement was eight weeks long, so I was faced with the challenge of finding accommodation for the two months that I spent there," Katrin said.
She added: "Thanks to the money that I was awarded by the Herbert Hughes Trust, I was able to pay for my flights and part of my accommodation costs. As a result, I could afford to enjoy the Spanish lifestyle and immerse myself in cultural experiences, such as sampling the local cuisine and travelling around the region.
"All in all, my time in Salamanca was a success, which provided me with some amazing memories and was a fantastic opportunity to build on the Spanish language skills that I obtained during my year abroad."
As part of the centenary celebrations for the fund and to mark the contribution that Herbert Hughes made to the study of modern languages in the city, Sheffield students are performing Sheffield Fusión Latina – a concert showcasing Latin music on Friday 19 May 2017 at the Octagon Centre.
The concert is also part of the University's Festival of Arts and Humanities – a city-wide festival showcasing the work of some of the UK's best poets, musicians, historians and philosophers.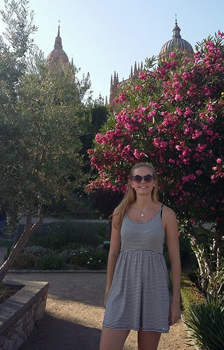 On Friday 19 May 2017, there will also be an exhibition showcasing the work of the fund and how it has supported both the University of Sheffield and Sheffield Hallam University.
The Herbert Hughes Memorial Fund is also looking for support from businesses across the region to help extend the bursary programme. This will enable more students to study modern languages and enhance Sheffield's global connections.
Philip Swanson, the Hughes Professor of Spanish at the University of Sheffield, said: "The Herbert Hughes Memorial Fund has benefited generations of young people from or studying in Sheffield in ways that have not only enhanced their own personal and professional development but also the image and reputation of the city and its universities.
"A whole range of bursaries and other awards from the fund have produced genuinely inspiring results. It has helped students in Sheffield gain new insights into the Hispanic and Lusophone world, develop exciting links with local businesses and contribute to the wellbeing of others less fortunate than themselves both at home and abroad.
"The contribution made by the trust, which manages the fund, to the promotion of Hispanic culture in Sheffield has been exceptional. I personally feel great pride in my association with the Herbert Hughes Memorial Fund and am immensely grateful to the Trustees for their ongoing and selfless work in support of others.
"It's an honour and a privilege to be able to celebrate the legacy of Herbert Hughes and the trust's continuing commitment to promoting links and friendship between Sheffield and the Hispanic world."
Cristina López-Moreno, Senior Lecturer in Spanish Language and Spanish Studies at Sheffield Hallam University, added: "Thanks to the generous support of the Herbert Hughes Memorial Fund, students at Sheffield Hallam have been able to immerse themselves in Hispanic culture, which has significantly enhanced their student experience.
"The impact of bursaries and prizes provided by the fund goes way beyond their monetary value. It increases students' motivation towards their Spanish course and raises their academic and future career aspirations – something which is simply invaluable."
For more information on studying modern languages at Sheffield, please visit: https://www.sheffield.ac.uk/slc
Additional information
For more information on Herbert Hughes, please visit: https://sites.google.com/sheffield.ac.uk/herbert-hughes/home
The University of Sheffield
With almost 27,000 of the brightest students from over 140 countries, learning alongside over 1,200 of the best academics from across the globe, the University of Sheffield is one of the world's leading universities.
A member of the UK's prestigious Russell Group of leading research-led institutions, Sheffield offers world-class teaching and research excellence across a wide range of disciplines.
Unified by the power of discovery and understanding, staff and students at the university are committed to finding new ways to transform the world we live in.
Sheffield is the only university to feature in The Sunday Times 100 Best Not-For-Profit Organisations to Work For 2017 and was voted number one university in the UK for Student Satisfaction by Times Higher Education in 2014. In the last decade it has won four Queen's Anniversary Prizes in recognition of the outstanding contribution to the United Kingdom's intellectual, economic, cultural and social life.
Sheffield has six Nobel Prize winners among former staff and students and its alumni go on to hold positions of great responsibility and influence all over the world, making significant contributions in their chosen fields.
Global research partners and clients include Boeing, Rolls-Royce, Unilever, AstraZeneca, Glaxo SmithKline, Siemens and Airbus, as well as many UK and overseas government agencies and charitable foundations.
Contact
For further information please contact:
Sean Barton
Junior Public Relations Officer
University of Sheffield
0114 222 9852
s.barton@sheffield.ac.uk