Comment: Higher education green paper: are we all consumers now?
In response to the new higher education green paper, Vice-Chancellor Professor Sir Keith Burnett highlights his personal concerns regarding the market approach to higher education, measuring the value of a course and the funding of research.
Higher education green paper: are we all consumers now?
By Professor Sir Keith Burnett CBE FRS FLSW, Vice-Chancellor of the University of Sheffield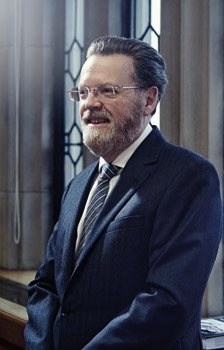 The government has recently published the first draft of higher education legislation in more than a decade. The green paper – Fulfilling our Potential: Teaching Excellence, Student Mobility and Student Choice – reads like what one commentator called 'a brave new world of consumer choice and statutory rights'. But how should we think about these proposals and the assumptions which underlie them?
As the green paper was finally released to the public, I found myself in the company of academics and students who span much of my own academic career at the opening of the National Quantum Metrology Institute at the National Physical Laboratory (NPL) in Teddington.
It was almost a family affair, as one of the prime movers for the institute is my close colleague and friend Sir Peter Knight. Peter was my mentor in the early days of my own academic career. I was often his collaborator through the years as he brought a wave of understanding of quantum science to the UK. Peter taught a generation of scientists about what could be done with the new quantum based science that is now revolutionising many aspects of technology.
The new centre at NPL is part of the new £270 million effort in quantum technologies in which the University of Sheffield's Department of Physics and Astronomy plays a crucial role. Its world-leading research on accuracy in measurement is at the crux of numerous areas of breakthrough technology, which can transform our understanding of the world.
I also had the deep pleasure of seeing one of my former PhD students working on real triumphs in the measurement of time, the ytterbium ion based clock at NPL. I thought about all the wonderful students, undergraduates and postgraduates that I had been privileged to teach. Seeing her beautiful research project was a delight.
I told her that I was looking at her thesis along with that of other students only a few weeks ago, memories triggered by the death of my first UK PhD student, Professor Danny Segal. He was as brilliant a scientist, in the area of quantum information science, as he was a delightful student and colleague.
The contrast with the emphasis in the green paper was stark. The NPL event followed a briefing on the green paper on higher education - now the subject of so much debate amongst policy wonks and misleading headlines in the popular press - seemingly quick to assume that students main need is consumer protection from universities who ignore 'lamentable teaching' in their desperation to increase fees.
I should start by saying that it will be difficult to find fault in many of the aspirations for what universities should be expressed in the green paper. But I think it is important that I lay out my instincts. I don't wish for a moment to suppress the debates that will run in the consultation weeks. No more do I wish to anticipate what students will say. However, I do want to share my personal concerns on three main areas.
A market for higher education?
The first is the emphasis on a market approach to higher education. Markets can work to increase quality and decrease costs if you have a set of commodities that we buy and sell in the market place. I do not believe, however, that the great successes of British higher education have been produced, or will be sustained, by further marketisation of the kind the green paper envisages. I may be wrong, but my instincts tell me there is more potential for damaging effects than beneficial ones.
The change in relationship from a student member of a university to a customer is profound, and one which we have actively resisted in Sheffield. When I was asked at my interview for my present role whether I thought of students in this way I said 'no'. And I said no because I had always thought of my students as…my students. This is not equivalent to any other relationship. It is closer to a family friend role than a consumer relationship. It means that it is more important to me.
But the country has decided that students must pay for their higher education and that is now a matter of fact. So it is right that we ask how we do the best for our students in this new world, told increasingly often that they must think and act more like militant customers to avoid being short-changed by those who are saddling them with debt.
I do not believe that the great successes of British higher education have been produced, or will be sustained, by further marketisation of the kind the green paper envisages. I may be wrong, but my instincts tell me there is more potential for damaging effects than beneficial ones.

Vice-Chancellor Professor Sir Keith Burnett
In fact, here in Sheffield our own students have resisted this line, and see down the road to where it can lead. Instead they have thought diligently and hard about what they think matters in a university and have resisted any sense that they are simply picking up a product off a shelf.
But I would go further. My view of the greatest danger of a customer satisfaction approach is that it can lead to insufficient challenge of a student's progress. A real teacher takes the long view, and knows that gain may involve short-term pain and frustration.
Listening and learning from feedback is one thing. But if universities shape education to receive the payback of an enhanced National Student Survey score, we could risk harming our students' long-term interests as we focus on satisfying rather than pushing a student to be what we feel they could be. This process sometimes feels more like discomfort than a pleasant path to perfection, but our duty is to do what is right, not what is easy.
Measuring value
My next area of concern is the notion of 'value for money' for a university course, and how we define the importance of research.
In the early days of Margaret Thatcher's premiership, I moaned to my father about the government now wanting to know the true cost of research. My father picked up a research paper I had written and said that I simply needed to find out how much someone would pay for the research I had done. If I put it out to tender I would get the market price.
My father was right in one way, wrong in another. If I were to simply add up the costs of much of what we offer to students the equation would show a loss. Universities are forced to charge no more than £9k a year. But this is far less than the cost of many degree courses. So do we have a miracle on our hands, a product worth more than it costs?
The reality is different. Fortunately for this country and for the UK students who study alongside them, international students still travel from around the globe because they and their parents are prepared to make deep sacrifices for what they value. Not only the course itself but the quality of the university, the cohort of able students, the accommodation and excellent facilities they help to fund.
This is far nearer to a real market price, and one in which government so far has given us the autonomy to be able to use the resource we receive to do great good for our students, our city region, our nation, our world.
So why aren't UK students and parents deliriously happy about the amazing deal they are getting?
Of course, the first objection is that this generation is now paying for something which was covered by taxation for others. There's a deep and understandable sense of generational injustice. But another powerful, but in my mind distorting, view comes from the idea that value of a course is not measured in cost or effort but simply in the quantity of contact hours. It is in the comparison between subjects that don't involve practice and those that do that the sharpest comments arise.
So what should we do?
I think we need to listen and understand. We must also show genuinely and honestly what we do and what we value. We must pay attention to what our students feel about their teaching experience.
Funding research
One of the risks is that all quality-related (QR) funding goes to a new research council body. It is heartening to hear the commitment to what we call the dual-support system but I think we know that it has become a decreasing amount of funding that we have to pursue innovation in scholarship and research.
In Sheffield, we have been bold in our development of new ways of inclusion. We have pursued new ways to support and grow the local economy. We have developed new apprentice training with progression routes. In the face of significant pressure, we have tried to do the right thing for our own times. Many universities have simply closed their continuing education provision but we are integrating part-time study.
And we have not forgotten our roots. We have become a central component of Sheffield's Advanced Manufacturing Innovation District. We are in every sense an 'anchor institution' for the Sheffield City Region even before the £600 million turnover and all the jobs and inward investment without which Sheffield would be so much the poorer.
These are reasons to be proud of the way we have attempted to put our principles to action, but they are none of them metrics in themselves. My sense is that we must be serious and careful about the way we measure what we treasure the most, and we will all need to think about how we do this. This is a proper academic endeavour, not restricted to those who work on atomic clocks.