How 'Yorkshire Fit' are you? Join Yorkshire's largest health study and find out
Join the study and then find out if you are 'Yorkshire Fit' by using the new Yorkshire Health Calculator
The device shows how your drinking, smoking , exercise and happiness levels compare with the rest of Yorkshire
30,000 have already joined - help researchers recruit 100,000 by the end of 2016
Data will inform NHS decision making, make Yorkshire healthier, and could contribute to the next medical breakthrough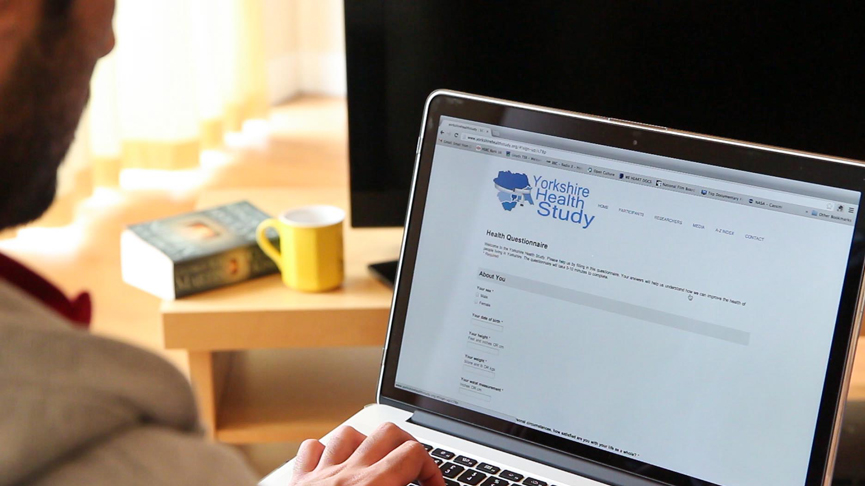 Whether improving your health is your top New Year's resolution or you're already a regular at the gym, have you ever wondered how fit – or unfit - you are?
The University of Sheffield has now created a calculator allowing you to compare your health to the average Yorkshire man or woman.
After filling in a short online health questionnaire the device is able to reveal how your drinking, smoking, exercise and happiness levels compare with the rest of Yorkshire.
The calculator is part of the Yorkshire Health Study, launched this week by the University of Sheffield. The study aims to recruit 100,000 people in the region to fill in an online health questionnaire that aims to make Yorkshire healthier, and happier.
The questionnaire asks people about their health and their eating, smoking and drinking habits, health problems, and any treatments they use. The answers will enable researchers to develop a detailed picture of the health of the region, which will be used to help find the best ways to improve health and prevent and treat illness in the future.
Some people are also invited to take part in studies which test new ways of improving people's health and wellbeing.
Once people have joined they can find out how Yorkshire fit they are by comparing the information they have provided to the rest of Yorkshire.
The research team, which is based at the University of Sheffield's School of Health and Related Research (ScHARR), began recruiting people in 2010 by inviting people through their GP surgeries in South Yorkshire. So far, more than 30,000 people have signed up, making it Yorkshire's largest health study. The target is 100,000 by the end of 2016. Once people have joined they will be invited to fill in a questionnaire every two to three years to see how their health has changed.
Dr Clare Relton, who leads the Yorkshire Health Study at the University of Sheffield, said:
"The Yorkshire health calculator is a fun and easy way to take part in health research and to think about your own health and wellbeing. All you have to do is fill in the Yorkshire Health Study questionnaire first, which takes just five minutes. You then get personalised information comparing your health to others of the same age and sex in the region. Information such as this is very valuable, and the best news is that it is simple and accessible for all. Joining the study itself also has a variety of benefits.
"The Yorkshire Health Study is providing fantastic up-to- date information on the health status and health needs of people living in Yorkshire. This information is helping not only researchers but the NHS and local councils make better decisions about healthcare for people in Yorkshire.
"One of the biggest hurdles health researchers face is finding the right people to take part in their studies. Yorkshire's largest health study provides a quick and efficient way of bringing together researchers with the people interested in taking part in research."
So far the ScHARR based researchers have carried out studies looking at obesity, depression and diabetes. Their recent study on obesity led to researchers identifying six distinct groups of individuals who were obese, a finding which will help make obesity treatments more focused and effective in the future.
"All we are asking for is five minutes of people's time to fill in the online health questionnaire," added Dr Relton.
"By filling in the questionnaire you will help researchers find ways to improve the health of people in Yorkshire. Back in the 1950s a similar study helped to identify the link between cigarette smoking and heart disease and cancer. By filling in the Yorkshire health questionnaire you could help us make a similar breakthrough"
Dean Royles, Executive Director of Human Resources, at Leeds Teaching Hospital NHS Trust, which is supporting the health study, said: "This is a great opportunity for people to be able to take part in something really worthwhile, to understand more about their own health and to give something back. The NHS has thousands of staff in the county and we want to support them in looking after their own health and wellbeing as well as their patients so we will be encouraging active participation in the study."
Professor Jon Nicholl, CBE, Dean of ScHARR said: "The Yorkshire Health Study is a wonderful resource for conducting world leading research to help improve the health of people in the north."
To find out more about the study and take part in the health questionnaire go to www.yorkshirehealthstudy.org. At the end of the questionnaire you can compare your health to other men and women in Yorkshire using the health calculator.
Additional information
The Yorkshire Health Study
To take part in the study people must be aged between 16 to 85 and live in the Yorkshire and the Humber region.The website where full details about the study and questionnaires can be completed is www.yorkshirehealthstudy.org or contact the team via (0114 222 0796) and a questionnaire can be sent in the post.
This study is part funded by the National Institute of Health Research, Collaboration for Leadership in Applied Health Research and Care, Yorkshire and Humber (NIHR CLAHRC YH) www.clahrc-yh.nihr.ac.uk
The design of the Yorkshire Health Study is similar to the Ontario Health Study in Canada which one of the largest health studies in Canada with over 230,000 Ontarians who are helping researchers develop new ways to prevent and treat chronic diseases like cancer, heart disease and diabetes.
The University of Sheffield
With almost 26,000 of the brightest students from around 120 countries, learning alongside over 1,200 of the best academics from across the globe, the University of Sheffield is one of the world's leading universities.
A member of the UK's prestigious Russell Group of leading research-led institutions, Sheffield offers world-class teaching and research excellence across a wide range of disciplines.
Unified by the power of discovery and understanding, staff and students at the university are committed to finding new ways to transform the world we live in.
In 2014 it was voted number one university in the UK for Student Experience by Times Higher Education and in the last decade has won four Queen's Anniversary Prizes in recognition of the outstanding contribution to the United Kingdom's intellectual, economic, cultural and social life.
Sheffield has five Nobel Prize winners among former staff and students and its alumni go on to hold positions of great responsibility and influence all over the world, making significant contributions in their chosen fields.
Global research partners and clients include Boeing, Rolls-Royce, Unilever, AstraZeneca, Glaxo SmithKline, Siemens and Airbus, as well as many UK and overseas government agencies and charitable foundations.
For further information, please visit www.sheffield.ac.uk
Contact
For further information please contact
Clare Parkin
Media Relations Officer
University of Sheffield
0114 222 9851
clare.parkin@sheffield.ac.uk