The human musculoskeletal system created using computer models will lead to personalised treatment
A computer model of the human musculoskeletal system will be mapped out by researchers at the University of Sheffield following a £6.7 million grant that will lead to personalised treatment for diseases such as osteoporosis, arthritis and back pain, saving money and resulting in better outcomes and faster recovery.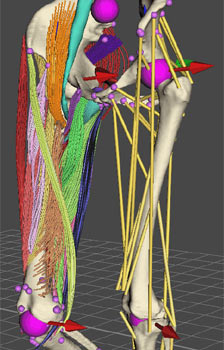 The five year programme will see experts from the University of Sheffield's INSIGNEO Institute for in silico (meaning via computer simulation) medicine, a joint initiative of the University of Sheffield and Sheffield Teaching Hospitals NHS Foundation Trust, create a new modelling framework for the human musculoskeletal system.
The engineering-based model of an individual patient's musculoskeletal makeup will be able to reduce soaring treatment costs for chronic bone disorders by predicting disease development and enabling better treatment. It will simultaneously capture processes at a cellular scale right up to the whole body.
The £6.7M Frontier Engineering grant from the Engineering and Physical Sciences Research Council (EPSRC) – awarded to the world leading and innovative INSIGNEO Institute – will improve treatments for diseases of the musculoskeletal system.
It is one of five Frontier Engineering projects receiving £25 million in total announced by the UK's Minister for Universities and Science, David Willetts at the first Global Grand Challenges Summit in London today (Tuesday 12 March 2013).
Professor Damien Lacroix of the INSIGNEO Institute and the University's Department of Mechanical Engineering said: "Our work in building accurate computer models of the human body that are tailored to each individual's anatomy and physiology means that every patient receives treatment personally optimised to their detailed circumstances.
"This leads to improved outcomes, faster recovery and, in almost all cases, lower costs. The new EPSRC-supported research programme is particularly ground-breaking as it integrates our modelling components across the full range of scales using new techniques able to account for currently unobservable and uncertain variables.
"The impact on healthcare could be tremendous: total healthcare expenditure in the UK has doubled from 2000-2010 to a staggering 10 per cent of Gross Domestic Product (GDP)," added Professor Lacroix .
The engineering basis for INSIGNEO's work means that techniques developed for one disease area can usually be migrated to other parts of the body, leading to the development of an integrated understanding of the body's disease mechanisms.
INSIGNEO Director Professor Marco Viceconti said: "The advanced multiscale simulation techniques we are developing in the INSIGNEO Institute are the core technologies for the next major advance in medicine. By applying these most sophisticated engineering methods to the human body's organs and systems we are uncovering disease mechanisms as never before, and by grounding our work in fundamental engineering principles we are developing a sustainable framework for the complete modelling of physiology."
The INSIGNEO Institute is a full partnership between the University of Sheffield and Sheffield Hospitals NHS Foundation Trust, an arrangement that provides the ideal balance of academic prowess and clinical excellence; developments are firmly rooted in the needs of patients, and outputs can be translated into clinical practice efficiently and quickly.
Sir Andrew Cash, Chief Executive of Sheffield Teaching Hospitals NHS Foundation Trust, added: "This is probably the most sophisticated application of computing technology in healthcare today and Sheffield has become the UK's main centre for this advancement in research, clinical diagnosis and care which will ultimately benefit patients across the world."
This award is a collaboration between members of the INSIGNEO Institute in silico medicine from the University's Departments of Mechancial Engineering, Automatic Control and System Engineering, Civil Engineering, and Human Metabolism.
Professor Mike Hounslow, Pro Vice-Chancellor for Engineering and Institutional Principal Investigator, said: "INSIGNEO's multiscale research has widespread application across many areas of our work and I believe this award will transform our activities in the Faculty of Engineering. We will be working particularly closely with our partners in the University's Faculty of Medicine and in The Sheffield Teaching Hospitals NHS Foundation Trust to capitalise on the outcomes for the benefit of patients."
Additional information
The Insigneo Institute for in silico Medicine
The Insigneo Institute for in silico Medicine is a collaborative initiative between the University of Sheffield and Sheffield Hospitals NHS Foundation Trust. It is a multi-disciplinary institute involving over 80 academics and clinicians who collaborate to develop computer simulations of the human body and its disease processes that can be used directly in clinical practice to improve diagnosis and treatment. This is probably the most sophisticated application of computing technology in healthcare, and Sheffield has become the UK's main centre for this work.
For more information please visit: http://insigneo.org/
Sheffield Teaching Hospitals NHS Foundation Trust
Sheffield Teaching Hospitals is one of the UK's largest NHS Foundation Trusts and one of the largest and busiest teaching hospitals. We have over 15,000 staff caring for over a million patients each year at our five hospitals and in the local community:
The Royal Hallamshire Hospital
The Northern General Hospital
Charles Clifford Dental Hospital
Weston Park Cancer Hospital
Jessop Wing Maternity Hospital
We offer a full range of local hospital and community health services for people in Sheffield as well as specialist hospital services to patients from further afield in our many specialist centres. The Trust is recognised internationally for its work in neurosciences, spinal injuries, renal, cancer, transplantation, neurosciences and orthopaedics.
The Trust has been awarded the title of 'Hospital Trust of the Year' in the Good Hospital Guide three times in five years and we are proud to be one of the top 20% of NHS Trusts for patient satisfaction.
The Trust is a recognised leader in medical research for bone, cardiac, neurosciences and long term conditions such as diabetes and lung disease. We also play a key role in the training and education of medical, nursing and dental students with our academic partners, including the University of Sheffield and Sheffield Hallam University.
For more information visit: www.sth.nhs.uk
The University of Sheffield
With nearly 25,000 of the brightest students from 117 countries coming to learn alongside 1,209 of the world's best academics, it is clear why the University of Sheffield is one of the UK's leading universities. Staff and students at Sheffield are committed to helping discover and understand the causes of things - and propose solutions that have the power to transform the world we live in.
A member of the Russell Group, the University of Sheffield has a reputation for world-class teaching and research excellence across a wide range of disciplines. The University of Sheffield has been named University of the Year in the Times Higher Education Awards 2011 for its exceptional performance in research, teaching, access and business performance. In addition, the University has won four Queen's Anniversary Prizes (1998, 2000, 2002, 2007), recognising the outstanding contribution by universities and colleges to the United Kingdom's intellectual, economic, cultural and social life.
One of the markers of a leading university is the quality of its alumni and Sheffield boasts five Nobel Prize winners among former staff and students. Its alumni have gone on to hold positions of great responsibility and influence all over the world, making significant contributions in their chosen fields.
Research partners and clients include Boeing, Rolls-Royce, Unilever, Boots, AstraZeneca, GSK, Siemens, Yorkshire Water and many more household names, as well as UK and overseas government agencies and charitable foundations.
The University has well-established partnerships with a number of universities and major corporations, both in the UK and abroad. The White Rose University Consortium (White Rose) is a strategic partnership between 3 of the UK's leading research universities of Leeds, Sheffield and York. Since its creation in 1997 White Rose has secured more than £100M into the Universities.