Rethinking school league tables could tackle the stigma around apprenticeships, report finds
New University of Sheffield report suggests a raft of measures to improve and incentivise apprenticeships
Changing school league tables, tackling low pay and improving training provision among the recommendations
The government has set a target of creating three million new apprenticeships by 2020, with the intention they will be given the same recognition as university degrees
The rethinking of school league tables is one of a raft of measures which could help tackle the stigma around apprenticeships, according to a new report by the University of Sheffield.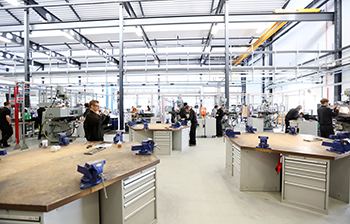 The Government has set a target of creating three million new apprenticeships by 2020, with the intention that these will be given the same recognition as university degrees.
A study by Professor Louise Ryan, of the University of Sheffield's Department of Sociological Studies, reveals there are many benefits to well-structured and well-implemented apprenticeships for both apprentices and employers. However, challenges remain – including low pay, scepticism in schools and the quality of training.
Speaking to apprentices, tutors, trainers and employers, researchers found apprenticeships were widely regarded as a 'second chance' of education for those who had not done well in school and that employers have had positive experiences with apprentices. Employers also valued apprenticeships as a way of 'fast tracking' young people into technical careers to address the skills gap.
But many young people said their schools were more interested in promoting traditional academic routes to university, with several saying the drive towards universities was more in the interest of schools than students.
Several said they got little or no information about apprenticeships from their school's careers advisors and some academic high-achievers were actively deterred from doing an apprenticeship.
The study also found that while one of the government's key selling points for apprenticeships is 'earn while you learn', apprenticeships may not be an viable option for poorer families as the payment for many apprentices is currently well below the National Minimum Wage. Many said undertaking an apprenticeship was only viable if they lived at home with their parents.
The quality of training was also questioned, with stakeholders being especially critical of the short, one-year Level 2 schemes, with suggestions that training should be based in FE colleges instead of low-quality online training.
Professor Ryan said: "It is encouraging to see that the government recognises the value of apprenticeships and has developed mechanisms to increase the number available, but a key challenge is to overcome the residual negative stereotypes about apprenticeships by ensuring that young people get into high quality training schemes leading to good employment opportunities.
"Based on the findings of our new research, we recommend how this can happen by ensuring appropriate mechanisms are in place."
To incentivise and implement better apprentices, the report recommends:
Rethinking school league tables to incentivise schools to promote apprenticeships so success is not judged simply on A-level results and progression to university
Providing extra training and resources for careers advisors in schools so they can offer young people advice about a range of pathways, including apprenticeships
Creating a coordinated, single-portal application process for apprenticeships – like UCAS – so young people, their parents and schools can be confident in accessing high-quality apprenticeships delivered by reputable providers.
To improve the quality of training provision, researchers recommend improving the monitoring of apprenticeship accreditation to ensure training is meeting the required standards to address the skills gap, increasing the minimum length of a course to no less than 12 months and closer to 18 months and bringing training back into colleges and moving away from private training providers who mainly offer provision online.
They also suggest employers need to provide a proper living wage so apprenticeships are open to a broader range of young people and should be incentivised to encourage more progression from Level 2 on to Levels 3 and 4 to ensure ongoing skills development.
Professor Ryan said: "There is a need for a culture shift in the UK so that apprenticeships achieve a change of image and are valued as high quality training amongst a wide range of students."
She added: "The UK government is pumping billions of pounds into apprenticeship programmes, but there are tensions between the main aims for apprenticeships. On the one hand, apprenticeships are promoted as addressing the skills gap and training the next generation with in-demand skills, but they are also presented as second chance education or training for those with poor academic achievement."
Download the report (PDF, 869KB)
Additional information
The University of Sheffield
With almost 27,000 of the brightest students from over 140 countries, learning alongside over 1,200 of the best academics from across the globe, the University of Sheffield is one of the world's leading universities.
A member of the UK's prestigious Russell Group of leading research-led institutions, Sheffield offers world-class teaching and research excellence across a wide range of disciplines.
Unified by the power of discovery and understanding, staff and students at the university are committed to finding new ways to transform the world we live in.
Sheffield is the only university to feature in The Sunday Times 100 Best Not-For-Profit Organisations to Work For 2017 and was voted number one university in the UK for Student Satisfaction by Times Higher Education in 2014. In the last decade it has won four Queen's Anniversary Prizes in recognition of the outstanding contribution to the United Kingdom's intellectual, economic, cultural and social life.
Sheffield has six Nobel Prize winners among former staff and students and its alumni go on to hold positions of great responsibility and influence all over the world, making significant contributions in their chosen fields.
Global research partners and clients include Boeing, Rolls-Royce, Unilever, AstraZeneca, Glaxo SmithKline, Siemens and Airbus, as well as many UK and overseas government agencies and charitable foundations.
For further information, please visit: www.sheffield.ac.uk