Damaging effect of inbreeding in birds vastly underestimated

Destruction of bird habitats in the wild is forcing ever shrinking populations to inbreed putting the futures of whole species at risk, University of Sheffield scientists have warned.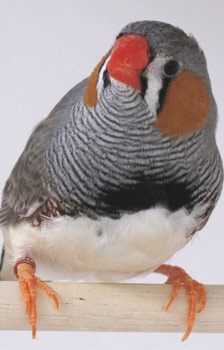 New research carried out by academics in the University's Department of Animal and Plant Sciences suggests scientists across the world have grossly underestimated the damaging impact inbreeding is having on birds.
The scientists, the first to analyse the effects of inbreeding on the early stages of development, discovered that inbreeding – when closely related individuals mate – led to up to 75 per cent of embryos dying; much more than previously thought.
Dr Nicola Hemmings of the University's Department of Animal and Plant Sciences said: "Inbreeding is a huge problem for many bird species around the world, particularly critically endangered species with small population sizes. Our research shows inbreeding may have even worse consequences for species survival than previously thought.
"Birds in the wild aren't choosing to mate with their relatives, but factors such as habitat loss can reduce the population size, which in turn can reduce the genetic variation in the population.
"Over generations the population may become more and more inbred. This is bad because with less genetic variation, there's more chance of problems such as health defects."
Captive breeding programs and conservation hold the key to the survival of species and reduce inbreeding by avoiding pairing related individuals though introducing more genetic variation into populations; for example moving individuals from other populations.
Dr Hemmings added: "Our study shows that the negative effect of inbreeding on survival is strongest during embryo development. In other words, death caused by inbreeding is at its highest during the embryonic stage."
The paper has been published in the journal Nature Communications.
Additional information
The University of Sheffield's Department of Animal and Plant Sciences
Department of Animal and Plant Sciences
The University of Sheffield
With nearly 25,000 students from 125 countries, the University of Sheffield is one of the UK's leading and largest universities. A member of the Russell Group, it has a reputation for world-class teaching and research excellence across a wide range of disciplines. The University of Sheffield has been named University of the Year in the Times Higher Education Awards for its exceptional performance in research, teaching, access and business performance. In addition, the University has won four Queen's Anniversary Prizes (1998, 2000, 2002, and 2007).

These prestigious awards recognise outstanding contributions by universities and colleges to the United Kingdom's intellectual, economic, cultural and social life. Sheffield also boasts five Nobel Prize winners among former staff and students and many of its alumni have gone on to hold positions of great responsibility and influence around the world. The University's research partners and clients include Boeing, Rolls Royce, Unilever, Boots, AstraZeneca, GSK, ICI, Slazenger, and many more household names, as well as UK and overseas government agencies and charitable foundations.

The University has well-established partnerships with a number of universities and major corporations, both in the UK and abroad. Its partnership with Leeds and York Universities in the White Rose Consortium has a combined research power greater than that of either Oxford or Cambridge.
Contact
For further information please contact:
Paul Mannion
Media Relations Officer
The University of Sheffield
0114 222 9851
p.f.mannion@sheffield.ac.uk