University speaks in support of international students amid national fall in Indian student numbers
Staff and students at the University of Sheffield are continuing to back the #WeAreInternational campaign and highlight the benefits international students bring to the UK after new figures showed a national decline in admissions from India.
The Higher Education Statistics Agency (HESA) revealed yesterday (12 January 2017) that while students from India remain the third largest category of students from outside the EU, student numbers fell by nine per cent in 2015-16.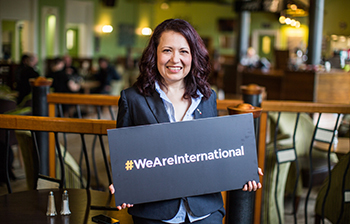 #WeAreInternational, which was founded by the University of Sheffield and its Students' Union in 2013, aims to highlight the rich benefits students from countries across the world, including India, bring to the UK.
The campaign is also lobbying the government to remove international students from immigration caps and restore access to a period of post-study work as is common in other countries.
Professor Elena Rodriguez-Falcon, Professor of Enterprise and Engineering Education at the University, said many of her best students have been from India and a decline in numbers would be a loss to the University community.
"The mere idea of not having Indian engineering students in my classroom makes me sad and worries me," she added.
"We all benefit from entrepreneurial, innovative and caring people. We must remove the barriers that are preventing these students from coming and studying in the UK. And we certainly ought to let them know that they are not only welcome but needed in the UK."
In response to the HESA report, Professor Rodriguez-Falcon said: "For the past 15 years I have taught hundreds of Indian students – many have been among the best students I have ever had and have gone on to do amazing things that make us deeply proud."
One of those is Vinoth Gurusamy, an Aerospace Engineering Masters graduate, who invented a 'talking glove' during his studies, which he then went on to commercialise to help people with speech impairments.
The glove works by converting simple finger movements into gestures which control speech through a synthesised voice. The user simply wears the glove and moves their fingers in order to articulate more than 1,000 words or commands.
The #WeAreInternational campaign, which is supported by hundreds of universities, students, academics and businesses, is lobbying the government and highlighting why it is in our national interest to welcome international students to the UK. Its proud message of welcome to the international students who contribute so much to the UK has also been endorsed by the Foreign Office, government-wide GREAT campaign, British Council and the Confederation of British Industry.
Professor Mike Hounslow, Pro-Vice-Chancellor for the Faculty of Engineering at the University of Sheffield, said: "The UK is the poorer for declining numbers of Indian students studying here. Poorer because their financial contribution to the country far exceeds any view of the cost of their presence; poorer because in general they work very hard and are very successful as students, poorer because the great majority would return to India and be a strong voice of soft UK power and finally, poorer because even fewer will remain in the UK where we have such a desperate shortage of graduate engineers."
He added: "My response is a mix of sadness and anger: sad because few things matter to me more than the prosperity of engineering; angry because this is an entirely self-inflicted problem."
Sheffield Students' Union (SU) International Officer Ana Popa said students from India are among the most active in the SU, winning competitions such as the International Cultural Evening, organising events as part of the International Students' Committee and creating charitable societies such as Asha for Education to fight for students' rights.
She added: "We need to vocally express how valuable they are to our community in Sheffield in the same way international students as a whole are absolutely essential for our diversity and global citizenship.
"We need to, as a Students' Union and University, send this message across. The government is creating an unfavourable climate and national statistics see how international student numbers have dropped. We, at Sheffield, recognise this as a great loss and continue to fight for better conditions for international students whilst welcoming everyone to our community because #WeAreInternational."
Business leaders in Sheffield have also backed the campaign by sharing, in their own words, how international students have enriched the city's economy and culture and changed lives.
Richard Wright, from Sheffield Chamber of Commerce, has led the voice of local firms in making clear just what international students mean to the city economically.
He said: "In terms of attracting inward investment, attracting students and bringing people here to do business – we need international students."
In 2012/13, a report estimated that international students make a net contribution to Sheffield's GDP of £120.3 million (and this recurs annually) – this accounts for around 10 per cent of inward investment in Sheffield.
Saylee Jangam speaks about her experience studying in the UK: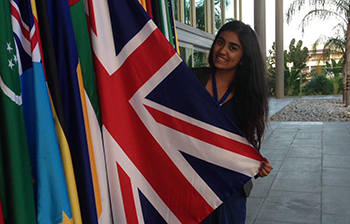 I think it's quite sad seeing the decline in the number of Indian students opting to study in the UK. The UK is a great place to study and offers an important cultural diversity that Indian students thrive in.
This academic year, I had the chance of representing my University and the UK at a UN conference talking about declining biological diversity in Mexico and also at an international synthetic biology competition called iGEM in Boston, USA.
International students are definitely hard working and have the drive of utilising opportunities that come their way, representing their home institution as well as the country they study in.
Additional information
The University of Sheffield
With almost 27,000 of the brightest students from over 140 countries, learning alongside over 1,200 of the best academics from across the globe, the University of Sheffield is one of the world's leading universities.
A member of the UK's prestigious Russell Group of leading research-led institutions, Sheffield offers world-class teaching and research excellence across a wide range of disciplines.
Unified by the power of discovery and understanding, staff and students at the university are committed to finding new ways to transform the world we live in.
Sheffield is the only university to feature in The Sunday Times 100 Best Not-For-Profit Organisations to Work For 2016 and was voted number one university in the UK for Student Satisfaction by Times Higher Education in 2014. In the last decade it has won four Queen's Anniversary Prizes in recognition of the outstanding contribution to the United Kingdom's intellectual, economic, cultural and social life.
Sheffield has six Nobel Prize winners among former staff and students and its alumni go on to hold positions of great responsibility and influence all over the world, making significant contributions in their chosen fields.
Global research partners and clients include Boeing, Rolls-Royce, Unilever, AstraZeneca, Glaxo SmithKline, Siemens and Airbus, as well as many UK and overseas government agencies and charitable foundations.
Contact
For further information please contact:
Hannah Postles
Media Relations Officer
University of Sheffield
0114 222 1046
h.postles@sheffield.ac.uk