Scientists discover new way to tackle inflammatory diseases
• Traditional Chinese medicine could hold key to tackling common inflammatory conditions
• Discovery can lead to creation of anti-inflammatory drugs which would not increase risk of infection like current treatments
Researchers at the University of Sheffield have found a potential new way to treat common and largely incurable inflammatory conditions like chronic obstructive pulmonary disease (COPD).
Normally when a person is injured or gets an infection, the body sends specialist white blood cells (neutrophils) to clean up the area, resulting in it becoming red and inflamed. The inflammation usually ebbs away over time but in certain diseases the inflammation remains, doing more damage to surrounding tissue.
Now scientists from the University of Sheffield may have found a solution using an ingredient found in traditional Chinese medicine which has inflammation reducing capabilities, giving it the potential to treat a range of diseases.
By screening drugs in zebrafish, researchers found a compound, Tanshinone IIA, which reduced inflammation, removing neutrophils by causing them to die at the wound and by moving them away from the wound - a completely new way to treat inflammation. The discovery has, for the first time, given scientists the opportunity to develop anti-inflammatory drugs which would not increase the risk of infection like current treatments.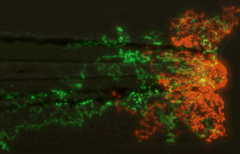 Professor Stephen Renshaw, from the University's Department of Infection and Immunity, said: "Chronic inflammatory diseases are a major cause of illness and death worldwide and many of these, such as chronic obstructive pulmonary disease (COPD) are characterised by the persistence of inflammatory neutrophils. We believe targeting the neutrophil would be a new way to bring about healing in these conditions.
"Sending immune cells away from damaged tissue might be a good way to allow the damage to heal while still allowing those immune cells to protect us against infection."
Professor Renshaw said it was not known at the moment precisely how Tanshinone IIA helps white blood cells to migrate away from the wound but said research would continue.
He added: "Tanshinone IIA might be the first in a new class of drugs that allows us to tackle some devastating conditions, benefiting thousands of sufferers."
The research work was funded by the Medical Research Council (MRC) and the full paper will be published in the Science Translational Medicine journal.
Additional information
For a full copy of the research paper please contact the press office.
The University of Sheffield
With almost 25,000 of the brightest students from around 120 countries, learning alongside over 1,200 of the best academics from across the globe, the University of Sheffield is one of the world's leading universities.
A member of the UK's prestigious Russell Group of leading research-led institutions, Sheffield offers world-class teaching and research excellence across a wide range of disciplines.
Unified by the power of discovery and understanding, staff and students at the university are committed to finding new ways to transform the world we live in.
In 2011 it was named University of the Year in the Times Higher Education Awards and in the last decade has won four Queen's Anniversary Prizes in recognition of the outstanding contribution to the United Kingdom's intellectual, economic, cultural and social life.
Sheffield has five Nobel Prize winners among former staff and students and its alumni go on to hold positions of great responsibility and influence all over the world, making significant contributions in their chosen fields.
Global research partners and clients include Boeing, Rolls-Royce, Unilever, AstraZeneca, Glaxo SmithKline and Siemens, as well as many UK and overseas government agencies and charitable foundations.
Contact
For further information please contact:
Shemina Davis
Media Relations Manager
The University of Sheffield
0114 222 5339
shemina.davis@sheffield.ac.uk