New dawn in disease research and treatment with launch of in silico medicine in Sheffield
High performance computer power is being harnessed to revolutionise treatments for a wide range of diseases through ground-breaking virtual models in a joint project by the University of Sheffield and Sheffield Teaching Hospitals NHS Foundation Trust.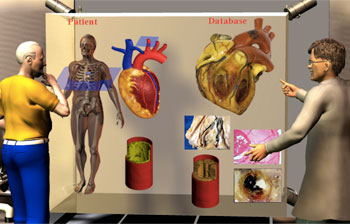 Treatments and clinical trials currently taking place in vitro – in a test tube – and in vivo – in a living organism – are now beginning to take place in silico, meaning through sophisticated computer simulation, built from our personal human data.
Experts from the INSIGNEO Institute for in silico Medicine – leading the world in constructing these complex computer representations – are building state-of-the-art patient-specific models for individualised, predictive healthcare, as well as creating new tools to model and simulate human physiology and disease processes, to improve outcomes in cancer, heart disease, brain surgery and many other conditions.
The INSIGNEO Institute for in silico Medicine – launched at the University on Thursday 9 May 2013 at Firth Hall – is pioneering the world-wide Virtual Physiological Human project, which aims to build a complete computational model of the human body that will improve both diagnosis and treatment, and will also enable individualised forecasting for everyone, capable of predicting their future health status.
INSIGNEO Director Professor Marco Viceconti of the University's Department of Mechanical Engineering said: "Can you imagine weather forecasting without computers nowadays? In the same way that computers revolutionised weather forecasting, in silico medicine is bringing computers at the heart of healthcare; they will make possible to individualise the treatment, improve the care, and reduce the costs."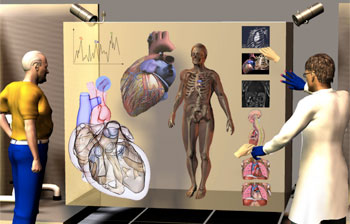 At the Institute, more than 80 academics and clinicians are already developing computer simulations of disease processes that can be used directly in clinical practice to improve diagnosis and treatment.
A prototype computer system capable of detecting which heart patients need treatment is already in use in the Sheffield region; it works by creating a 3-D model of the coronary arteries during an angiogram (where multiple X-rays of the arteries are taken) and reduces the need for further invasive tests and procedures.
Dr Julian Gunn, a Consultant Cardiologist at Sheffield Teaching Hospitals NHS Foundation Trust and a Senior Lecturer at the University of Sheffield's Department of Cardiovascular Science, said: "Heart disease remains one of the world's biggest killers, so we're delighted that the Sheffield team is leading the way with this research.
"Any patient with coronary heart disease who has an angiogram can, in the future, have a computerised assessment of the significance of their disease. This will enable the cardiologist or surgeon to know where to place a bypass graft or stent, without any further tests, so this is a real breakthrough for patients.
"The technology will further improve the diagnosis, reducing the need for some patients to have more invasive tests afterwards. It will also help doctors decide which arteries need treatment - even which bits of which arteries - and will guide therapy."
The in silico system will enable academic, industrial and clinical researchers to improve their understanding of human physiology and pathology, to derive predictive hypotheses and simulations, and to develop and test new therapies, with the eventual outcome of improved disease diagnosis, treatment and prevention in healthcare.
Additonal information
The University of Sheffield
Engineering in Sheffield
The Faculty of Engineering at the University of Sheffield - the 2011 Times Higher Education's University of the Year - is one of the biggest and best engineering faculties in the UK. Its seven departments include over 4,000 of the brightest students and 900 staff, and have research-related income worth more than £50M per annum from government, industry and charity sources. Its research income recently overtook the University of Cambridge, confirming its status as one of the best institutions in the world to study engineering. The 2008 Research Assessment Exercise (RAE) confirmed that two thirds of the research carried out was either Internationally Excellent or Internationally Leading.
The Faculty's expertise is extensive – its academic departments and two interdisciplinary programme areas cover all the engineering disciplines. They are leaders in their fields and outstanding contributors to the development of new knowledge, with world-leading academics linking their research to the teaching of the engineers of tomorrow.
The Faculty has a long tradition of working with industry including Rolls-Royce, Network Rail and Siemens. Its industrial successes are exemplified by the award-winning Advanced Manufacturing Research Centre (AMRC) and the new £25 million Nuclear Advanced Manufacturing Research Centre (NAMRC).
The Faculty of Engineering is committed to ensuring students studying at Sheffield continue to benefit from world-class labs and teaching space through the provision of the University's new Engineering Graduate School. This brand new building, which will become the centre of the faculty´s postgraduate research and postgraduate teaching activities, will form the first stage in a 15 year plan to improve and extend the existing estate in a bid to provide students with the best possible facilities while improving their student experience.
To find out more about the Faculty of Engineering, visit: http://www.shef.ac.uk/faculty/engineering/
The Insigneo Institute for in silico Medicine
The Insigneo Institute for in silico Medicine is a collaborative initiative between the University of Sheffield and Sheffield Hospitals NHS Foundation Trust. It is a multi-disciplinary institute involving over 80 academics and clinicians who collaborate to develop computer simulations of the human body and its disease processes that can be used directly in clinical practice to improve diagnosis and treatment. This is probably the most sophisticated application of computing technology in healthcare, and Sheffield has become the UK's main centre for this work.
For more information please visit: http://insigneo.org/
Sheffield Teaching Hospitals NHS Foundation Trust
Sheffield Teaching Hospitals is one of the UK's largest NHS Foundation Trusts and one of the largest and busiest teaching hospitals. We have over 15,000 staff caring for over a million patients each year at our five hospitals and in the local community:
The Royal Hallamshire Hospital
The Northern General Hospital
Charles Clifford Dental Hospital
Weston Park Cancer Hospital
Jessop Wing Maternity Hospital
We offer a full range of local hospital and community health services for people in Sheffield as well as specialist hospital services to patients from further afield in our many specialist centres. The Trust is recognised internationally for its work in neurosciences, spinal injuries, renal, cancer, transplantation, neurosciences and orthopaedics.
The Trust has been awarded the title of 'Hospital Trust of the Year' in the Good Hospital Guide three times in five years and we are proud to be one of the top 20% of NHS Trusts for patient satisfaction.
The Trust is a recognised leader in medical research for bone, cardiac, neurosciences and long term conditions such as diabetes and lung disease. We also play a key role in the training and education of medical, nursing and dental students with our academic partners, including the University of Sheffield and Sheffield Hallam University.
Contact
For further information please contact:
Paul Mannion
Media Relations Officer
The University of Sheffield
0114 222 9851
p.f.mannion@sheffield.ac.uk